Every weekday morning, my husband goes through his rushed routine to get ready for work. But, on the days that I want to slow him down a little, there's no better way to do it than with a warm, homemade breakfast and the lure of freshly brewed coffee. Having breakfast together isn't something we do often on the weekdays, so I love to make it happen when I can. Plus, I think he's just so darn cute with those battle-scar-looking pillow marks running down the side of his face.
Which brings me to my next point: Why haven't I posted about these until now?
These moist and yummy muffins were inspired by the amazing Lemon-Blueberry Bread that Rachael of La Fuji Mama brought to the National Food Blogger's Bake Sale on April 17. While we were there lending a hand, we bought some bread. After devouring it like it was our last meal, emailed Rachael begging for the recipe.
She was kind enough to share it with me, and after making the bread I started thinking of ways to make it even better.
So, I added some buttermilk and made muffins, each coated with a light lemon glaze and bursting with juicy blueberries. The result was a dozen mouthwatering muffins that seriously tested my self control over the next several days.
Even if you've made a hundred variations of blueberry muffins in your lifetime, you've never made anything like these. Your tired, sleepy self will thank you on the morning that you break your routine and enjoy a homemade muffin!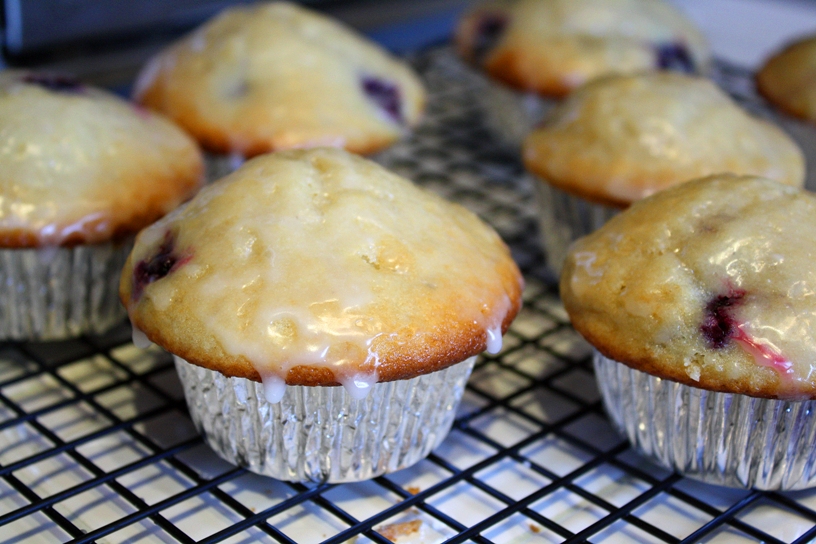 Lemon-Glazed Buttermilk Blueberry Muffins
Ingredients
2 1/2 cups flour
1 1/2 teaspoons baking powder
1/2 teaspoon baking soda
1/2 cup sugar
1/4 teaspoon salt
2 eggs, beaten
1 cup buttermilk
½ cup melted butter, or 1/2 cup vegetable oil
Juice of 1 lemon
1 teaspoon vanilla
1 1/2 cups blueberries
For the glaze:
1/2 cup powdered sugar
2 Tbsp. lemon juice
Instructions
Preheat oven to 400 degrees F.
Sift dry ingredients together in a large bowl. In another bowl, whisk eggs, buttermilk, butter or oil, lemon juice and vanilla. Make a well in the dry ingredients and pour in liquid ingredients, mixing quickly.
Fold in blueberries. Spoon batter into greased muffin cups, almost to the top of each cup, and bake for 20 -30 minutes, or until golden brown. Wait a few minutes and then transfer muffins to a wire rack to cool.
In a small bowl, whisk powdered sugar and lemon juice until it is the consistency of thin icing. Brush each muffin top with about 1 tsp. of the glaze.
Enjoy!