A few months ago, I posted about one of my longtime favorite salads: a Caprese Salad with an oh-so-simple Balsamic Dressing. As much as I love cooking and preparing a meal, it doesn't get much easier, or tastier, than piling together tomatoes, fresh mozzarella and basil and then drizzling the whole thing in a cascade of herbs, oil and balsamic vinegar.
So, then, what's an easier lunch than slapping your favorite salad onto a slice of crusty bread, grilling it up, slicing it in half and calling it a sandwich?
Well… yes… Peanut butter and jelly is easier (and fifteen years after elementary school, still a sandwich I indulge in at least twice a week). But this is The Comfort of Cooking, so let's cook our lunch.
Making an irresistible caprese, even when stuffed between two slices of bread, is all about the fresh ingredients. The fresher the mozzarella, tomato and basil, the better the salad or sandwich. Once toasted together, the melted medley of flavors and aromas can only be described as veggie bliss. So, while you may have had an awesome panini elsewhere, you've never had one like you can make at home with your own fresh ingredients- and you don't even need a panini press (I used a grill pan!).
The sun-dried tomato mayonnaise, with a hint of basil and lemon, is also very simple to make and adds fresh flavor on any number of sandwiches, from BLTs to burgers, chicken, salad, sub or veggie sandwiches, panini, and any other sandwich you can dream up in your kitchen!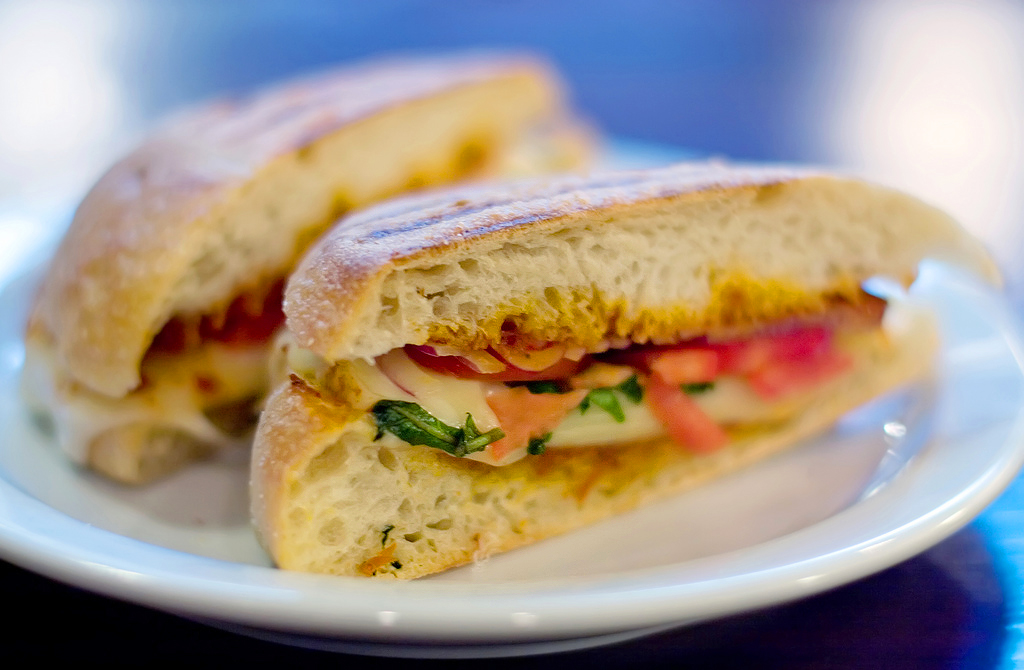 Caprese Panini with Sun-Dried Tomato Mayo
Ingredients
Panini Ingredients
4 slices country bread, 1/2 inch thick
olive oil, for brushing
2 tbsp. sun-dried tomato mayonnaise, recipe below
4 slices fresh mozzarella
6 slices tomatoes
1/4 cup sliced red onion
2 tsp. balsamic vinegar
salt and freshly ground black pepper, to taste
4 fresh basil leaves
Mayo Ingredients
1/2 cup mayonnaise
2 teaspoons sun-dried tomatoes, minced
5-6 leaves fresh basil, chopped finely
1 teaspoon granulated sugar
1 teaspoon Italian seasoning, I used oregano, thyme, crushed red pepper flakes
1 teaspoon fresh lemon juice
2 garlic cloves, minced
Salt and pepper, to taste
Instructions
Panini Directions
Preheat an electric panini maker, or heat a grill pan up to medium-high heat.
Brush one side of each bread slice with olive oil. Lay the slices, oiled side down, on a clean work surface. Spread the top of each slice with 1 tbsp. sun-dried tomato mayonnaise. Place the cheese on one slice and top with the tomato slices and red onion. Drizzle with the vinegar and season with salt and pepper. Top with the basil, then with the other bread slice, oiled side up.
Place the sandwich on the panini maker and cook until the bread is golden and the cheese is melted, 3 to 5 minutes (cook 3 minutes each side if using a grill pan). Transfer the sandwich to a cutting board and cut in half. Serve.
Mayo Directions
Soften the sun-dried tomatoes by placing them in a small pot of simmering water for 4 minutes. Drain. Either chop the tomatoes finely or place them in an electric food processor and pulse for 10-15 seconds on high.
Combine all ingredients in a small bowl and mix well. Refrigerate 30 minutes before serving so flavors can develop.
Store in an airtight container and refrigerate. Mayo will last about two days.
Enjoy!