Put your perfect summer produce to work in this grilled ratatouille pasta, full of flavorful zucchini, bell peppers, tomatoes and eggplant!


Before summer's up and all the perfectly crisp produce disappear with the sizzling sun, we're firing up the grill more than ever! But not just steaks, skewers and pizzas. With the high heat from a gas grill or grill pan, you can quickly toast up bell peppers, onions, zucchini, eggplant and any other hearty vegetable.
Tossing grilled veggies with your favorite pasta (I used whole wheat rotini) makes a simple and delicious side dish alongside chicken or fish, or a mouthwatering main meal on its own. Serve it warm, room temperature or chilled. You can't go wrong!
Kinda like summer in a bowl, huh? I love all the vibrant natural colors from the veggies and fresh parsley. So pretty!
I may be making this saucy, scrumptious ratatouille once the weather chills and signs of summer become faint. But in the meantime, this grilled ratatouille pasta packed with plenty of nutrient rich, flavorful veggies will be my go-to side dish. Give it a whirl for yourself!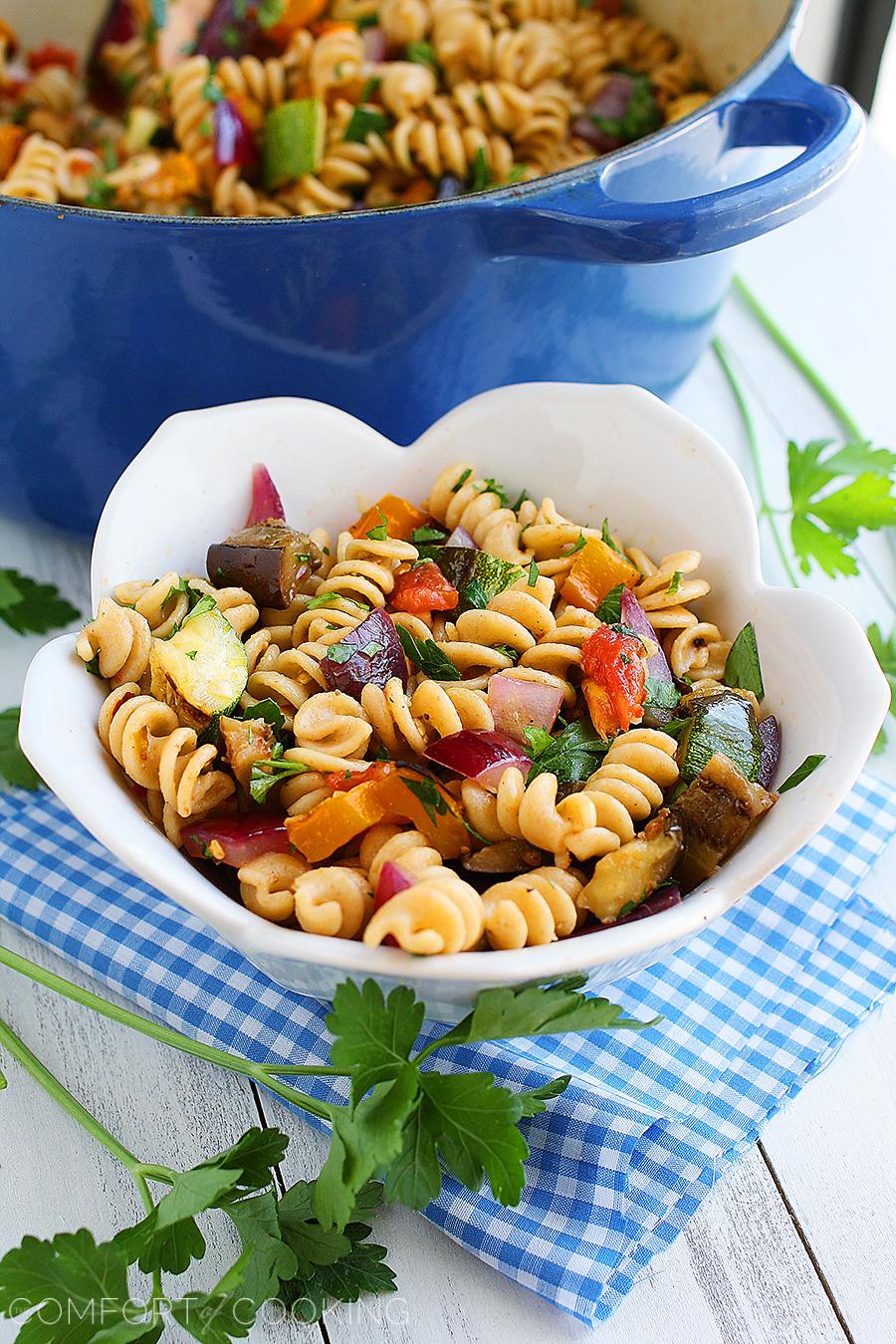 Grilled Ratatouille Pasta
Ingredients
Salt and pepper
1/2 pound whole wheat pasta, such as rotini or cavatappi
1/4 cup olive oil, divided, plus more for grilling
1 medium zucchini, halved lengthwise
1 bell pepper, halved, stemmed, and seeded
1 small red onion, halved
1 small eggplant, cut lengthwise into thick slices
4 large tomatoes, cut crosswise into thick slices
3 to 4 tablespoons white wine vinegar or white balsamic vinegar
1/4 cup roughly chopped fresh parsley
Instructions
In a medium pot of boiling salted water, cook pasta according to package instructions. Drain pasta and return to pot; place away from heat.
Heat a grill or grill pan to medium-high; lightly oil hot grill. Working in batches if necessary, lightly brush vegetables with 2 tablespoons oil, season with salt and pepper, and grill, turning occasionally, until browned and tender. Transfer vegetables to a cutting board and let cool slightly.
Roughly chop vegetables and add to pasta. Add 2 tablespoons each oil and vinegar, or to taste. Season with salt and pepper, sprinkle with parsley, and serve warm or cold.
Enjoy!