Try these tasty trifles layered with vanilla pudding, shortbread cookies and bananas for an elegant but SO easy Southern favorite!


There are dozens of reasons I love Southern living – We have just about the friendliest people you'll ever meet, the best knee slappin' music you'll ever stomp your boot to, and the hottest temperatures you'll ever endure. Well, that part I don't love so much. So let's replace it with… the tastiest banana pudding you'll ever taste! But it doesn't matter where you live, because you can make it at home!
Banana pudding is a Southern specialty of sweet, creamy vanilla custard layered with sliced bananas and, typically, Nilla Wafers. And, oh my stars, who doesn't feel like a kid again when eating those wafers. But I wanted to jazz up these tasty little trifles with something different – Walker's Shortbread Lemon Thins.
You can find them at many grocery stores, but in the event you can't, any shortbread cookies or Nilla Wafers work just fine.
If you've never tried homemade pudding before you'll be super surprised at how easy and amazingly delicious it is. The taste of velvety cooked butter, vanilla, eggs and milk leaves no comparison to the boxed powder. This is the real stuff, and it's real good!
Try these tasty trifles layered with pudding, shortbread and bananas for an elegant but SO easy Southern favorite!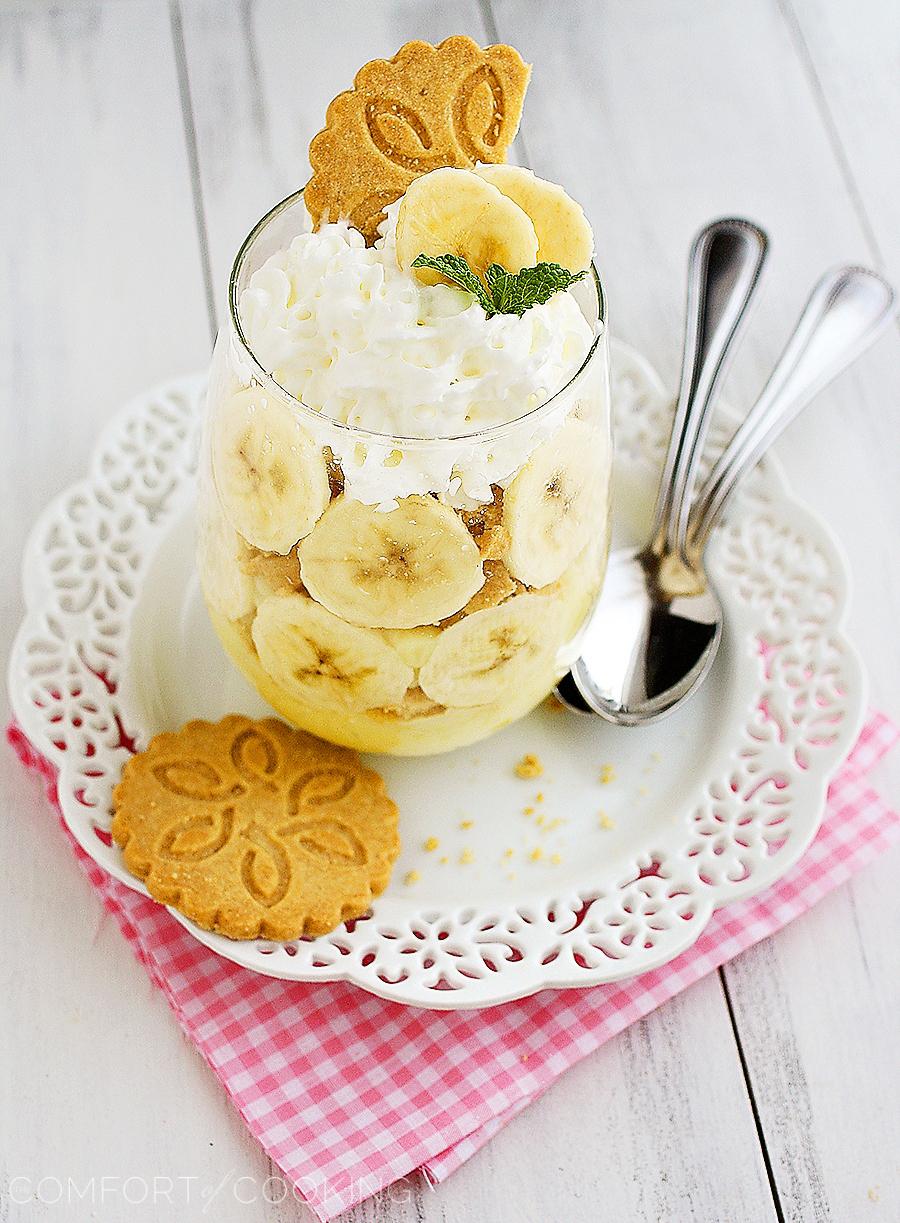 Mini Banana Pudding Trifles with Shortbread Cookies
Ingredients
3 cups milk
3 large eggs
3/4 cup sugar
1/3 cup all-purpose flour
2 tablespoons butter
2 teaspoons vanilla extract
3 medium-size ripe bananas
1 4.2 oz. package Walker's Shortbread Lemon Thins, or shortbread of your choice
2 cups whipped cream
Instructions
In a large saucepan over medium-low heat, whisk together milk, eggs, sugar and flour. Cook, whisking constantly until thick, 15 to 20 minutes. Remove from heat; add butter and vanilla. Whisk until butter is melted.
Fill a large bowl with ice. Nestle saucepan in ice and let sit, stirring occasionally, 30 minutes or until mixture is thoroughly chilled.
Meanwhile, cut bananas into 1/4-inch slices. Break up cookies with your hands.
Spoon half of pudding mixture equally into 4 wine glasses or parfait glasses. Top with bananas and cookies. Spoon remaining pudding mixture over bananas and cookies. Top with whipped cream. Serve immediately, or cover and chill 2 to 24 hours. Garnish with extra bananas, cookies or mint sprigs, if desired.
Enjoy!