Make your weeknight meals mouthwatering with this easy, Asian-inspired chicken and rice dish with only basic ingredients! A healthier and more delicious twist on takeout. You're gonna love it!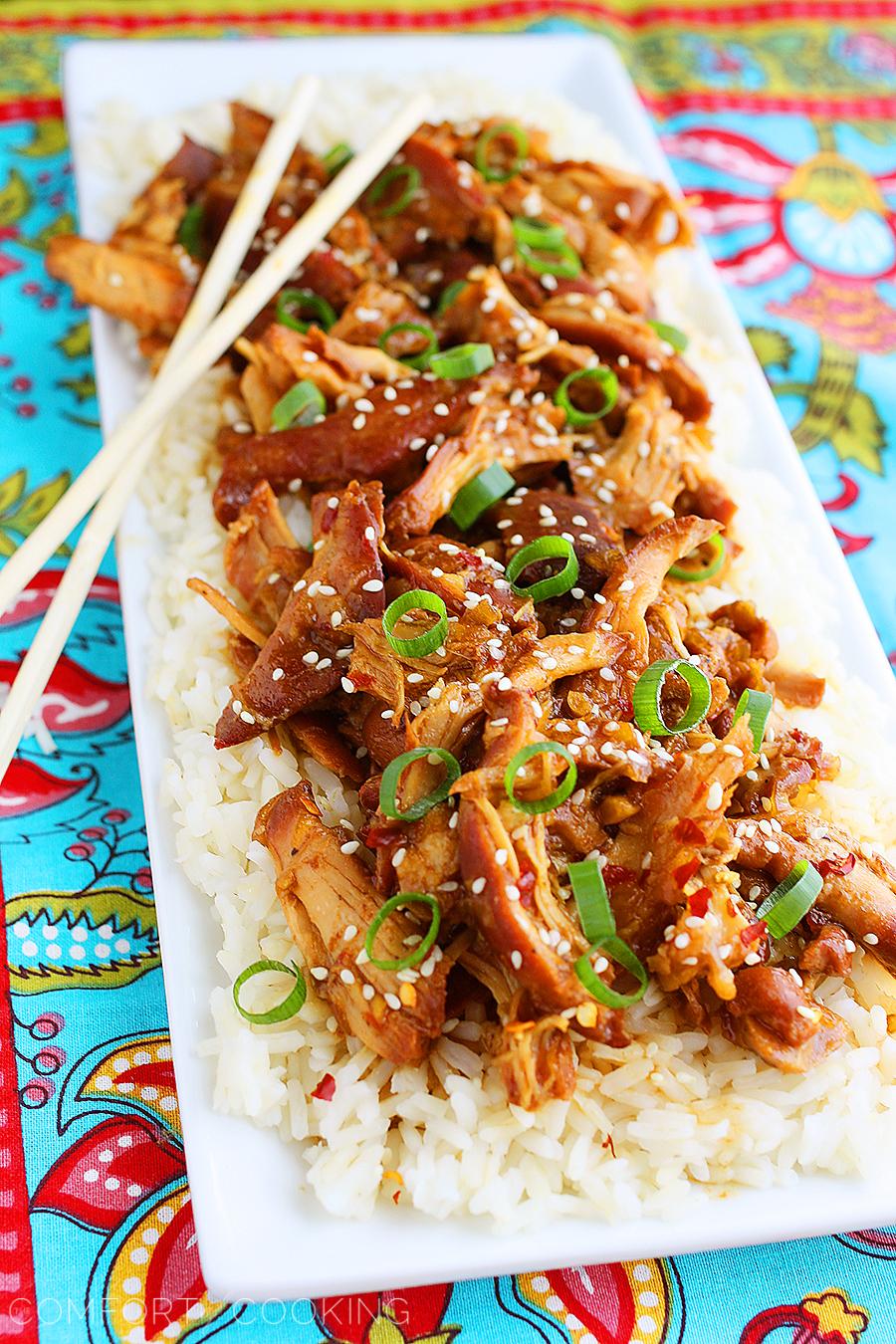 Last Friday my hubby stumbled home from a weeklong business trip, tired of working and traveling, and wanting home cookin'. Poor guy had to eat steaks and sushi all week on the company dime. It's a hard knock life.
That day, I whipped up this deliciousness in the Crock Pot only to forget that I, in fact, from work home and had to sit in my swivel chair, seduced by its aroma for hours on end. The air, tangy-sweet and savory, had just about convinced me to gnaw on my arm when – ding! – done. Four hours to finished perfection in a pot! And I didn't have to do a dang thing but whip up a marinade and flip a switch.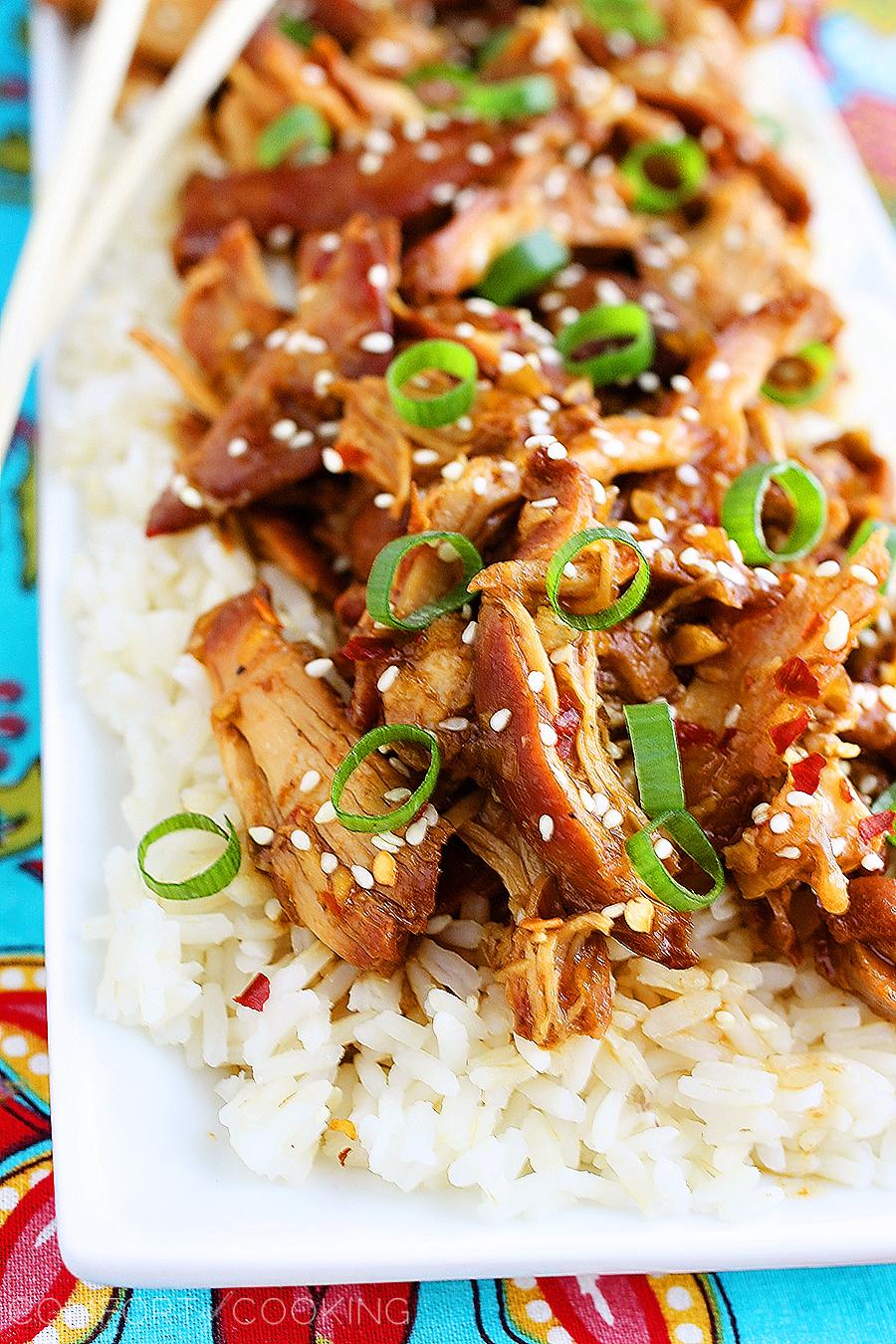 This Asian-inspired take on tasty, slow-simmered comfort food is so easy and absolutely delish! Plus, sometimes there's no time for anything more than setting it and forgetting it. Forgetting it is a little tough when it smells this good, though.
Try this scrumptious honey sesame chicken and keep dinner simple, folks. All you need are a bunch of basic ingredients and a patient sense of smell!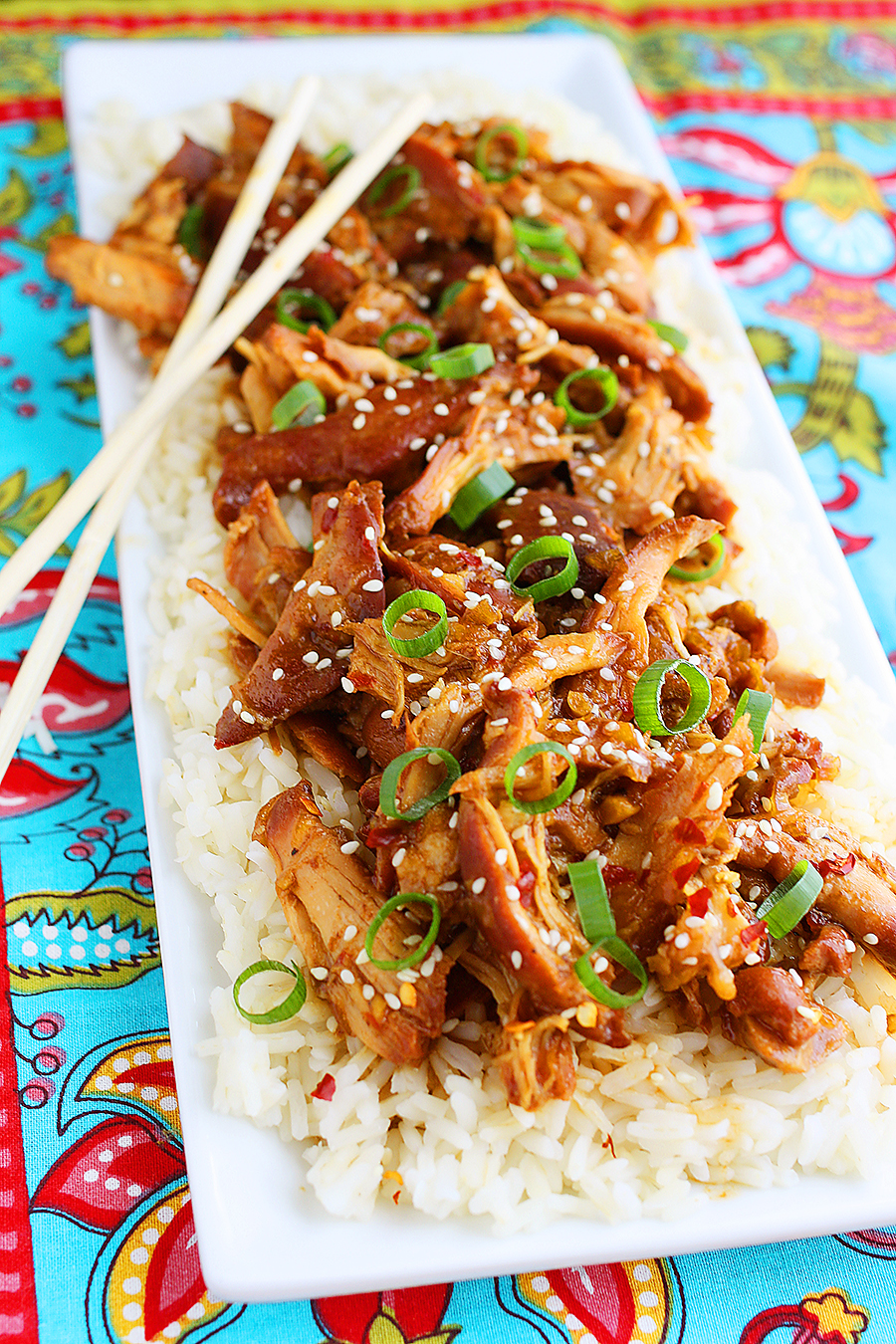 Crock Pot Honey Sesame Chicken
Ingredients
6-8 boneless, skinless chicken thighs or 4 chicken breasts , (2 lbs. total)
Salt and pepper
1/2 cup diced onion
2 cloves garlic, minced
1/2 cup honey
1/4 cup ketchup
1/2 cup low-sodium soy sauce
2 tablespoons vegetable oil or olive oil
1/4 teaspoon red pepper flakes
4 teaspoons cornstarch
1/3 cup water
2 packets minute rice, optional
1/2 tablespoon (or more) sesame seeds
3 scallions, chopped
Instructions
Place chicken in Crock Pot and lightly season both sides with salt and pepper.
In a medium bowl, combine onion, garlic, honey, ketchup, soy sauce, oil and red pepper flakes. Pour over chicken. Cook on low for 3-4 hours, or high for 2 hours.
Remove chicken to a cutting board, leaving sauce. Shred chicken into bite-sized pieces; set aside. Prepare rice according to package instructions.
In a small bowl, dissolve 4 teaspoons cornstarch in 1/3 cup water; add to crock pot. Stir to combine with sauce. Cover and cook sauce on high for ten more minutes, or until slightly thickened.
Add cooked rice to 4 plates, top with chicken and spoon sauce over top. Sprinkle evenly with sesame seeds and chopped scallions.
Enjoy!