These past few days, I have been going full force on the fall season. From decorating to landscaping, cooking and baking, it's been all about my favorite season around here, and there's plenty to celebrate. For one, this is our first fall in our new home in a new city, we'll be hosting a big Halloween costume party, and my October birthday is just around the corner!
One of the best ways to toast to falling leaves and cooler weather is to break out the pumpkins – Pumpkins can be large and small, bumpy and smooth, carved and decorative, and delicious… and I can't stop baking with that warm, spicy aroma and comforting, rich taste all season long.
After making a pumpkin cake (look out for that recipe soon), I was hunting around for other ways to use up my leftover pumpkin puree and decided to whip up this delicious and flavorful pumpkin risotto. It's a cinch to make even for the novice cook and absolutely the most cozy, scrumptious hug-in-a-bowl you could ask for to help swing in the fall season properly!
Topped with crispy bacon and freshly grated Parmigiano Reggiano (I recommend keeping the good stuff on hand), this creamy spiced pumpkin risotto will melt in your mouth and surprise you with its ease. It's just so darn scrumptious, whether as a full meal or side dish, dinner or lunch, and if you've never tried risotto you'll be so delighted to realize that it's really a piece of cake.
And, If you're not big on pumpkin, maybe you could appreciate a Parmesan risotto with butter, fresh basil and white wine… also a favorite in this house!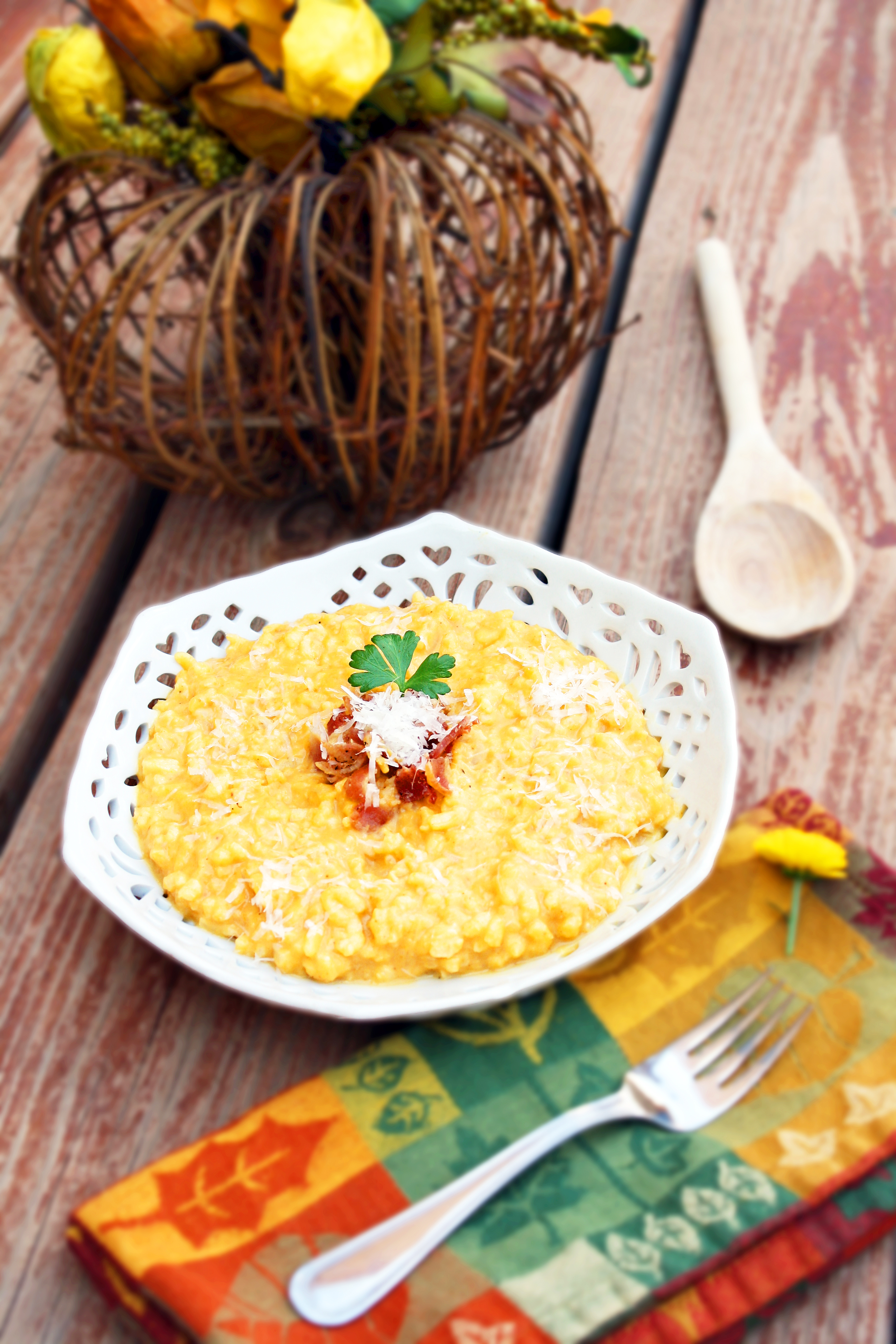 Creamy Pumpkin Risotto with Bacon and Parmesan
Ingredients
2 tablespoons unsalted butter
½ cup chopped onion
2 teaspoons minced garlic
1 cup long-grain rice or Arborio rice
2 ½ cups chicken broth
¼ teaspoon kosher salt
¼ teaspoon ground black pepper
Pinch of grated nutmeg
1 cup canned pumpkin
¼ cup freshly grated Parmesan, plus more for serving
½ cup heavy cream or half-and-half
2 strips thick-cut bacon, chopped
Instructions
Melt butter in a large saucepan over medium heat.
Add the onion and cook until tender. Add the garlic and rice and sauté for about 1 minute. Add 2 cups of the chicken broth, the salt, pepper, and nutmeg; cover and simmer for 10 minutes. Add the remaining 1/2 cup broth and the pumpkin, and cook for another 5 minutes. The rice will be tender and slightly moist. Remove from the heat and stir in the Parmesan and cream. Cover while you prepare bacon.
In a small pan, sauté chopped bacon on medium-high heat until crispy, 6-7 minutes. Place on a plate lined with paper towels to drain excess grease.
Serve risotto, topping with crispy bacon and freshly grated Parmesan.
Enjoy!