Risotto used to be a dish that scared and intimidated me, but since I started to learn to make it, I've never stopped experimenting. This risotto, however, has remained my absolute favorite. Though it may look simple, it is fragrant, rich and very flavorful.
The recipe is an adaption of the Low-Maintenance Risotto from Real Simple, one of my favorite sources for new recipes that are, actually, really simple! This Parmesan risotto is no exception.
All it takes is a bunch of basic ingredients: Arborio rice, butter, onion, white wine, chicken broth and fresh Parmesan… and a watchful eye. After you melt the butter, stir in the onion and a little salt and pepper. Wait 'til those onions are nice and soft. Then add the rice, some lovely white wine (remember: only cook with a wine you'd drink!), and half your chicken broth. Cook for 10 minutes, then add more broth, cook for 10 minutes more. Add your Parmesan, chopped basil, and you have yourself a nice, velvety rich risotto with an incredible aroma!
I know you will enjoy this dish just as much as you'll enjoy making it and tending to the ingredients until they combine this delicious creation. Risotto doesn't have to be hard – All it takes are yummy basics like good wine, fresh Parmesan and a little patience!with the basil and additional Parmesan, if desired.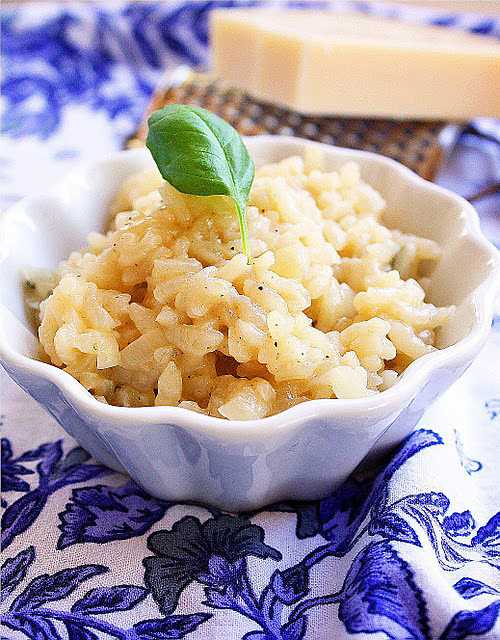 Easy Parmesan Risotto
Ingredients
3 tablespoons unsalted butter
1 medium onion, finely chopped
kosher salt and black pepper
1 cup Arborio rice
1/2 cup dry white wine
3 1/2 cups low-sodium chicken broth, plus more if needed
1/2 cup grated Parmesan, 2 ounces, plus more for serving
2 tablespoons chopped fresh basil
Instructions
Melt 2 tablespoons of the butter in a medium-sized pot over medium heat.
Add the onion, ½ teaspoon salt, and ¼ teaspoon pepper and cook, stirring occasionally, until softened, 6 to 8 minutes.
Add the rice and cook, stirring, for 2 minutes. Add the wine and simmer until absorbed.
Add half the broth (1 ¾ cups) and simmer, stirring once, until absorbed, 8 to 10 minutes.
Add the remaining broth and simmer, stirring once, until the rice is tender and creamy, 8 to 10 minutes. (If the rice is not cooked through and the mixture is dry, add more broth and continue to cook until tender.)
Stir in the Parmesan and the remaining tablespoon of butter. Sprinkle with the basil and additional Parmesan, if desired.
Enjoy!