Though my husband, Mark, and I aren't going anywhere special for Thanksgiving, or even hosting a two-person to-do of our own, these mini apple and cherry pies make me wish all the more that we were.I mean, who can resist a little two-bite version of everyone's favorite fall pies?
It's as easy as this: Grab two pie crusts, roll out to about 11 inches, and cut a bunch of circles out of the dough with a cookie cutter (Or, in my case, a drinking glass). Form the dough shapes to the muffin tins, and in each one, plop two tablespoons of your favorite fruit pie filling. I just used store-bought apple pie and cherry pie filling in the interest of making this quick and easy, but you can also use fresh fruit. Or, caramelized apples. How good would that be??
I grated a little lemon zest over my cherry pies, just to give 'em a little citrusy punch. A little cinnamon and nutmeg on top of the apple pies, and on went the top crusts.
Yum, yum! I just wanted to gobble them up right then and there. But, alas, I've learned to exercise restraint with raw pie crust in my old age… Sort of.
However, once they were baked, all bets were off. Even my sweets-resistant husband couldn't resist the warm, fragrant apple pies with a scoop of vanilla ice cream, and the sweet, tart cherry pies with their flaky pie crust.
Best of all, these little pies are really "easy as pie." Try them with pecan pie filling, or pumpkin pie filling, or all different sorts of fruit. They would make for a cute dessert for two, and definitely be the show-stopper at any holiday party!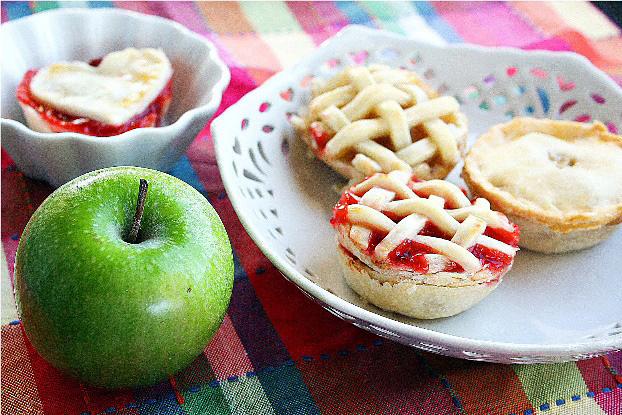 Mini Apple and Cherry Pies
Ingredients
Nonstick cooking spray
2 9-inch pie crusts, store-bought or homemade
21 oz. cherry pie or apple pie filling, or your favorite filling
1/2 tsp. cinnamon
1/4 tsp. nutmeg
1 lemon, optional
1 egg
1 tbsp. water
Instructions
Preheat oven to 350 degrees F.
Spray 8-10 muffin tin cups with nonstick cooking spray. Roll out pie crusts on a well-floured board with a lightly floured rolling pin. Dust off excess flour. With a cookie cutter or drinking glass, cut 4-inch circles out of each pie crust. Fill standard-size (1/2 cup) muffin tin cups with pie crusts. Reserve extra dough, roll out if necessary, and cut crusts for the top.
Add two tablespoons of filling to each crust. Combine cinnamon and nutmeg, and dust over the top of each pie. If desired, grate a little lemon zest over the filling. Top with remaining 4-inch circles or decorative shapes cut out of the pie crust.
Whisk egg and water in a small bowl, and lightly brush each crust with the mixture.
Bake for 30 minutes. Tent the pan loosely with aluminum foil if the crusts are browning too quickly.
Serve plain, or with whipped cream or vanilla ice cream.
Enjoy!