These easy berry bars with a buttery shortbread crust are full of fresh summer fruit… and they taste just like a berry pie. Only much more simply made!
It's because of bars like this that I hardly ever make cakes or pies. They're just so crazy easy, require no decorative embellishments, and, let's be honest, in small bar form, you feel like you can get away with eating more! It's true. I know it, you know it. Let's just accept it and have another.
Nom nom nom!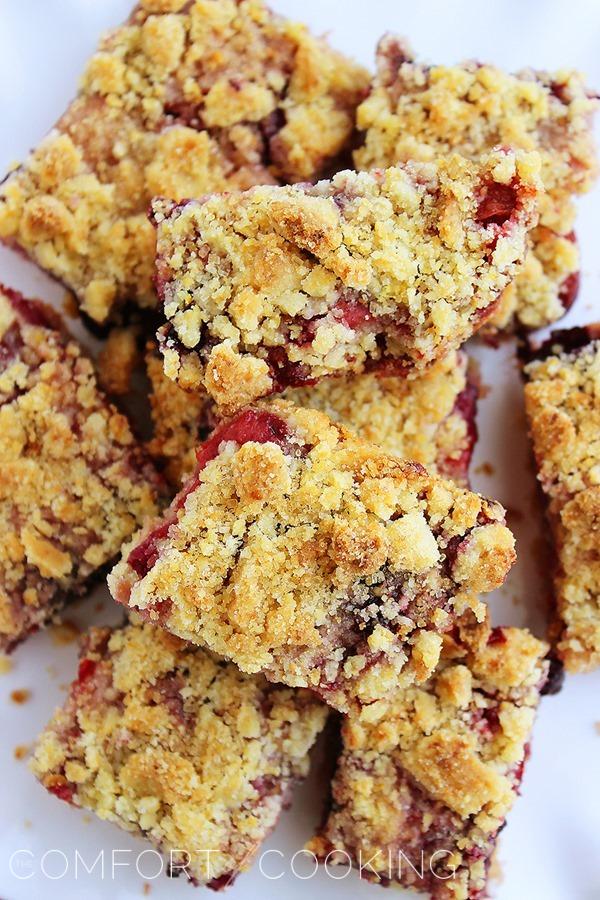 This beautiful marriage of crumbly, buttery shortbread-like dough and tart, sweet berries has made for the best dessert to hit my kitchen lately. I couldn't resist Jaclyn's great recipe, and just about tripped over my own two feet to get in the kitchen and get bakin'!
These soft, scrumptious berry bars definitely didn't disappoint. Warmed up in the microwave and served with a scoop of vanilla ice cream, they were an incredible indulgence made easily from scratch!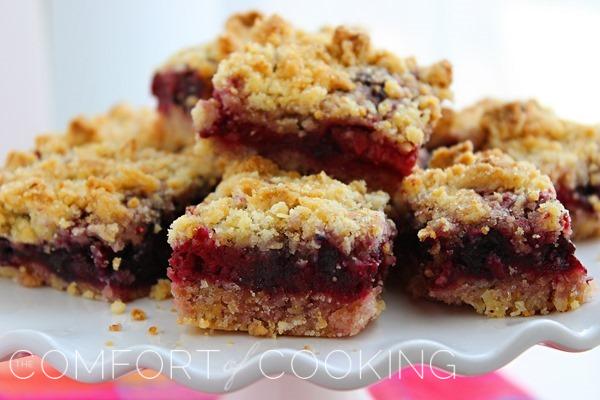 For spring and summer parties, or just to have something sweet in the house for snacking, you'll love these berry bars. Stack 'em high on a pretty little platter, and watch them get grabbed up before your eyes!
A pinch of lemon zest in the dough gives the bars a citrusy lightness, and really brings out the berries' tartness! If you'd rather use just strawberries, blueberries, or raspberries instead of the mixed berries, go ahead and swap them out for your favorite. I hope you enjoy these bars and let me know how they turn out if you try them!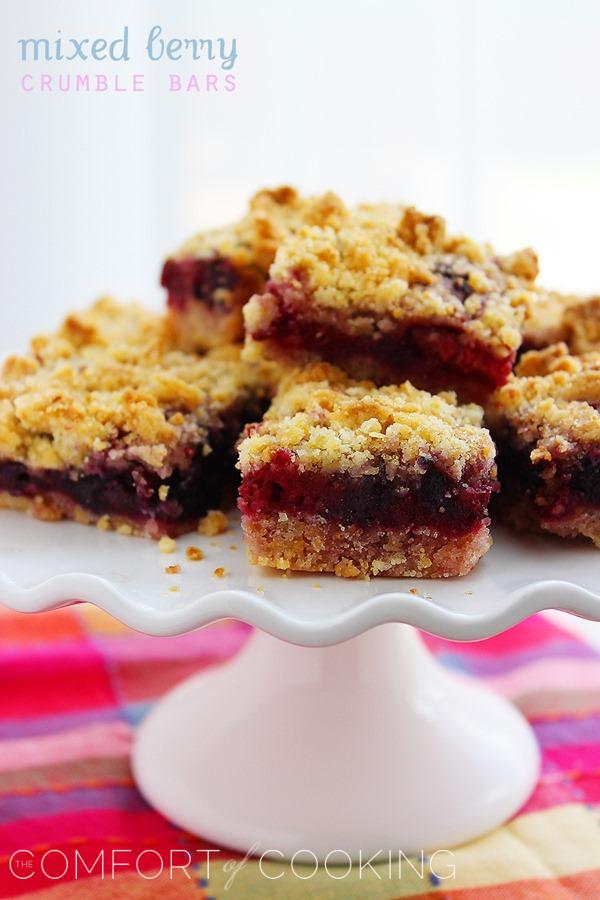 Mixed Berry Crumble Bars
Ingredients
1 1/2 cups all-purpose flour
3/4 cup granulated sugar, divided
1/2 tsp. baking powder
1/8 tsp. salt
1 tsp. lemon zest
1 large egg yolk
1 tsp. vanilla extract
1/2 cup salted butter, chilled and cut into cubes
2 tsp. cornstarch
1 Tbsp. lemon juice
2 cups fresh or frozen mixed berries, or any 1 berry – strawberries, raspberries, blueberries, etc.
1 Tbsp. raw turbinado sugar
Instructions
Preheat oven to 375 degrees F. Generously butter an 8x8-inch baking dish and set aside.
In a large mixing bowl, whisk together flour, 1/2 cup granulated sugar, baking powder, salt and lemon zest. In a small mixing bowl, whisk egg yolk and vanilla. Add egg mixture and cold butter cubes to flour mixture. With a fork, pastry cutter, or your fingertips, cut mixture together until it resembles coarse crumbs. Gently press a little over half of the mixture into the prepared 8x8 dish.
In a separate medium bowl, whisk together remaining 1/4 cup granulated sugar and 2 tsp. cornstarch. Stir in lemon juice then add berries. Toss mixture to evenly coat. Pour into baking dish and spread evenly over bottom crust. Sprinkle remaining crumb mixture over berry layer (I pressed some of the mixture together in my hands while sprinkling to make larger crumbs). Sprinkle raw turbinado sugar evenly over top.
Bake in preheated oven for 35-38 minutes, or until top is golden brown. Allow to cool for 20-30 minutes before cutting into squares. Store bars in an airtight container in refrigerator.
Enjoy!