These puff pastry peach tarts with chopped pecans are flaky, buttery and full of Southern sweetness!
It may be tough to feel the warm fuzzies for my extra warm home state in the hot summer months, but I do love it here in Texas! What's not so hot? Frizzy hair in humidity and blood hungry mosquitoes are my only two complaints. But, eh. Everything else is just plain peachy!
It's been over a year since we've lived here, and I can barely believe it! To celebrate (a bit belated, but A for effort, right?), I made this delicious, decadent tart with fresh peaches and studded it with Texas pecans for a perfect dessert to toast our busy, blissfully happy first year. Elegant, effortless and easy as pie. Actually, it's much easier!
Just roll out a sheet of frozen puff pastry a bit, cut it into thirds and a toss some juicy sliced peaches on top (fresh is best). Bake up those little beauties for 20 minutes and serve 'em hot with vanilla whipped cream or ice cream to make this a truly swoon-worthy Southern treat!
Be a peachy Southern sweetie and give away one of these delectable desserts, or be the little tart you are and keep them all to yourself!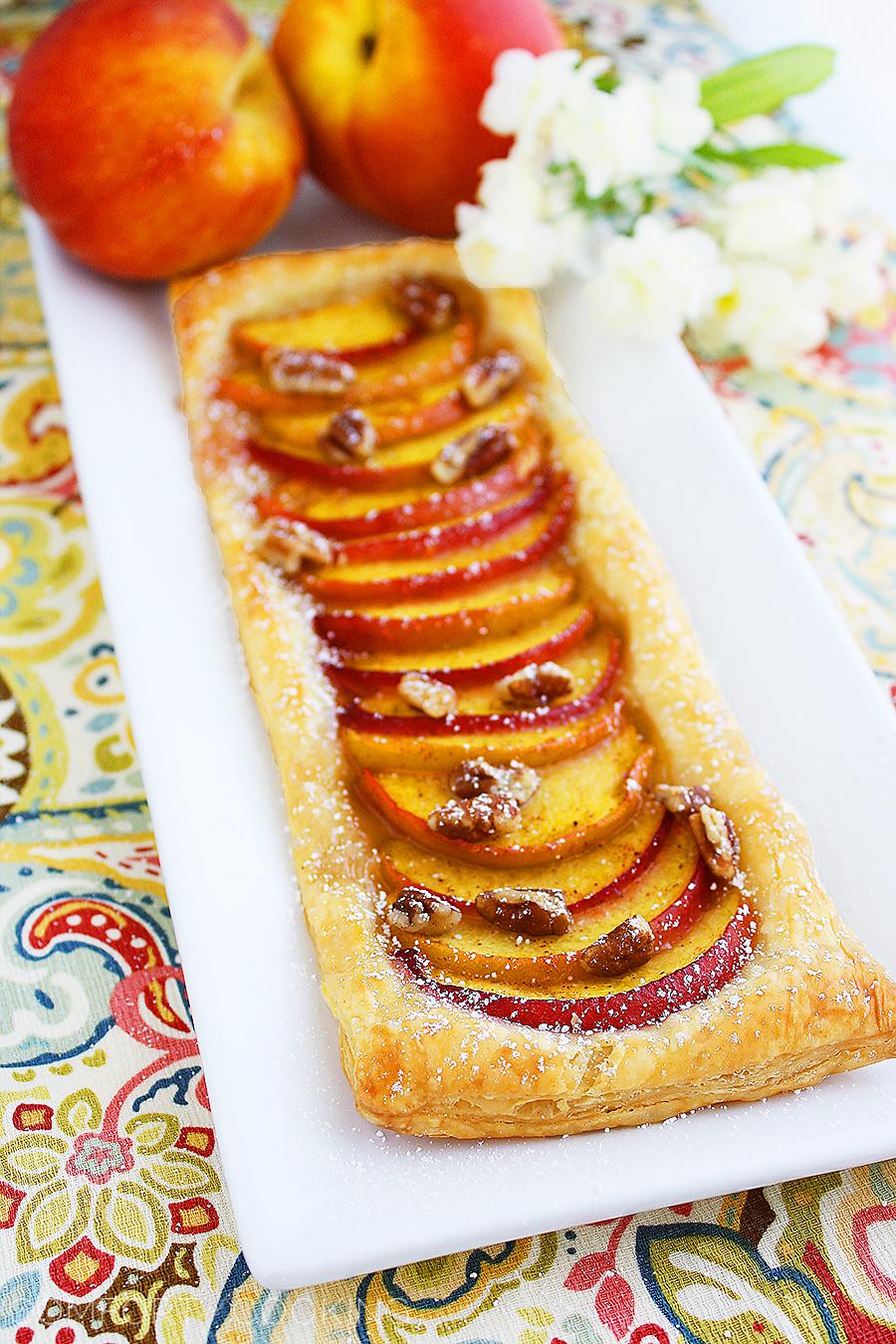 Texas Peach and Pecan Tart
Yield:
3 tarts (6-9 servings)
Ingredients
1 sheet puff pastry
2 large fresh peaches
1/4 cup granulated sugar
1/4 tsp. ground cinnamon
1/8 tsp. ground nutmeg
1/8 tsp. table salt
1/4 cup chopped pecans or walnuts, optional
Whipped cream or vanilla ice cream, optional
Instructions
Preheat oven to 350 degrees F. Prepare a baking sheet with parchment paper.
Halve peaches, remove pit and slice into 1/4 inch thick slices. Add sugar, cinnamon, nutmeg and salt to a medium bowl and toss peach slices in mixture.
Unfold puff pastry on a lightly floured surface. With a rolling pin, roll the pastry slightly to stretch. Cut pastry into thirds and lay each on baking sheet. Arrange peach slices on top of each third, overlapping.
Bake 20 minutes, or until pastry is golden. Remove from oven and sprinkle with chopped pecans or walnuts. Serve with whipped cream or ice cream, if desired.
Enjoy!