Before winter is gone for good and cold days make way for colder drinks, I want to share with you one of my most favorite warm, comforting desserts ever. This bread pudding is crafted from fresh, buttery croissants, melt-in-your-mouth gourmet dark chocolate and pure love.
This is the kind of food that comes from the heart, y'all. So, sneak away from your salads and healthy resolutions for a moment, and DIG. THE HECK. IN.
All it took was a bunch of bakery croissants, chocolate, cream and strawberries, dreaming up something decadent and delicious, and taking the time to enjoy it. That is, before bikini season strikes and we all have to become responsible little eaters.
The soft croissant pieces soaked up the creamy spiced mixture you see above for just a few minutes before piling into a dish with a handful of chopped dark chocolate.
Drooling yet?
After baking for just about thirty minutes, this fabulously fluffy bread pudding was ready to be piled into a bowl with strawberries. With a little dusting of powdered sugar, a drizzle of homemade chocolate syrup (recipe coming soon), it was the perfect dessert. And, let's be honest, breakfast the next morning too!
Try this decadent treat for yourself sometime and you'll experience a slice of heaven too! The croissant base makes for a much lighter texture and taste than traditional bread puddings. With whipped cream, ice cream or any combination of fresh fruit, it makes for a enjoyable, easy dessert or breakfast!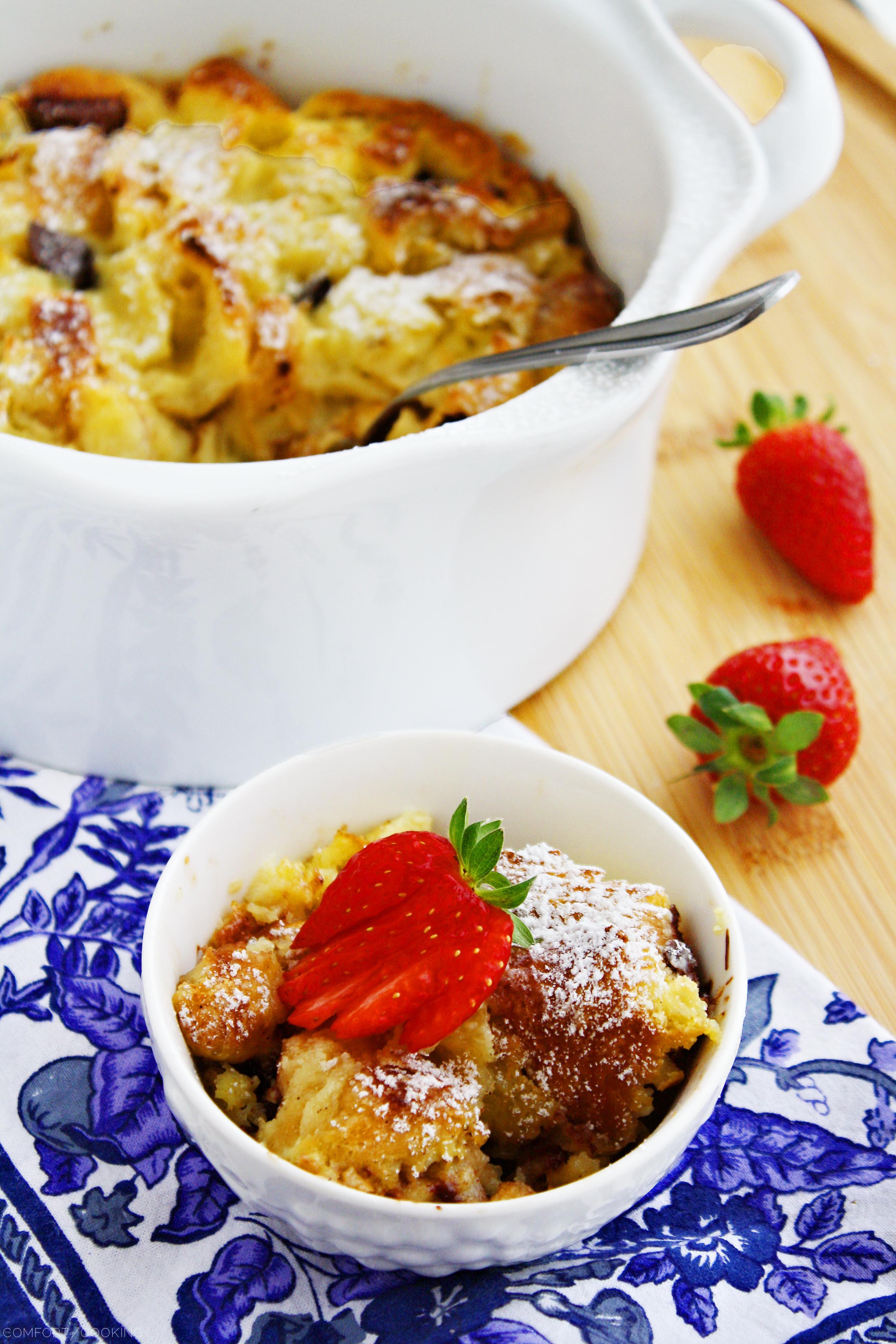 Croissant and Chocolate Bread Pudding
Ingredients
Nonstick cooking spray
3 large egg yolks
1 cup milk
1/2 cup heavy cream
1/2 cup granulated sugar
1/2 teaspoon pure vanilla extract
1/4 teaspoon kosher salt
1/4 teaspoon ground nutmeg
3 croissants, cut into 1-inch pieces (about 1 pound)
2 ounces bittersweet chocolate, cut into chunks
Optional topping
Fresh fruit such as strawberries, raspberries, blueberries, etc.
Instructions
Heat oven to 375° F. Coat a small, shallow 2-quart baking dish with cooking spray.
In a large bowl, whisk together the egg yolks, milk, cream, sugar, vanilla, salt, and nutmeg. Add the croissants and chocolate and mix to combine.
Transfer the mixture to the prepared baking dish and bake until set and a knife inserted in the center comes out clean, about 30 minutes. Serve warm or at room temperature.
Serve with chocolate syrup, ice cream or whipped cream and fresh fruit, if desired.
Enjoy!