Cheers, foodie friends! It's your lucky day. I've got for you a refreshing and super simple cocktail with good, basic ingredients and a tasty balance of flavor and pizazz!
Lads and lasses alike will love this one, since the only fruity flavor comes from the lime juice but it still has a hint of sweetness. A splash of ginger ale and Irish whiskey (or a little more than a splash – it's St. Patrick's Day after all!) make this cocktail a fun way for two to toast. Also included is a pitcher-sized recipe if you're quenching the thirst of more than a few!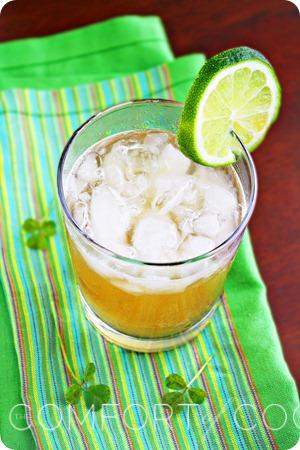 Irish Buck Cocktail
Ingredients
Ice
4 ounces 1/2 cup Irish whiskey
2 Tbsp. fresh lime juice
6 ounces 3/4 cups ginger ale
1 lime, sliced into wedges
Instructions
Fill two glasses with ice. To each glass, add 2 ounces Irish whiskey, 1 Tbsp. lime juice and 3 ounces ginger ale. Stir and garnish each with a lime wedge.
Cheers!