For the next several days, we're getting new floors installed on the whole first floor of our house. Life is anything but pretty, frilly and cupcake-y at the moment. But, in honor of St. Patrick's Day, and because who doesn't love chocolate and beer when life turns upside down, I give you cupcakes. Rich and chocolaty, melt-in-your-mouth cupcakes with a touch of stout and a swirl of whiskey-laced cream cheese frosting.
Oh baby.
The thought never occurred to me that beer and liquor in a baked good would be a delicious combination, but you guys. It's out of this world! The flavors are subtle but add a nice, unexpected kick to the delicious decadence of the rich chocolate and fluffy frosting. And before you know it, you've gobbled up one after another like a greedy little leprechaun … they're always after me lucky cupcakes!
Make these easy, delicious and festive cupcakes with a kick for your own St. Patrick's Day party or just to try something new! They're fabulously fun and easy, and the flavor is unlike anything you have tasted before. Not to mention, they're even more fun to eat all dressed up in their luck-of-the-Irish best!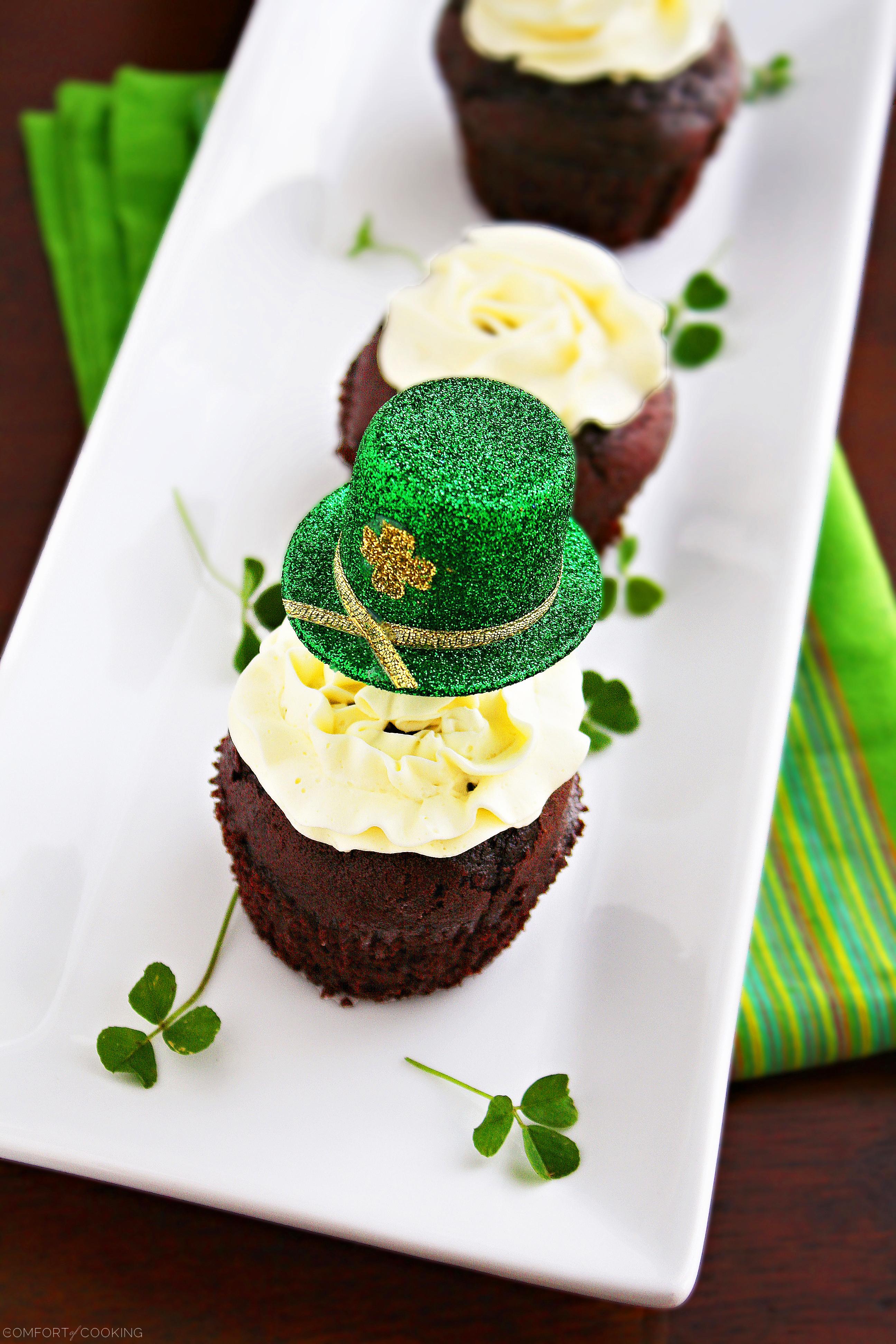 Chocolate Stout Cupcakes with Irish Whiskey Frosting
Ingredients
Chocolate Stout Cupcakes
3/4 cup unsweetened cocoa
2 cups sugar
2 cups all-purpose flour
1 teaspoon baking soda
1/8 teaspoon table salt
1 (11-12 oz) bottle stout beer, recommended: Guinness
1 stick butter, melted
1 tablespoon vanilla extract
3 large eggs
3/4 cup sour cream
Irish Whiskey & Cream Cheese Frosting
1 8 oz. package cream cheese, softened
3/4 to 1 cup heavy cream
1 1/2 tablespoons Irish whiskey
1 16 oz. box confectioners' sugar
Instructions
Chocolate Stout Cupcakes
Preheat oven to 350 degrees F.
In a large mixing bowl, whisk together the cocoa, sugar, flour, baking soda and salt.
In another large mixing bowl, combine the stout, melted butter and vanilla. Beat in eggs one at time. Mix in sour cream until thoroughly combined and smooth. Gradually mix the dry ingredients into the wet mixture.
Lightly grease two muffin tins. Divide the batter equally between muffin tins, filling each 3/4 full. Bake for about 12 minutes and then rotate the pans. Bake another 12 to 13 minutes until risen and set in the middle but still soft and tender. Cool before removing cupcakes from pan.
Irish Whiskey & Cream Cheese Frosting
In a medium bowl with a hand mixer, beat the cream cheese on medium speed until light and fluffy. Gradually beat in the heavy cream and Irish whiskey. On low speed, slowly mix in the confectioners' sugar until incorporated and smooth. Cover with plastic wrap and refrigerate until ready to use.
Frosting can be made several hours ahead and kept covered and chilled.
Enjoy!