Try these sinfully good, super simple chocolate chunk brownies stuffed with homemade caramel sauce made from candies and cream!
I probably have a few more guilty pleasures than most! Among my many are wearing pj's all day, piling heaps of fluffy freshly grated Parmesan on a big bowl of pasta, and crawling into a clean, crisp white bed with a good book. My biggest guilty please, by far, is savoring scrumptious chocolate! Even better when it's tucked into a brownie with ooey-gooey caramel sauce made from chewy candies. How easy is that?
To make these mouthwatering brownies, I just used a chocolate chunk boxed mix. If you prefer to make the brownie from scratch, here are recipes for my Best Cocoa Brownies and Gluten-Free Fudgy Pecan Brownies.
Whatever you use, start out by baking half the brownie batter first. Make your caramel sauce with candies and heavy cream, spread it on top, then layer on the remaining brownie batter, and bake!
These devilishly delish caramel brownies are definitely my newest guilty pleasure, and once you try them they'll be yours, too! They're SO easy and absolutely the best dessert to come out of my oven lately.
Toss some chopped pecans on top before baking for a truly amazing turtle brownie, or sprinkle a little salt into the caramel sauce for a sweet-salty twist!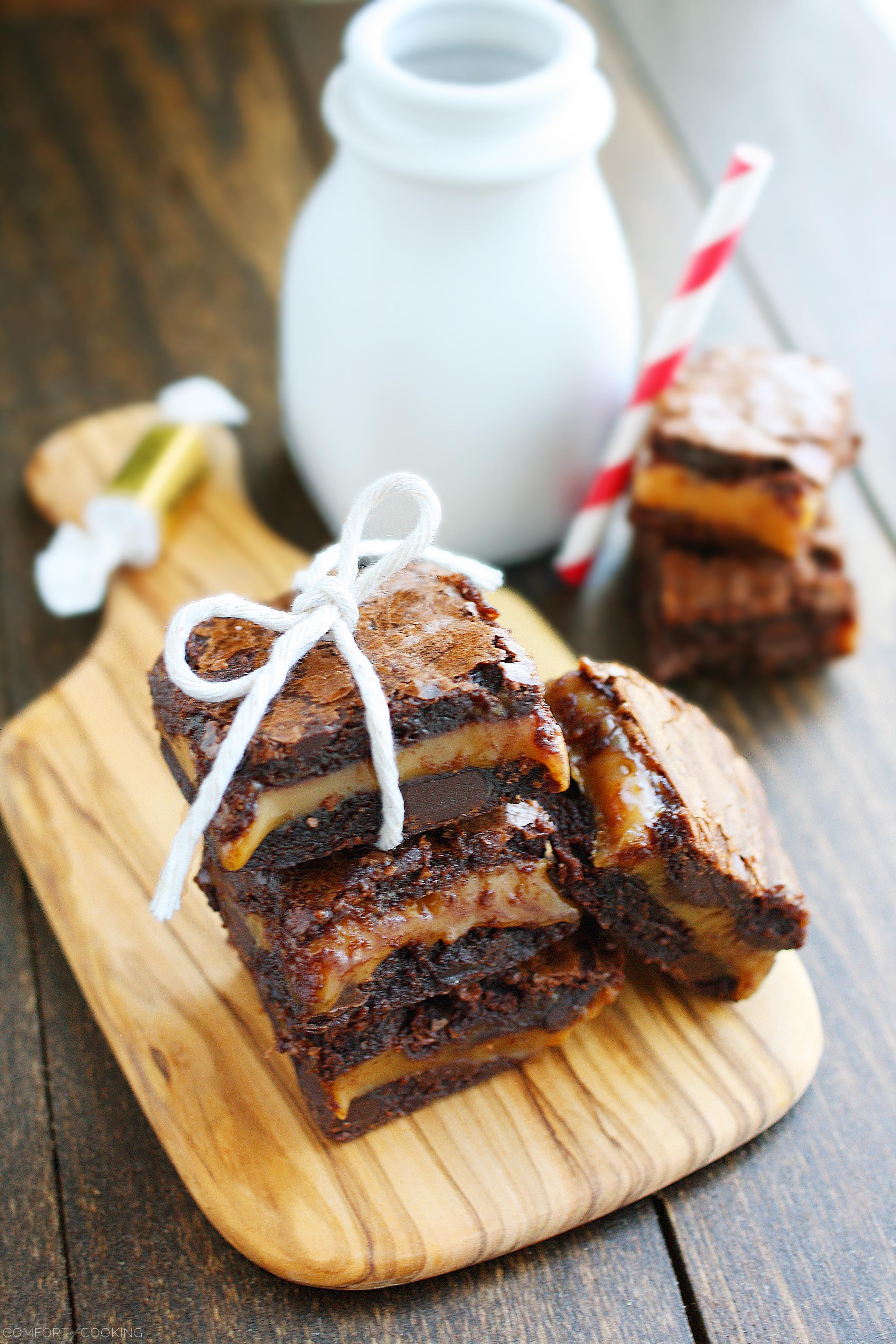 Easy Chocolate Chunk Caramel Brownies
Ingredients
Nonstick cooking spray
1 16 oz. box chocolate chunk brownie mix
Eggs, vegetable oil and water for brownie batter, as called for on box
14 oz. chewy caramel candies, unwrapped (recommended: Kraft or Werther's)
1/3 cup heavy cream
Instructions
Preheat oven to 350 degrees F. Line a 9 x 9 pan with aluminum foil and spray with nonstick cooking spray.
Prepare brownie batter as directed on package. Pour a little less than half of the batter into the pan and spread evenly. Bake for 15 minutes. Remove pan from oven and let cool 15 minutes. Maintain oven temperature.
Meanwhile, set a medium saucepan over medium-low heat; add caramels and heavy cream. Stir frequently until melted and smooth. Immediately pour caramel over brownies and spread evenly. Spread remaining brownie batter over caramel, spreading to cover. (If your brownie batter is very thick, 30 seconds of microwaving should thin it out.)
Bake for 25 more minutes. Remove pan to a wire rack and cool brownies completely in the pan. With a thin knife, loosen caramel along sides of pan. Using foil, lift brownies from pan and cut into squares for serving.
Enjoy!