Juicy, sweet and colorful fruit salsa paired with cinnamon sugar tortilla chips makes the perfect fresh party snack!
What makes you smile in the springtime? For me, it's a big bowl of fresh strawberries. For breakfast or snacking or anytime of day, they're the perfect juicy pick-me-up. Toss handfuls of chopped up kiwi, mango and a kick of jalapeño into the bowl, and you've got yourself a zesty, fresh new flavor combo!
Served up with fresh baked, golden cinnamon-sugar chips and a cold cocktail, this fruit salsa would totally hit the spot for springtime party snacking. I could even imagine mixing up a spicy-sweet sangria with the fruit mixture, too!
But then, in my near-ninth-month of pregnancy, my mind often wanders to alcohol. (I may or may not have taken a photo of a bar menu last weekend for summer cocktail inspiration…). Gotta keep up with trends, people!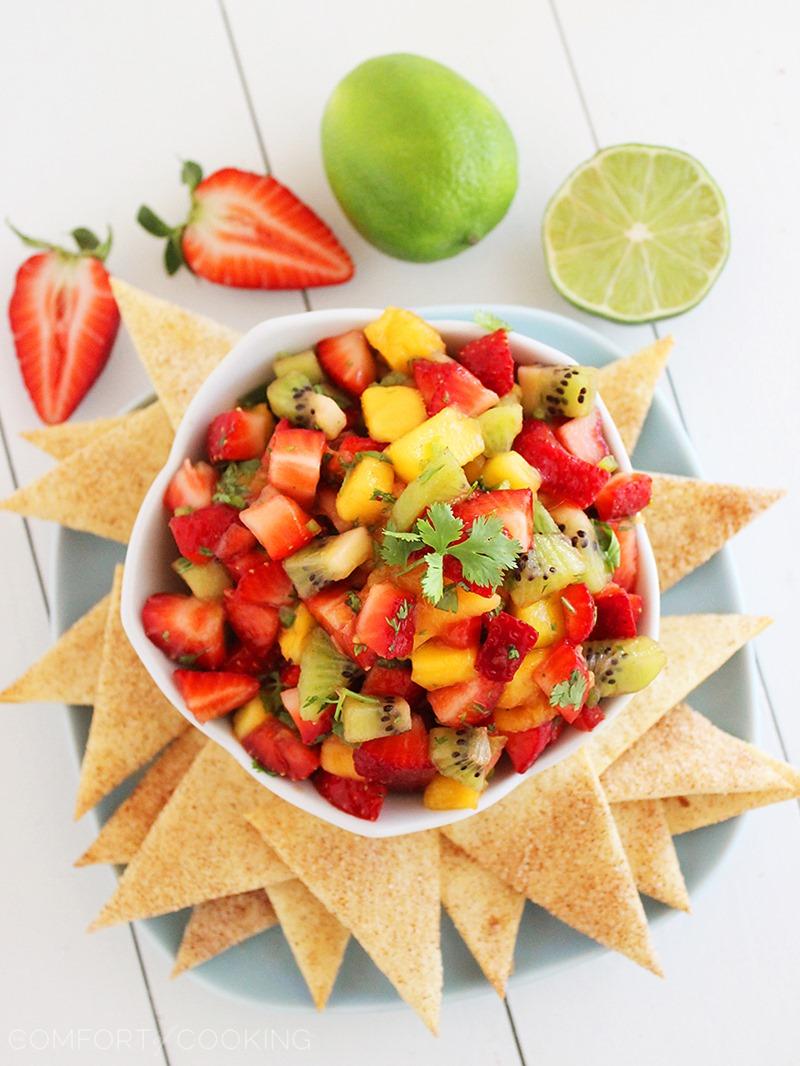 Mix in a squeeze of lime juice, a sprinkle of cilantro and DIG IN to this scrumptious salsa for your next warm weather party. It's a breeze to make, as colorful as it is flavorful, and offers a fun twist on the same old salsa-and-chips. You'll love it!
Feel free to sub the fruit for whatever you like. I picture pineapple, oranges, raspberries and apples in my next fresh, sweet salsa. You just can't go wrong with any fruit!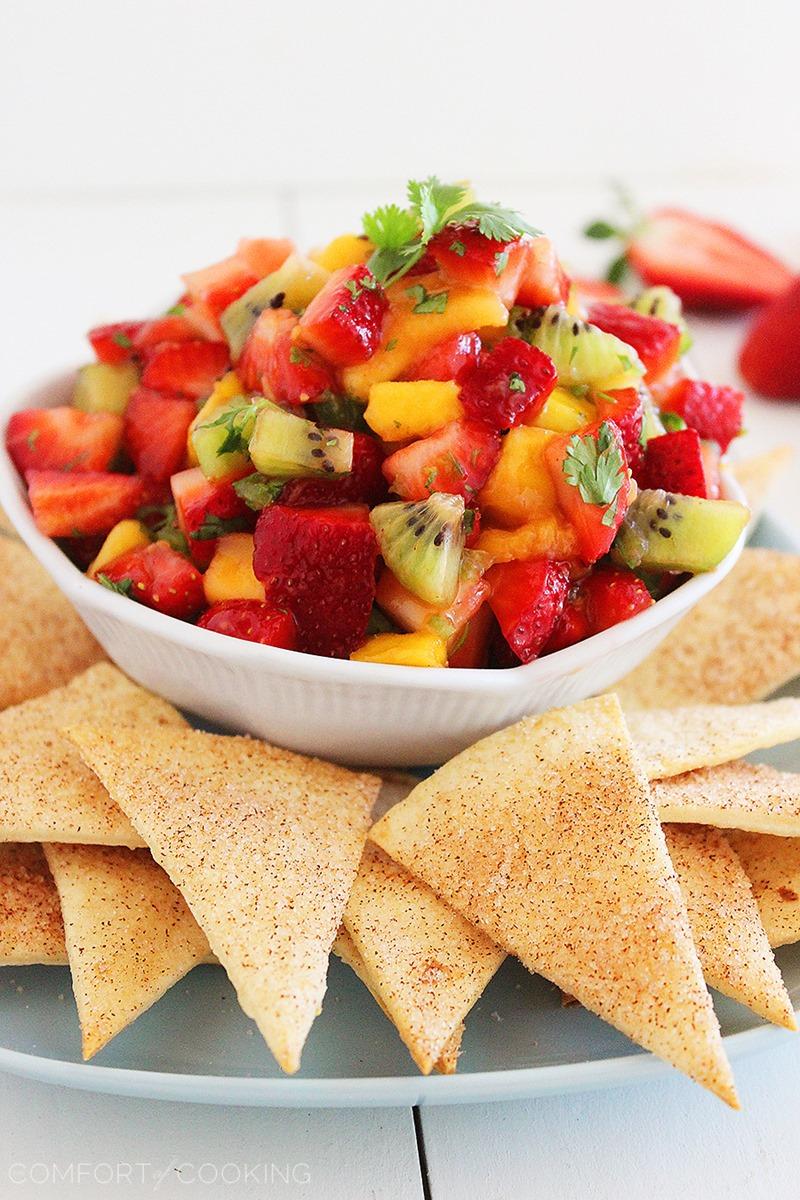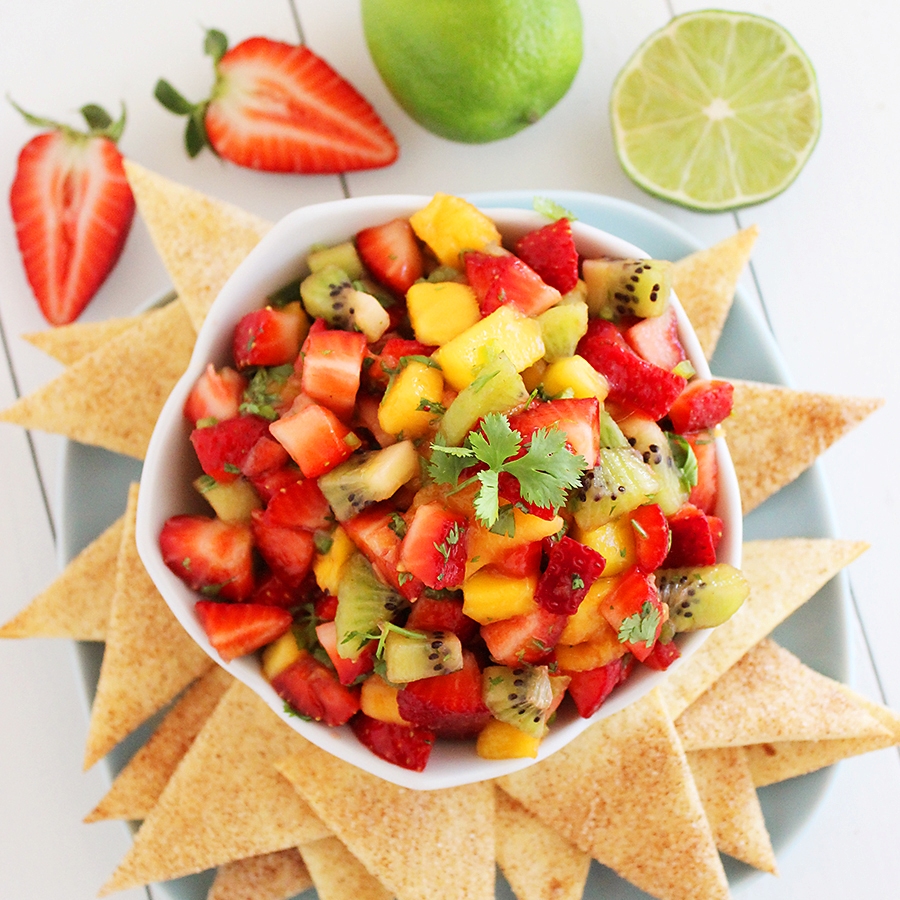 Strawberry Mango Salsa with Cinnamon-Sugar Tortilla Chips
Yield:
2 cups salsa / 32 chips
Ingredients
For the Strawberry Mango Salsa:
1 pint 16 oz. strawberries
2 large mangoes
4 kiwi fruit
1/2 jalapeno, seeded and minced
1/4 cup chopped fresh cilantro
Juice of 1 lime
For the Cinnamon-Sugar Tortilla Chips:
2 Tablespoons granulated sugar
1 teaspoon ground cinnamon
4 flour tortillas
Nonstick cooking spray
Instructions
For the Strawberry Mango Salsa: Dice strawberries, mangoes and kiwi into small pieces. Add to a bowl with minced jalapeno, cilantro and lime juice. Stir until well combined. Serve with Cinnamon-Sugar Tortilla Chips.
For the Cinnamon-Sugar Tortilla Chips: Preheat oven to 350 degrees F. Combine sugar and cinnamon in a small bowl. Spray each tortilla with cooking spray and sprinkle with cinnamon-sugar. Cut into eighths (this is easiest with a pizza wheel) and lay out on 2 large lined baking sheets. Bake for 8-10 minutes. Cool completely on a wire rack before serving with salsa.
Enjoy!