Super creamy, quick fettuccine alfredo made skinnier is on the menu! No butter or heavy cream, but lots of delicious flavor… and bacon.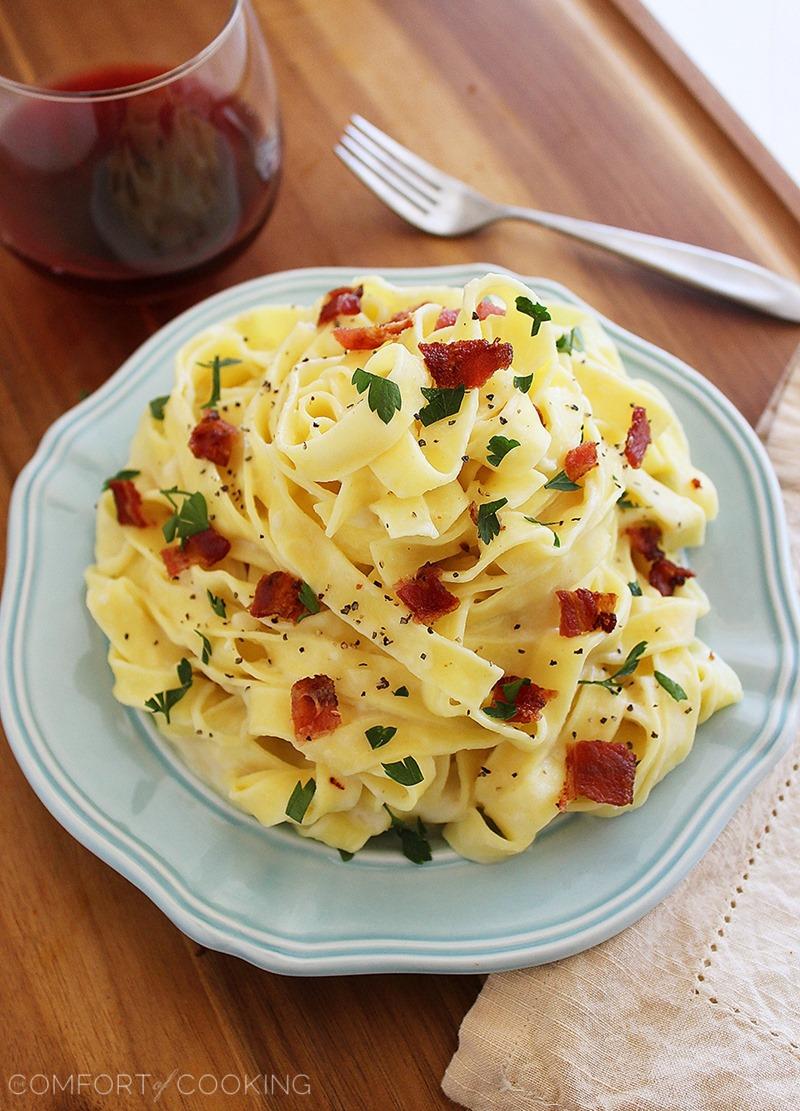 What it is about twirling your fork around a creamy, cheesy heap of carbs that just makes everything alright again?
Life has been a little stressful around here lately, as we rush to finish home projects and tackle to-do's before welcoming baby. Some nights see us scarfing a frozen pizza over the counter before rushing out to our next errand! And, I doubt much will change once Little Miss Kickypants is in the picture. But, I'm learning to stay calm, and coming to peace with a bit more chaos and a bit less time to make dinner.
Enter quick and easy meals like this Lighter Fettuccine Alfredo! With bacon. Because bacon makes it better.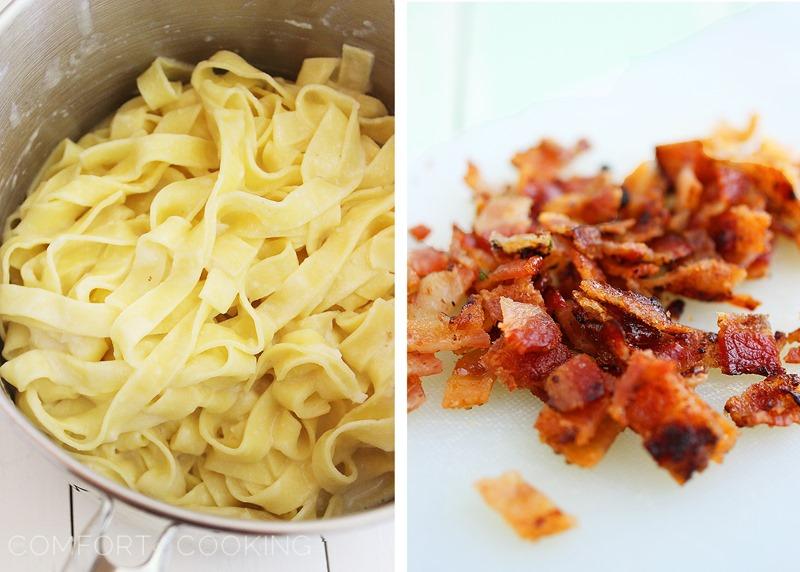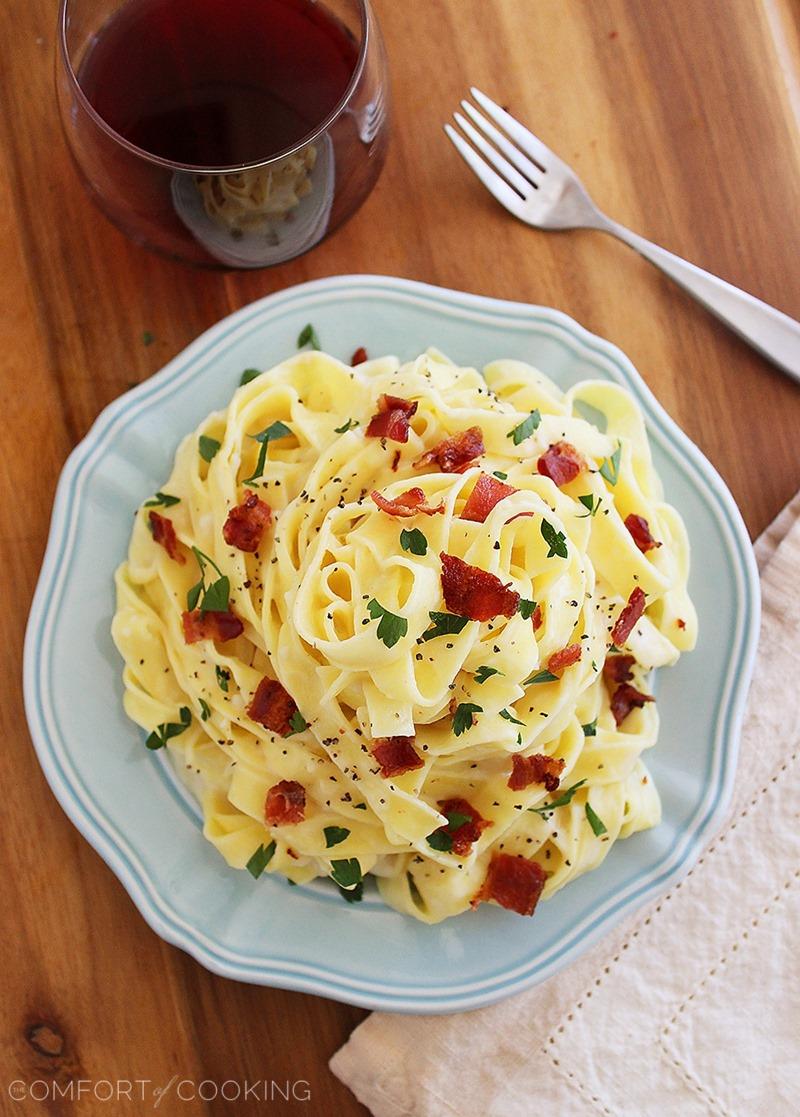 Using fat-free milk and Parmesan instead of traditional heavy cream keeps the calories lower, but doesn't skimp on flavor! Just sizzle up your bacon 'til crisp, chop it up, and dump some minced garlic into the drippings. Get your garlic toasty hot, then whisk in your flour and milk to create a simple cream sauce. Let it thicken up then add a few handfuls of fluffy grated Parmesan.
Voila! Creamy, smooth alfredo sauce to coat every tendril of carby fettuccine goodness.
Sprinkle on your crispy bacon for some naughtiness, and chopped parsley for a bit of fancy freshness. Then simply enjoy with a glass of wine, guilt-free! Sort of.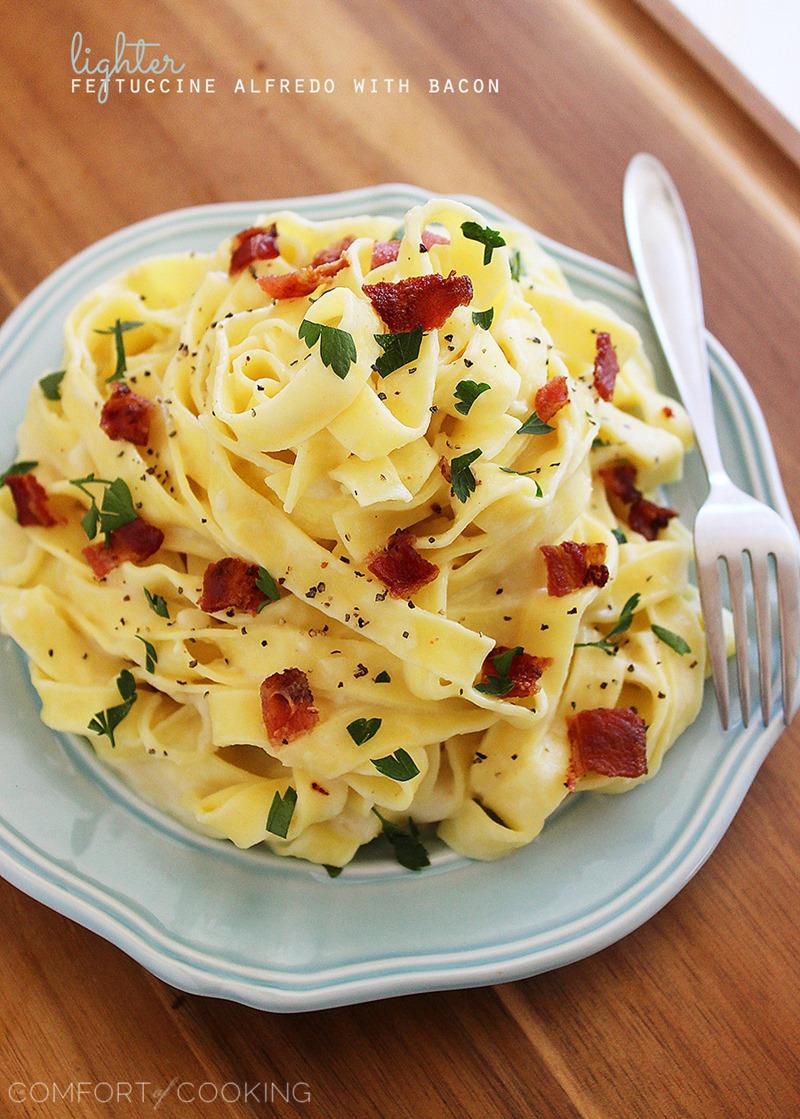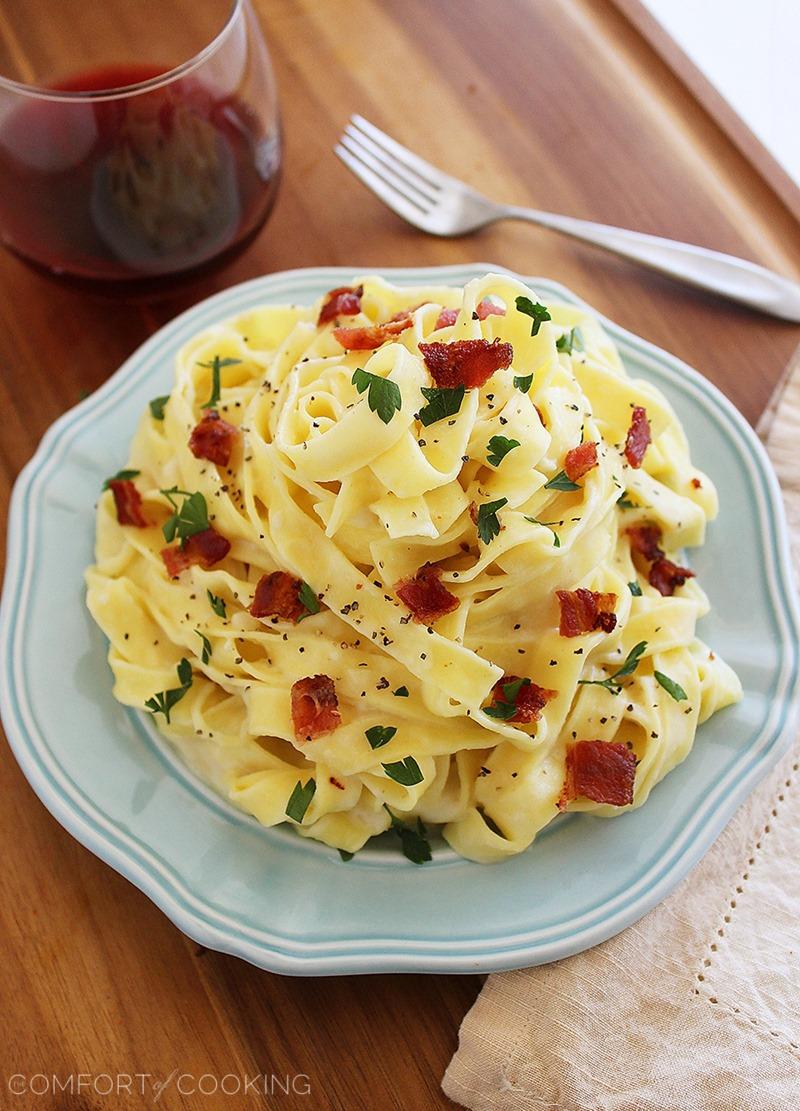 Lighter Fettuccine Alfredo with Bacon
Yield:
4 (1 cup) servings
Ingredients
1 9-ounce package refrigerated fresh fettuccine
4 slices bacon
2 garlic cloves
1 Tablespoon all-purpose flour
1 cup fat-free milk, or any milk
2/3 cup grated Parmesan
1/2 teaspoon kosher salt
2 Tablespoons chopped fresh parsley
Freshly ground black pepper
Instructions
Set a medium pot of water to boil. Add pasta and cook according to package directions. Drain pasta, reserving 1/4 cup cooking liquid.
Set a large nonstick skillet to medium-high heat. Add bacon and cook 'til crisp, about 5 minutes. Remove bacon to a paper towel lined plate, reserving drippings. Add garlic to drippings and sauté 1 minute. Whisk in flour; cook 30 seconds, stirring constantly. Gradually whisk in milk, stirring constantly until bubbly and thickened, 3-4 minutes. Reduce heat to low. Add grated Parmesan, stirring until melted. Whisk in salt and reserved 1/4 cup cooking liquid.
Add hot pasta to skillet and toss to combine. Serve and sprinkle with bacon, parsley and black pepper.
Enjoy!