These sweet, smoky 30-minute baked beans with bacon, bourbon and maple are the perfect addition to your BBQ plate!
Can I tell you something nobody else knows?
I have a folder on my computer (uh-oh)… and it's FULL of failure dishes. Food that just went awfully wrong and should have never made it in front of my lens. But it did. Some of the greatest hits? Well, there was the gorgeous but dry and dense carrot cake, the soggy coconut shrimp fried in too-cold oil, and the slaved over soufflé that went concave… just to name a few! Tragic, tragic losses, all of 'em. And I almost thought baked beans would make it into my folder of banished recipes, too.
But nope, I wouldn't let it. This is a story of triumph after all, people!
I scoured around for the perfect recipe, tearing through blogs and cookbooks, and tried a few. Some were a heck of a lot of work with no gain. Some were too easy with a just-decent result. And some included Bush's Baked Beans in the recipe. Don't get me wrong, we love those in this house. But if you're gonna make them from scratch, put some heart and soul into it! No cheating allowed this time.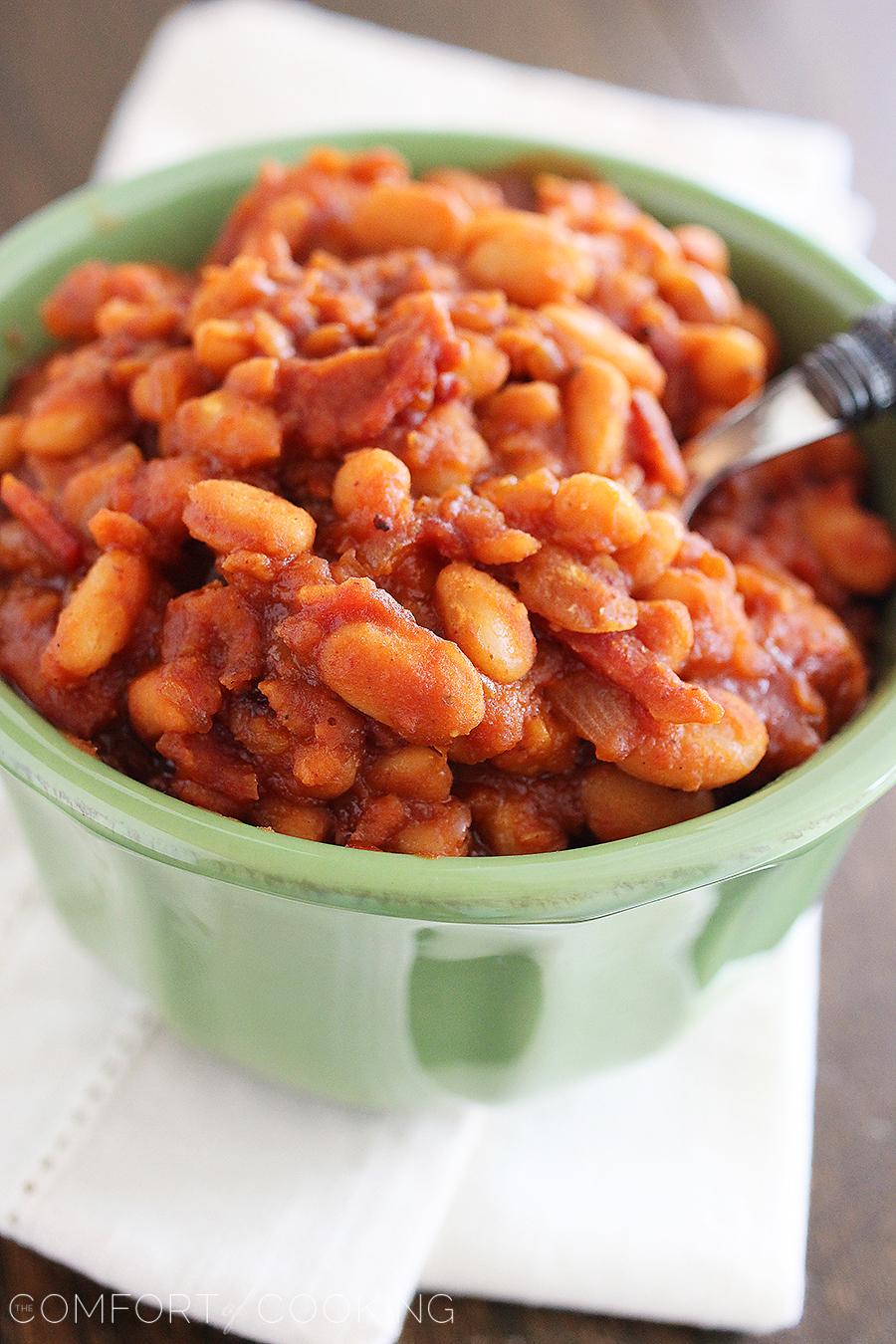 Enter the most scrumptious, surprisingly good success story to come of my kitchen! These baked beans are incredible, and they just take 30 minutes, folks. Thirty. minutes. Is that, like, unheard of in the world of baked beans or what?
In just half an hour, you get that saucy, slow-cooked taste with nothing more than basic pantry staples and a little stirring required. None of this "soak overnight" nonsense or funny ingredients that you can't find. Let's keep it simple. I like it that way, and I bet you do, too.
For BBQs or any laid-back summer party, these super easy, smoky-sweet baked beans are the perfection addition to your plate!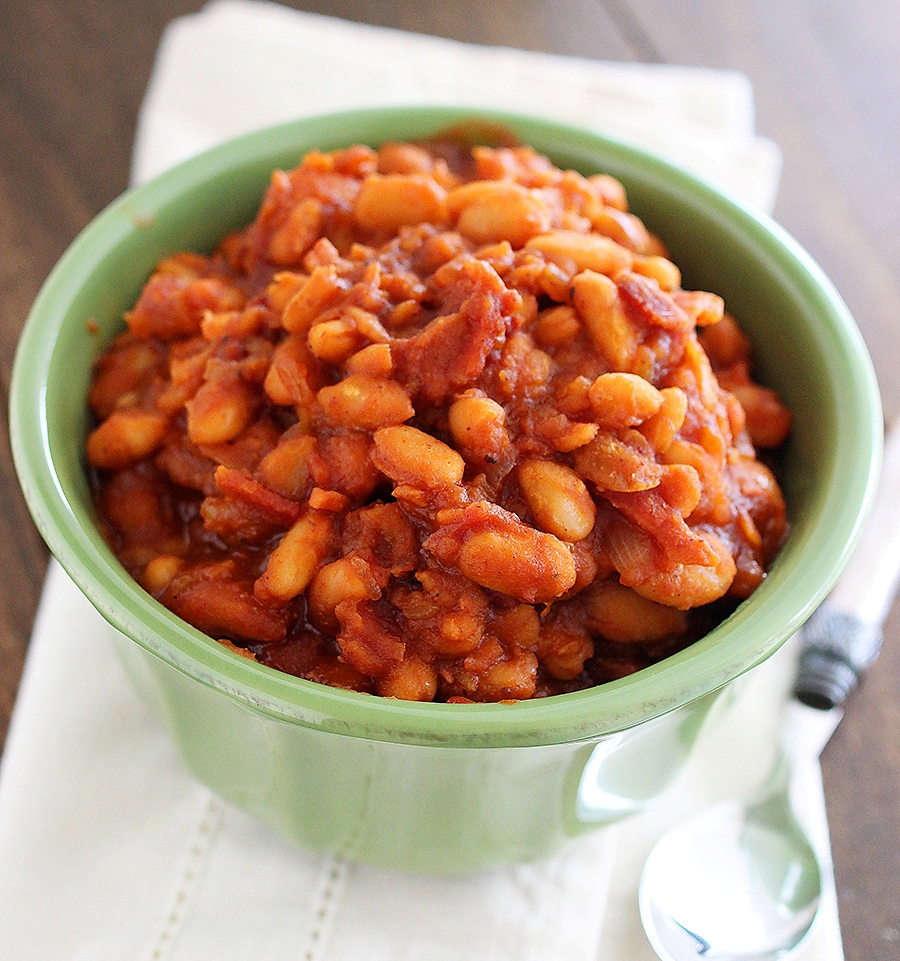 Easy Maple-Bourbon BBQ Baked Beans
Yield:
4 (recipe can be doubled)
Ingredients
2 15 oz. cans great northern beans
1/4 cup BBQ sauce, your favorite
1/4 cup ketchup
2 Tablespoons light or dark brown sugar
1 Tablespoon tomato paste
1 Tablespoon molasses or real maple syrup
1 Tablespoon bourbon whiskey, optional
1 teaspoon Worcestershire sauce
1/2 teaspoon chili powder
1/4 teaspoon ground cumin
1/4 teaspoon salt
1/4 teaspoon black pepper
1/2 Tablespoon butter
1 small or 1/2 large yellow onion, finely diced (1/2 cup diced)
1 clove garlic, minced
4 strips low-sodium bacon, cooked 'til crisp and chopped
Instructions
Drain beans and rinse under cold water. Set aside.
In a medium bowl, whisk together BBQ sauce, ketchup, brown sugar, tomato paste, molasses/maple syrup, bourbon (if desired), Worcestershire sauce, chili powder, cumin, salt and pepper. Set aside.
In a medium pot set to medium-high heat, add butter. Once hot, add onion and garlic; cook until fragrant and soft, about 2 minutes. Pour in BBQ sauce mixture and bring to a boil. Reduce heat to low, then stir in beans and chopped bacon. Simmer 30 minutes, stirring occasionally.
Serve warm with your favorite BBQ or grilled food.
Enjoy!