Scoop up a spoonful of this mouthwatering, butter-free mac and cheese with colorful roasted veggies! You can leave out the spice, if you'd like, for a kid-friendly option.
Creamy, dreamy macaroni and cheese is my absolute favorite side dish, but I always feel like it needs a little pizzaz. Why mess with a good thing? I'll tell you why… because you can plump it full of roasted veggies and make it healthier, more colorful and tastier than the old stand by. And hey, you can even make 'em mini!
This recipe has no butter, either! You can make a quick, scrumptious cheese sauce with olive oil instead. Using olive oil drastically cuts the cholesterol and saturated fat content, while also enhancing the dish's flavor.
With whole wheat pasta, creamy Sargento sharp cheddar, and a heap of hearty, crisp vegetables, this macaroni and cheese is mouthwateringly good. Make it as a side dish or a meatless dinner some weeknight! You can also toss in some cooked cut-up chicken, steak or shrimp for a filling all-in-one meal.
Oh, stringy cheese how you weaken my knees!
Kick it up with a little spice from cayenne pepper and red pepper flakes, and add some hot sauce to the finished dish if it's still not scorching enough. This tasty mac also freezes well, so make it in advance or pop your leftovers in and enjoy them later.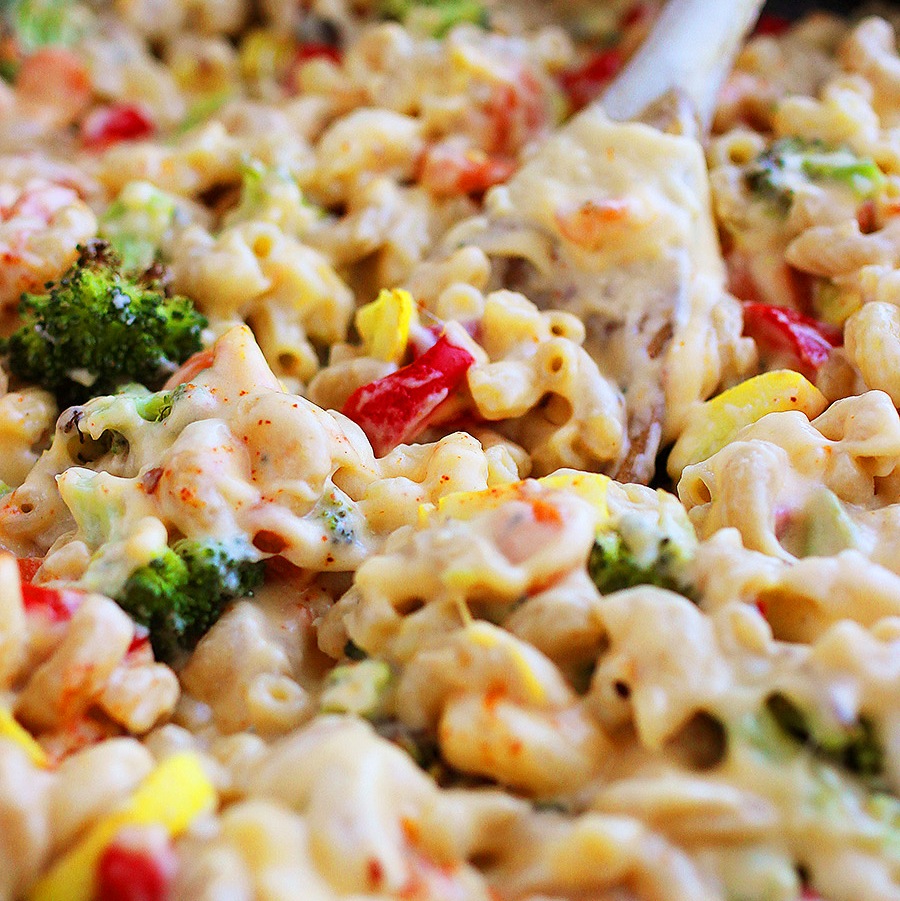 Spicy Roasted Vegetable Macaroni and Cheese
Ingredients
1 cup broccoli florets, chopped into small chunks
1/2 red pepper, diced
1 yellow squash, quartered and diced
10 baby carrots, sliced thinly
2 cups whole wheat pasta, elbow macaroni, rotini, penne, etc.
1/4 cup olive oil
1 garlic clove, minced
3 Tbsp. all-purpose flour
1 1/2 cups milk
2 cups 8 oz. Sargento® Shredded Sharp Cheddar Cheese
1/2 tsp. crushed red pepper flakes
1/2 tsp. cayenne pepper
Salt and pepper, to taste
2 Tbsp. panko breadcrumbs
Instructions
Preheat oven to 400 degrees F. Set a medium pot of salted water to boil. Prepare a large baking sheet by lining with aluminum foil and coating with a little olive oil or nonstick cooking spray.
Toss broccoli, red pepper, squash and carrots onto the baking sheet. Bake for 20 minutes, or until vegetables have softened. Remove from oven and set aside.
Once water is boiling, lower heat slightly and add pasta, cooking according to package instructions. Drain and set aside.
Meanwhile, heat oil in a large skillet over medium heat. Once hot, add garlic and cook 30 seconds. Whisk in flour and cook 1 minute. Gradually whisk in milk, stirring constantly until mixture is slightly thickened. Remove from heat. Stir in cheddar cheese until well distributed and melted. Add red pepper flakes, cayenne pepper, salt and pepper. Add macaroni and vegetables.
Place mixture in a large casserole dish and sprinkle with panko breadcrumbs. Place under the broiler in your oven (500 degrees) for 3-4 minutes, or until the top is golden brown.
Enjoy!