Classic, elegant and oh-so scrumptious. This is the best way to a super crispy, tender and mouthwatering oven-roasted chicken with fresh herbs and simple ingredients!
I've roasted a heck of a lotta chickens in my years – It's my all-time favorite meal after all! But, alas, my method for the most mouthwatering roasted chicken has never made it off a continually crossed-out, written-over, frayed and splattered sticky note.
I'd say it's time for this baby to make it's mark on the Internets, once and for all!
There's nothing quite like the smell of big fat chicken bubbling away in the oven… It fills your home and reminds you that a delicious, warm, and comforting meal is on its way to your eager tummy.
I've roasted 'em a hundred different ways – basted, beer canned, butter and the lot. But this method, using a blend of simple pantry staples and fresh herbs, has proved the absolute best.
Just look at her… isn't she a beauty?
Roast one and you've got meals for days… my already easy soups, chilis, salads, casseroles, sandwiches and pizzas are that much quicker with a heap of tasty cooked, cut-up chicken.
Now, you've got your chicken roasted up pretty and need a good trick to whack it up? Here's a handy dandy guide for getting that tender meat off the bone with elegance and ease!
Once the chicken is cooked, slip out this bone right beneath the center of the chicken breasts, clean it off and dry it out on the counter. Next day, grab your fellow chicken lover, loop your pinkies around the base, and make a wish. Whoever snaps off the biggest half is the lucky recipient of a wish come true… or so I've grown up believing!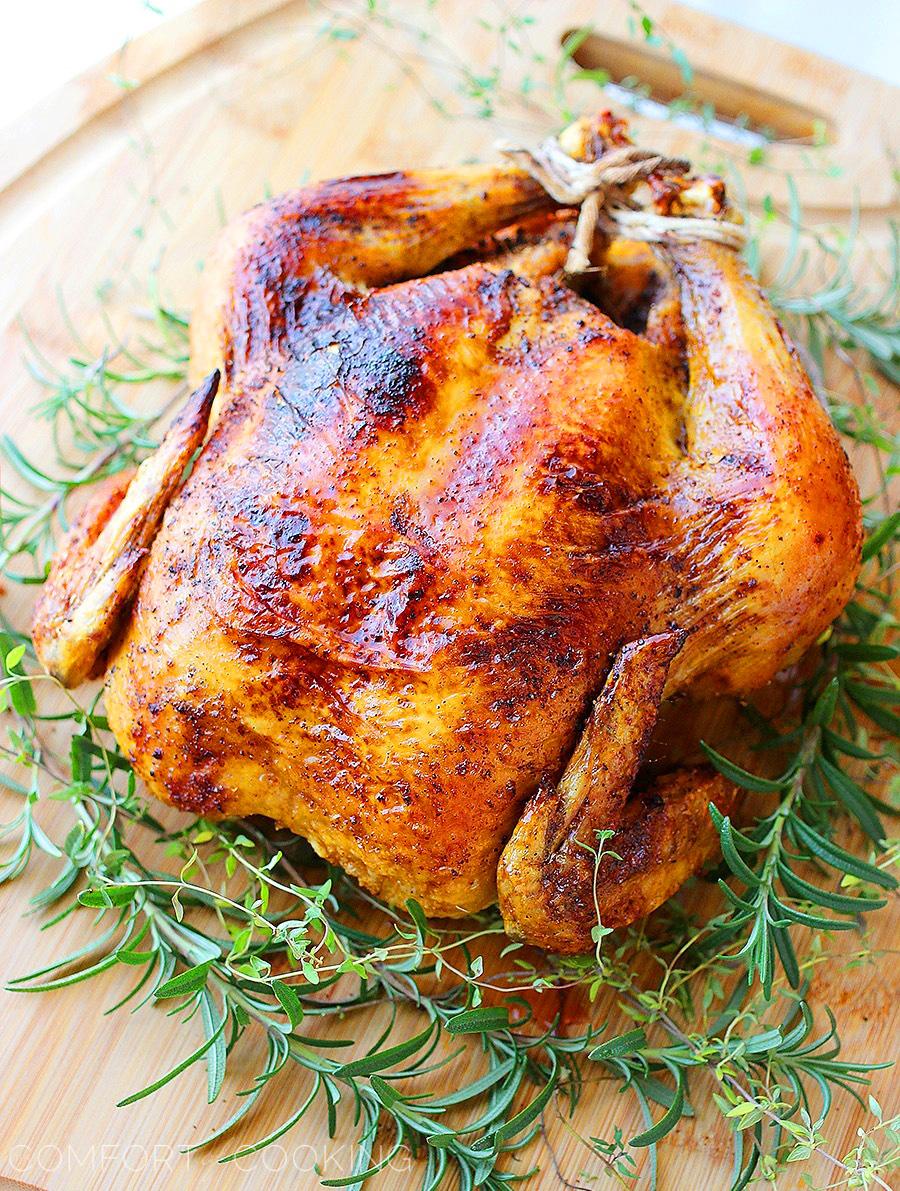 Easy Herb Roasted Chicken
Ingredients
1 whole 5-6 pound chicken
1/2 yellow onion, cut into wedges
4 whole cloves garlic, crushed
1 handful fresh thyme, rosemary or parsley
1 1/2 Tablespoons olive oil
1 teaspoon kosher salt
1/2 teaspoon freshly ground pepper
1 teaspoon garlic powder
1/2 teaspoon paprika
Instructions
Preheat oven to 425 degrees F.
Arrange oven rack on bottom third. Prepare a large roasting pan topped with a rack. (You can also top a 13x9 pan with a small cooling rack)
Remove giblets from chicken cavity and rinse whole chicken. Pat dry with paper towels and place onto rack atop roasting pan, breast side up.
Place onion, garlic, and herbs into cavity. Coat chicken all over with olive oil using your hands. Combine salt, pepper, garlic powder, and paprika in a small bowl and season chicken all over with mixture, patting on with your hands. If desired, tie legs with kitchen twine.
Roast for 1 1/2 to 2 hours, depending on size*. If chicken is browning too quickly, cover loosely with aluminum foil. To measure temperature, place a meat thermometer into the thickest part of the thigh without touching the bone. It should reach 180 degrees.
Remove chicken from oven and cover with aluminum foil. Let rest for at least 10 minutes before carving.
Enjoy!