These creamy, buttery scalloped potatoes are the true definition of comfort food. Perfect for weeknights or holiday feasts!
As a kid starting out on my own after leaving home, I didn't come away with an overwhelming number of family recipes. Sure, we enjoyed good meatloaves and mashed potatoes, roasted chickens and apple pies, but I was more excited to be able to eat Pop-Tarts for breakfast, lunch and dinner if I chose! And I did.
To this day, those sprinkle ones still beckon me from the shelves…
But, as my thighs grew thicker and my wallet shrunk thinner from all the take-out and terrible decisions, I decided before not too long to learn how to cook! It saved me money, it distracted me from my boring college books, and I found out I could create some really damn delicious food.
One of the first things I cooked for the guy I was smitten with (now my hubby) was scalloped potatoes.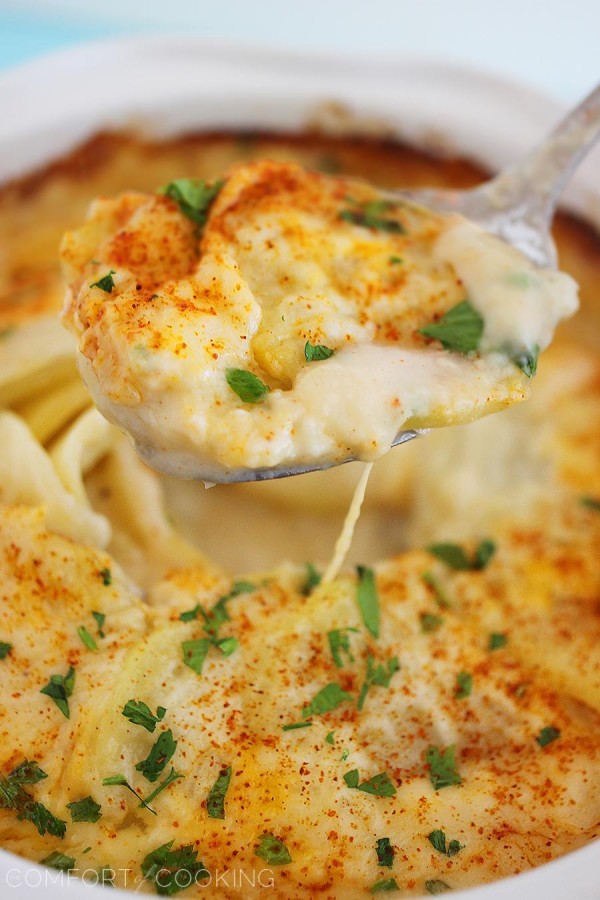 See how that works?
Well, I guess it wasn't exactly an immediate path from potatoes to engagement ring. It still took the man 5 years! (And well worth the wait… love ya honey!)
I remember lugging big, heavy handfuls of groceries into his apartment to make our own cozy Easter feast one April. I was still learning, so our glazed ham, creamed spinach and a little sweet potato pie for two were all pre-made. But the cheesy, creamy, melt-in-your-mouth scalloped potatoes? That is one thing I learned how to do from my home-cookin' mama, and I learned how to do them well.
I rolled up my sleeves, got slicing, and showed that man what he was missing!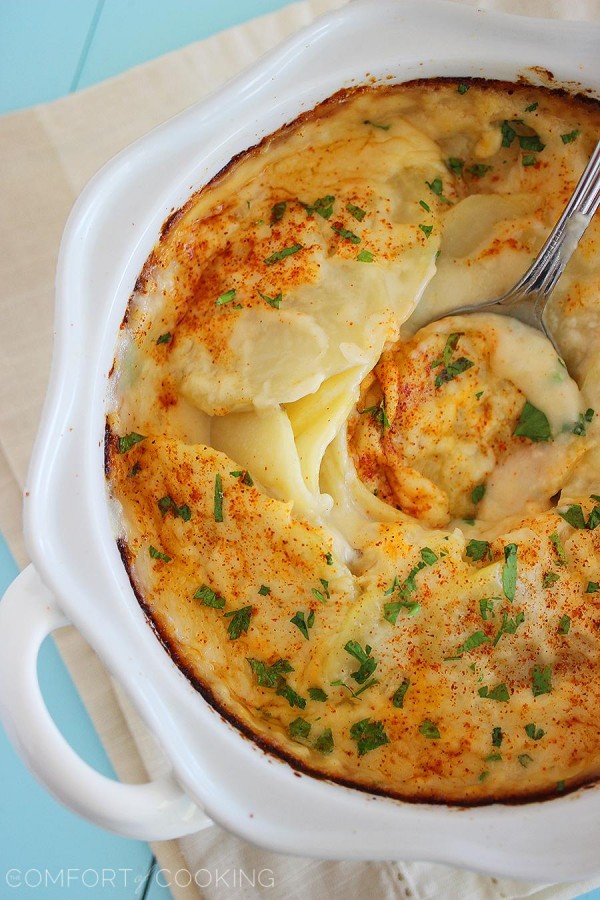 Fortunately, it was without knife injury or burning down his 1-bedroom that I accomplished my first scalloped potato side dish, and they were incredible. I think of that little Easter dinner and our tiny shared table every time I make these, and my mom, who taught me that the way to a man's heart most definitely involves cheese!
For a super cozy weeknight side dish or as an essential addition to your Thanksgiving spread, you'll love this cheesy scalloped potato gratin recipe. It's warm and comforting, full of flavor and easy to make. Using a colby-jack cheese blend adds even more creaminess than cheddar, but use whatever cheese you like!
Enjoy this one, friends, and won'tcha tell me below what your favorite food memory is?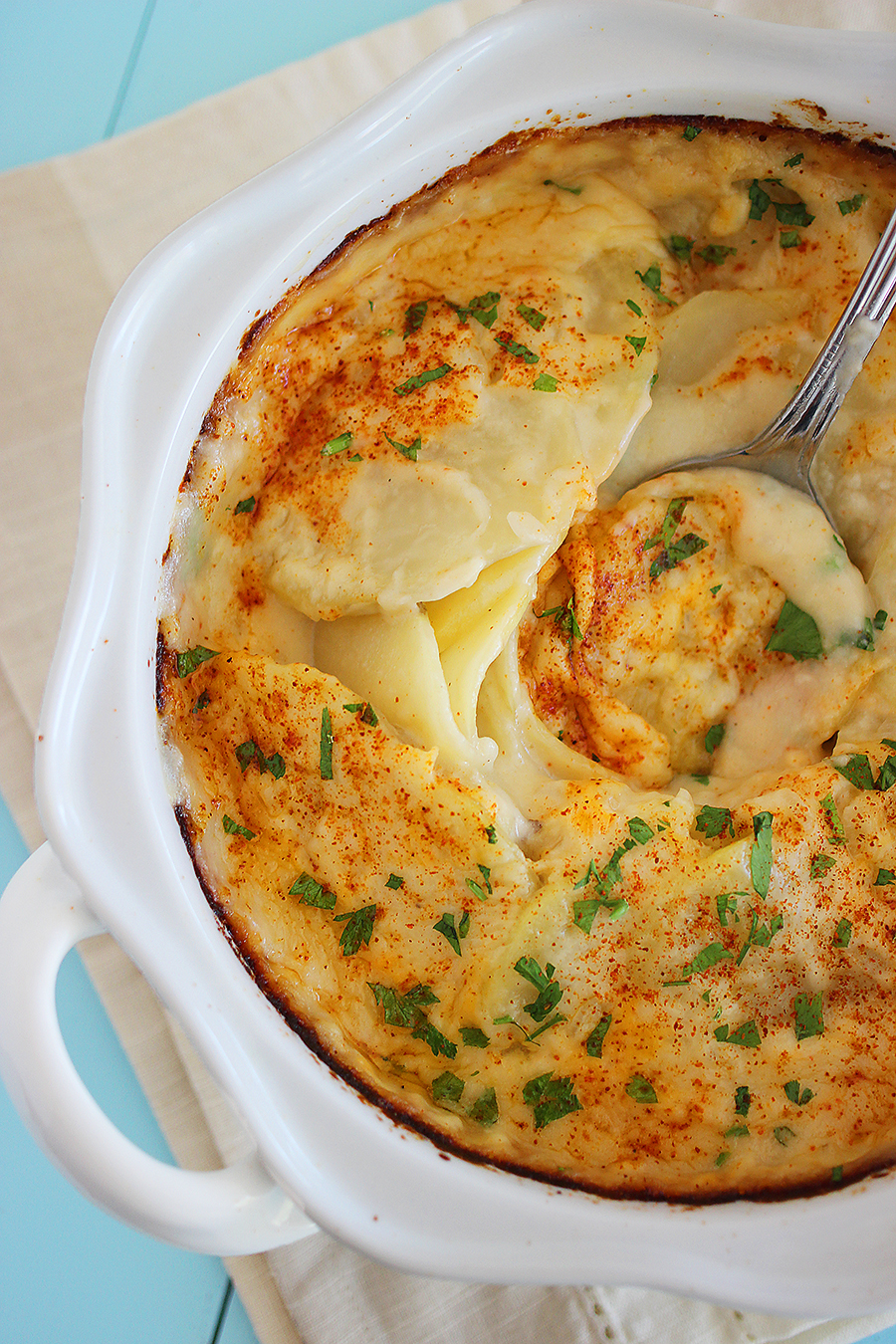 Cheesy Scalloped Potato Gratin
Ingredients
2 lbs. medium potatoes (red, Yukon gold or russet), peeled
2 Tablespoons unsalted butter
1/2 cup chopped onion
3 Tablespoons all-purpose flour
2 cups milk, I used skim
1 teaspoon dry mustard
Pinch cayenne pepper
1/2 teaspoon salt
2 cups (8 oz.) shredded colby jack cheese
1 Tbsp. chopped fresh parsley
Instructions
Preheat oven to 350 degrees F. Cut potatoes into 1/4-inch thick slices and set aside.
In a medium saucepan over medium heat, melt butter. Add onion and cook for 5 minutes, stirring occasionally. Whisk in flour and cook for 1 minute. Whisk in milk, dry mustard, cayenne pepper and salt. Bring to a boil over high heat, stirring occasionally. Reduce heat and simmer for 3 minutes or until thickened, stirring frequently.
Arrange half of potato slices in a lightly greased 9-inch square glass baking dish or 1-1/2 qt. casserole dish. Spread half of milk mixture over potatoes and top with 1 cup cheese. Repeat layering with remaining potatoes, milk mixture and 1 cup cheese.
Bake for 1 hour, or until sauce is bubbly and potatoes are tender. Sprinkle with fresh parsley and a little cayenne pepper or paprika.
Enjoy!