Warm up to a big bowlful of this easy, cheesy chicken chowder with potatoes and cheddar… perfect comfort food for weeknights or lazy fall weekends!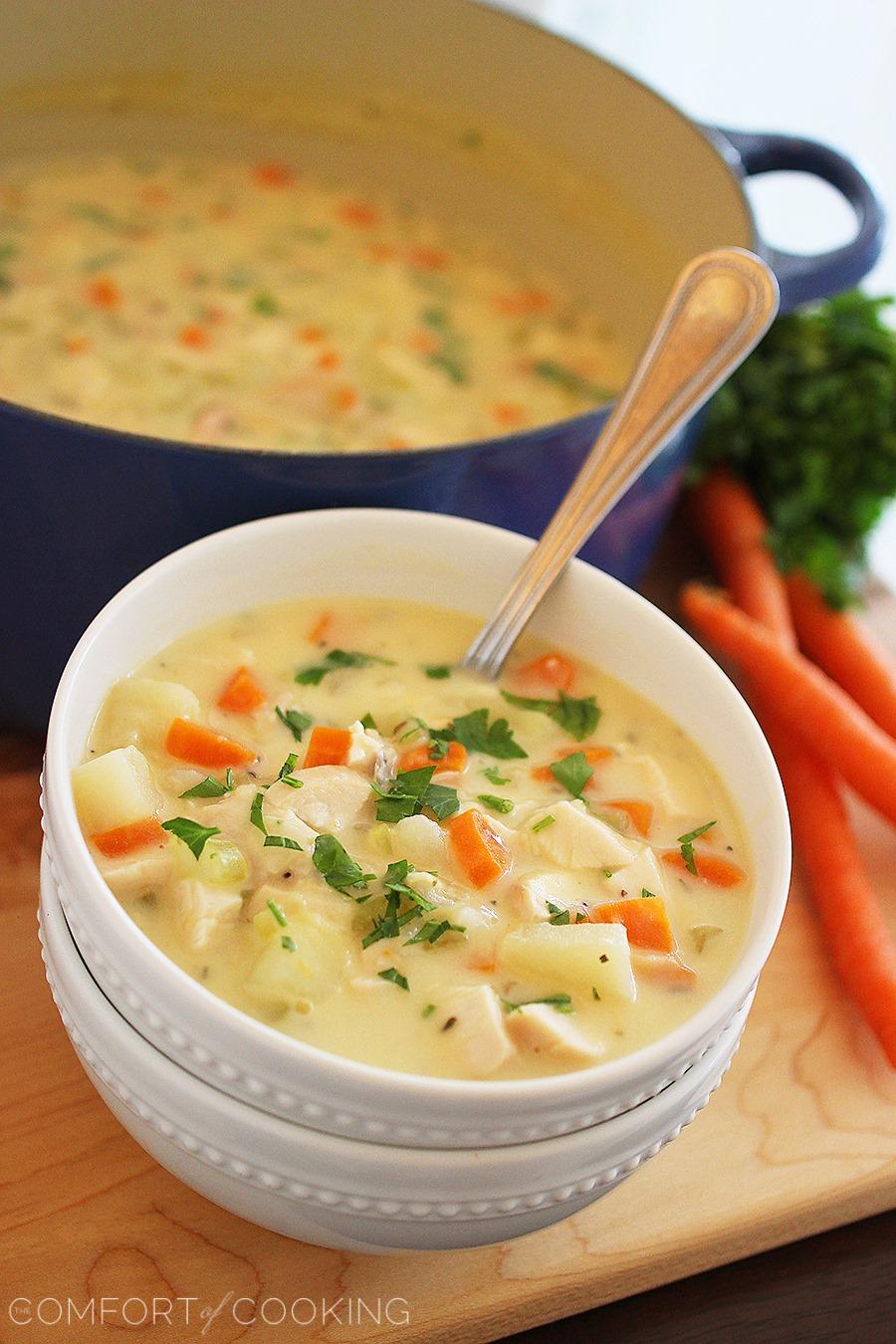 Yesterday I had a sick day. I wasn't particularly sick, just not feeling my best, and so pushed aside my to-do list and remained in pajamas for the large majority of the day. On a recent Saturday I had spent all day cooking and strapped to my camera, so a day "off" was long overdue.
As the rain beat against the house and weather waged war outside, I stayed in, snuggled up with a huge, soft blanket and a good movie, and just stopped being productive for a moment… or maybe many moments… which turned into a few hours. These are the occasional joys of being self employed!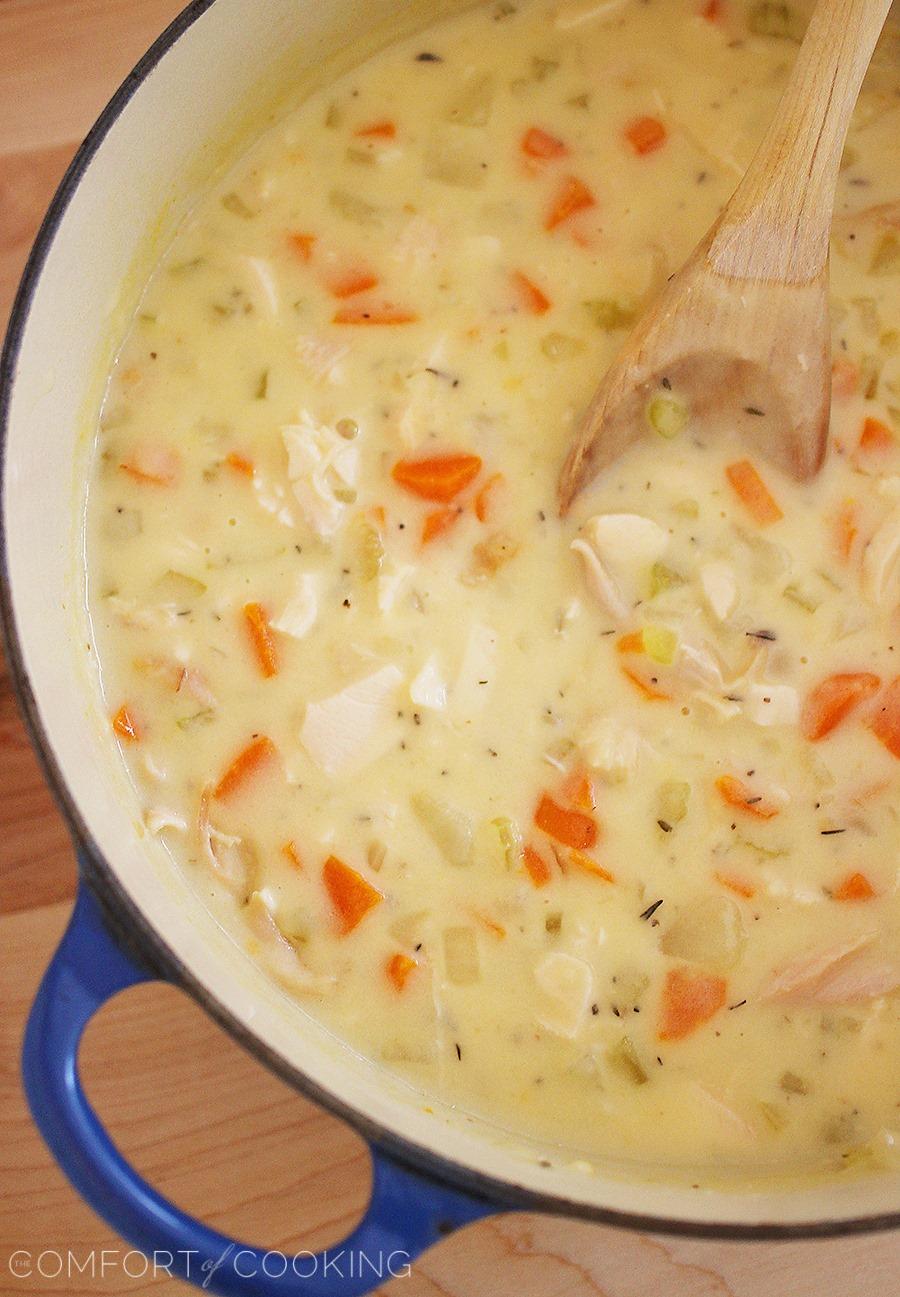 But eventually, being lazy and boring got very… well, boring, and I popped over to my desk to answer some emails. Then (after catching a glimpse of myself in the mirror – yikes) traded the soft pj's for a pair of snug Levi's and ran a brush through my hair. Success! I was actually making something of this day!
Yes, in this case, a good hairbrush-ing was an accomplishment, people.
After tying up a few loose ends left throughout the day and checking off some more to-do's, I was feeling a bit more pep in my step! Sometimes it just takes some recharging and relaxing to get you going again. Or, in my case, chocolate and fuzzy socks and a so-bad-it's-good Kate Hudson flick.
For my final act, I decided to whip up this simple, comforting chicken potato chowder with a bunch of pantry staples, fresh veggies and a leftover chopped up rotisserie chicken. Hearty and full of homemade goodness, this soup was absolutely perfect for a gloomy day and smelled amazing as it bubbled on the stovetop. Every creamy, cheesy spoonful was like getting a big grandma hug from the inside… and you know that's gotta be good!
I'll be simmering and slurping up this chowder all winter long, especially since it's so easy and we always have the ingredients to make it on the fly. I know you and your family will love it, too!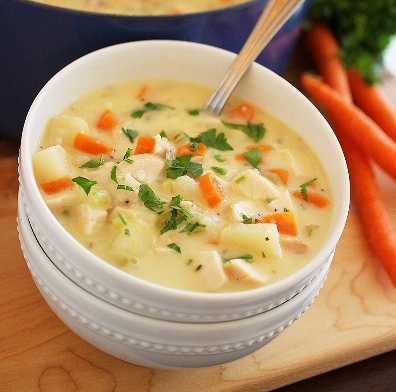 Cheesy Chicken and Potato Chowder
Ingredients
4 cups chicken broth
2 cups 2 medium diced peeled potatoes
1 cup 2-3 medium diced carrots
1 cup 3 medium stalks diced celery
1/2 cup diced onion
1 1/2 teaspoons kosher salt
1/2 teaspoon black pepper
1 teaspoon dried thyme
1/4 cup unsalted butter
1/3 cup all-purpose flour
2 cups milk, I used skim
2 cups 8 oz. shredded cheddar cheese
2 cups diced cooked chicken
1/4 cup chopped fresh parsley
Instructions
In a 4-quart saucepan, bring chicken broth to a boil. Reduce heat; add the potatoes, carrots, celery, onion, salt, pepper and thyme. Cover and simmer for 15 minutes, or until vegetables are tender.
Meanwhile, melt butter in a medium saucepan over medium-high heat. Whisk in flour until smooth. Gradually whisk in milk. Bring to a boil and stir for 2 minutes, or until thickened. Reduce heat and add cheese, stirring until melted. Stir cheese mixture and shredded chicken into broth. Cook and stir until heated through.
Ladle into serving bowls. Sprinkle with chopped parsley.
Enjoy!