Zesty ginger-spiced chicken satay with a spicy, creamy Sriracha dipping sauce is on the menu! Try this fresh twist on everyone's takeout favorite, with easy-to-find ingredients and simple directions. So delicious with my Simple Asian Soy-Peanut Noodles!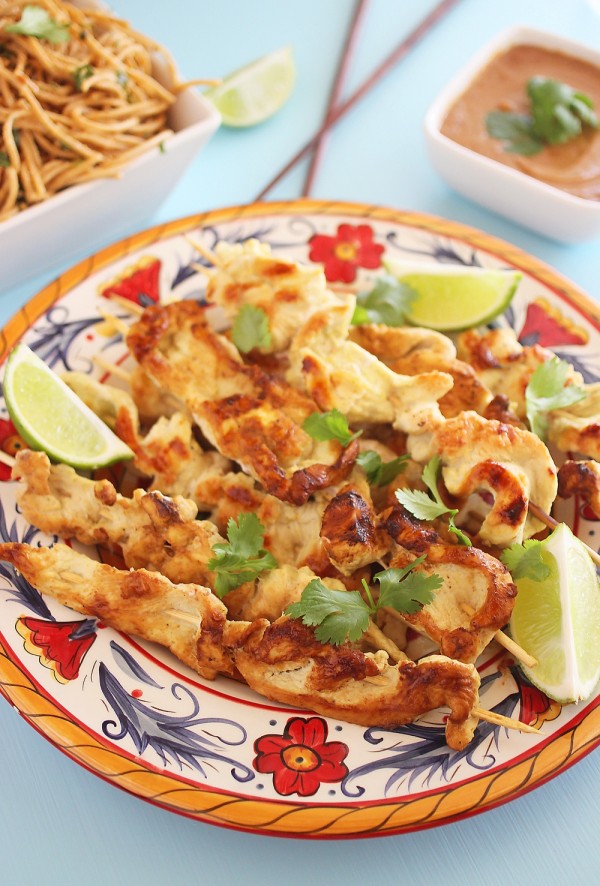 Fortunately for foodies like us, Austin is a very diverse town, so there's just about no cuisine that can't be found! We've had hosts of memorable meals in our home city, from Italian to Thai, South American to French. However, since welcoming our little one, it's become clear that to indulge more often in our restaurant favorites… You guessed it. It's time to roll up our sleeves and learn how to make them homemade!
One of my biggest home cooking fears is Asian cuisine. But, I don't let it stop me! Instead, I stock up on a few basic, inexpensive essentials at my local grocery… paw through a favorite magazine or website for inspiration… and get to cooking!
This time, a gingery coconut milk chicken satay with a dreamily creamy, zesty Sriracha dipping sauce. So easy I can't believe I hadn't cooked it before!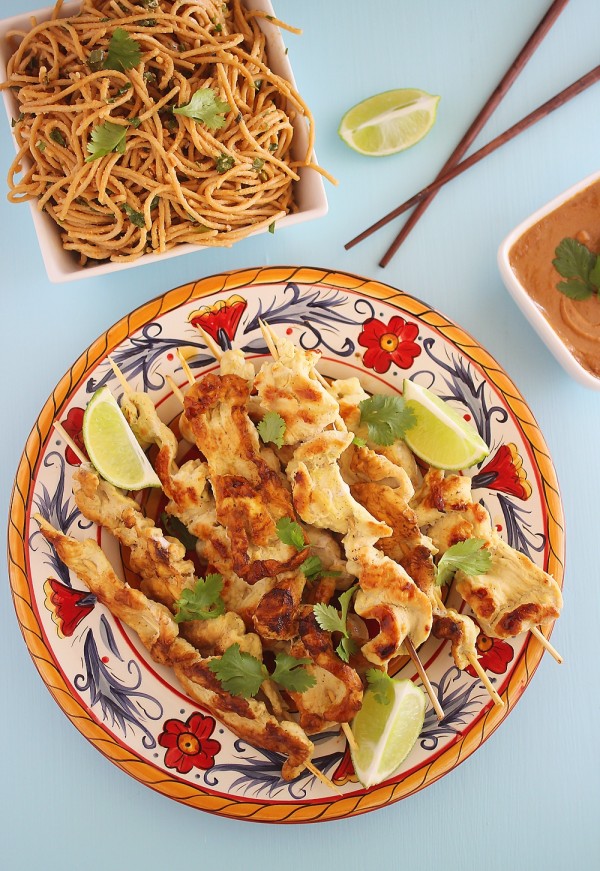 Served with my (even easier) Simple Asian Soy-Peanut Noodles and a handful of lime wedges, this meal was a fresh and flavorful twist on our usual. The chicken was slightly tangy and tender, and dipped in the creamy, spicy almond butter Sriracha sauce, sent me straight to heaven. Paired with a chopstick pinch of slippery soy noodles? SO. GOOD.
Try this scrumptious homemade chicken satay, made simple with basic ingredients and easy-to-follow directions. You'll love the bright, vibrant flavors of this dish. I guarantee it will inspire you to experiment more with Asian cooking at home again!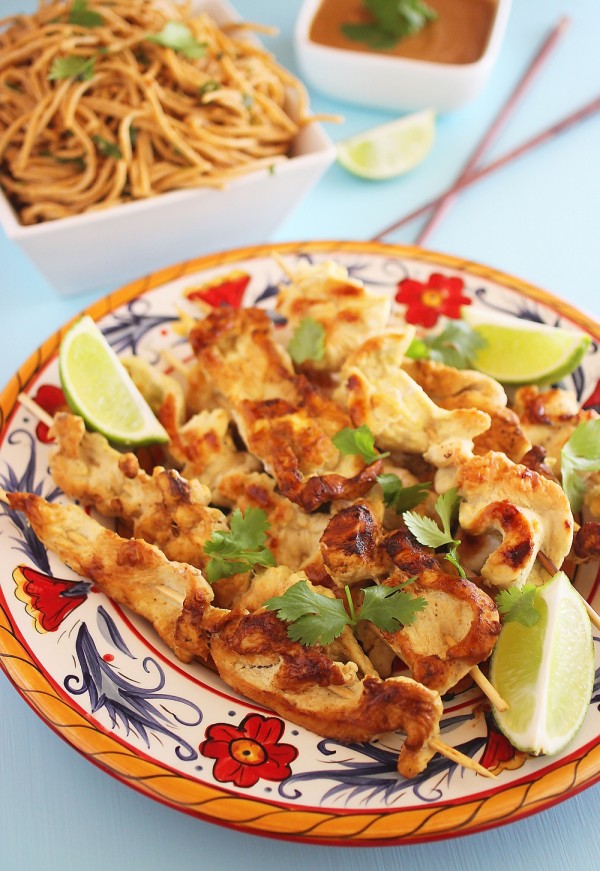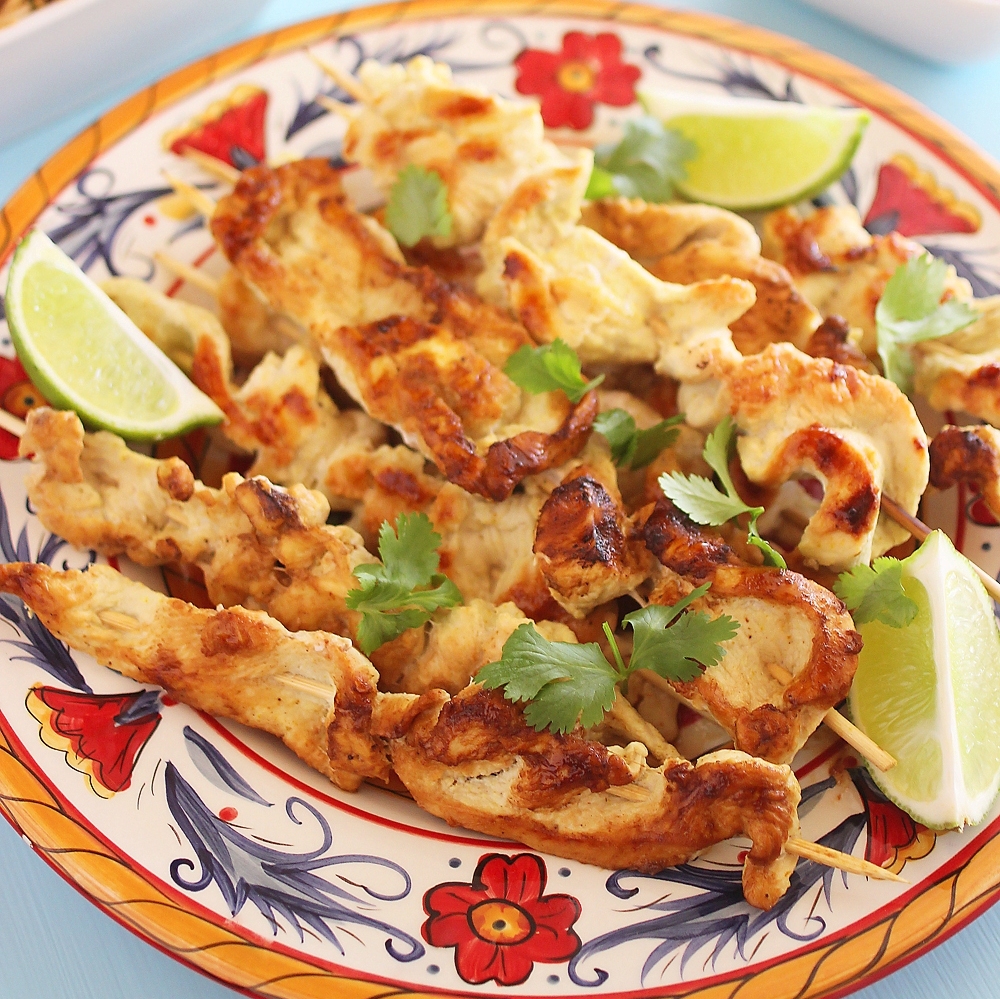 Coconut-Ginger Chicken Satay with Creamy Sriracha Sauce
Ingredients
For Coconut-Ginger Chicken Satay:
1/2 cup coconut milk
Juice of 1 lime
1 Tablespoon brown sugar
1 Tablespoon fish sauce
2 teaspoons freshly grated ginger
1/2 teaspoon curry powder
2 garlic cloves, crushed
1 lb. boneless skinless chicken breasts, thinly sliced into 24 slices
For Creamy Sriracha Sauce:
2 Tablespoons coconut milk
1/3 cup water
2 tablespoons almond butter
1 tablespoon hoisin sauce
3/4 teaspoon Sriracha, hot chile sauce
Juice of 1 lime
For cooking/serving:
Nonstick cooking spray
4 lime wedges
Instructions
For Coconut-Ginger Chicken Satay:
Combine all ingredients in a large resealable plastic bag. Refrigerate at least 2 hours, or up to 1 day.
For Creamy Sriracha Sauce:
In a saucepan over medium heat, bring all ingredients to a boil. Cook for 1 minute. Remove from heat and stir in lime juice.
For cooking/serving:
Remove chicken from marinade; discard marinade. Thread 3 chicken pieces onto each of 8 (8-inch) skewers. Heat a grill pan over medium-high heat; coat with cooking spray. Add chicken and cook 2 minutes on each side, or until no longer pink. Serve with sauce and lime wedges.
Enjoy!