Swirled in melted dark chocolate, these frozen banana pops are ready to be covered with toppings for your next spring or summer party! Kids and adults both love this simple, healthy treat.
I love sharing dinners and desserts with you, but I also like sharing silly, fun recipes like Bird's Nest Cupcakes, Bacon, Egg and Toast Cups, and these frozen banana pops! I know if these were spread out at a summer party, they would be the first thing I grab! Er, especially since I'm problematic with sprinkles.
What? They make everything taste like a rainbow.
Swirled in melted dark chocolate that hardens in the fridge, these little frozen banana bites are quick, easy and ready to be ravaged with all kinds of toppings! For mine, I chose coconut flakes, chopped nuts and sprinkles, but coat yours with whatever you like! Try 'em with your favorite crunchy cereal, mini chocolate chips or candy coated sunflower seeds. You can even use yogurt as the base instead of chocolate!
All you need to do is grab a handful of bananas or other dense fruit, chop them up bite-sized and freeze them on a parchment-lined baking sheet. Once they're firm, send your chocolate for a spin in the microwave and stir until it's silky smooth. If your chocolate isn't getting the right consistency, add in a little butter or shortening.
Bathe your banana bites in the warm chocolate, shake off the excess, and coat those little cuties 'til your heart's content in any kind of tasty toppings! They're like a party in your mouth, I tell ya. And bonus: They're not going to send your kid into a bouncing-off-the-ceiling sugar coma. Unless the kid eats 'em all. Yikes.
Serve up these super easy, scrumptious banana bites at your next warm weather bash and watch them fly off the platter! They're not only sinless at only 20 calories a pop, but absolutely adorable and fun for kids and adults alike!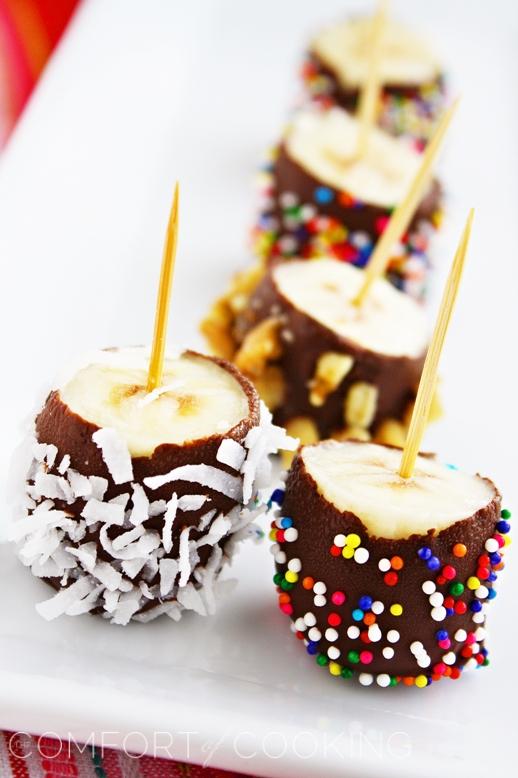 Frozen Chocolate Banana Pops
Ingredients
Toothpicks
3 firm-ripe bananas, cut into 2 inch pieces
6 ounces 1 cup semisweet chocolate chips
1 Tablespoon sprinkles, coconut, nuts, or any desired topping
Instructions
Insert a toothpick into each banana piece. Arrange bananas, toothpick side up, on a parchment lined baking sheet. Freeze until firm, about 2 hours.
In a medium microwave-safe bowl, heat chocolate chips in 10 second increments, stirring between each until melted and smooth. Working quickly, dip each banana piece in chocolate, shake off excess, and cover with desired topping. Chocolate should set quickly, but if necessary, freeze or refrigerate pops to harden coating before serving.
Store in the refrigerator up to 1 day.
Enjoy!