A few months ago, my husband and I threw out our outdoor grill, and though it was a sad, sad loss it was a necessity. We're moving soon, and since the thing was rusty, crusty and all kinds of beat up after years of use, we decided it would be less of a burden to toss it and buy a new one later. But, the time to move came, went and became delayed, and without a grill we were itching every hour for a juicy grilled burger and an excuse to make the crispiest, most delicious oven-baked potato fries ever to go with it.
With our tiny, shiny new grill, now we have that excuse and can enjoy the spring and summer grilling that has become synonymous with this time of year. Hooray, huzzah, rejoice!
Thanks to Annie at Annie's Eats, the perfect potato fry became a reality with this simple recipe she shared from Cook's Illustrated. First, cut your potatoes into wedges (see this quick video on how to do it right), soak them in hot water and pat dry. Then, coat your baking sheet with oil, salt and pepper and bake for a little over half an hour, flipping once. Drain the grease with a paper towel, plate and enjoy these perfect fries – Crispy on the outside, soft on the inside and great with a burger!
Now that I know how to do potato fries the right way, I'll never be going back to the less-than-crispy burger companions that I used to make. Try these for yourself and I'm sure you'd agree!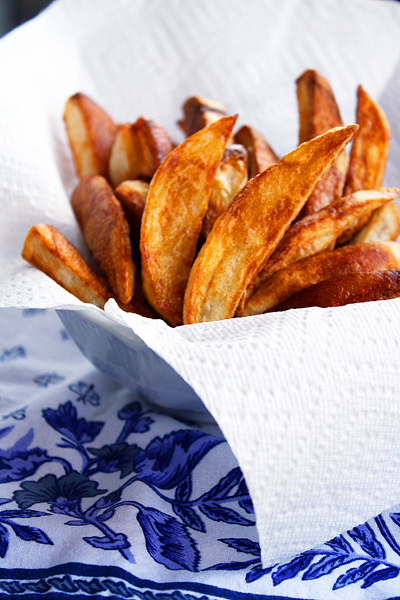 Crispy Oven-Baked Potato Fries
Ingredients
3 russet potatoes, peeled and cut lengthwise into wedges
5 tbsp. vegetable, canola or peanut oil, divided
¾ tsp. kosher salt, plus more to taste
¼ tsp. freshly ground black pepper, plus more to taste
Instructions
Preheat the oven to 475˚ F. Place the potato wedges in a large mixing bowl. Cover with hot water; soak for 10-30 minutes. Put 4 tablespoons of the oil onto a heavy, rimmed baking sheet. Tilt the sheet side to side to evenly coat the pan with oil (a pastry brush can also help with this). Sprinkle the pan evenly with the salt and pepper. Set aside.
Drain the potatoes. Spread the wedges out on layers of paper towels or on clean kitchen towels. Pat dry with additional towels. Wipe out the now empty bowl so it is dry. Return the potatoes to the bowl and toss with the remaining 1 tablespoon of oil. Arrange the potato wedges on the prepared baking sheet in a single layer. Cover tightly with foil and bake for 5 minutes. Remove the foil and continue to bake until the bottoms of the potatoes are spotty golden brown, 15-20 minutes, rotating the baking sheet after 10 minutes. Using a metal spatula and tongs, flip each potato wedge keeping them in a single layer. Continue baking until the fries are golden and crisp, 5-10 minutes. Rotate the pan as needed to ensure even browning.
When the fries are finished baking, transfer to a paper-towel lined plate to drain some of the grease. Season with additional salt and pepper to taste. Serve warm.
Enjoy!