My first experience with Indian food in 2005 was not a good one. It was at a restaurant and I can remember it vividly: As my then-boyfriend and his parents scarfed up one after another plate of hot red and yellow dishes with indecipherable names, I sat there picking at everything and trying, really trying, to like something with no success. Afterward, to cap off the meal that left me hungry and sorry to my encouraging hosts, I stuffed a handful of "palate soothing" fennel seeds and licorice pieces into my mouth…. and then tried, as ladylike as possible, to spit them out onto the pavement in front of the restaurant and my future in-laws.
Not my finest moment!
So, I can't say that after six years I've entirely warmed up to the cuisine. However, as a curious cook I'm always interested in experimenting with ethnic dishes and I thought that this tandoori chicken would be a nice way to ease in to Indian cooking.
Imagine my Indian-loving husband's delight when I said we were having this for lunch last weekend! He couldn't fire up the grill quickly enough.
The chicken, after marinating for 24 hours in a mixture of yogurt, garlic, fresh ginger, onion, lemon and spices, smelled incredible and I was so eager to try it with a side of warm, fragrant basmati rice. After grilling it for 15 minutes (if you must use an oven, bake at 400 degrees for 30 minutes), topping it with chopped cilantro and a squeeze of lemon juice, the moment of truth finally came. I can't say enough about how much I LOVED this chicken tandoori, and you will, too!
It was perfectly spiced, tender and full of flavor, and for me, a total triumph in the previously intimidating world of Indian food. After all, like my mother-in-law says, "Tastes change."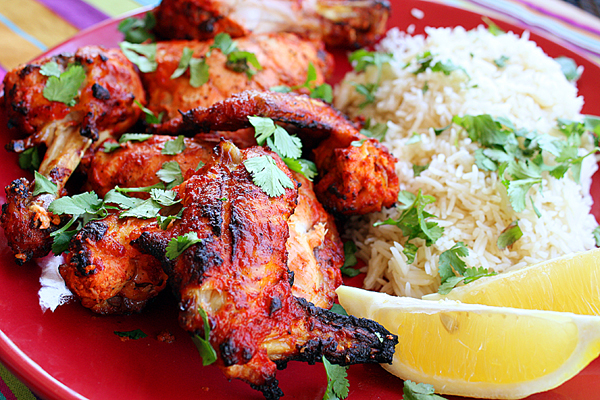 Tandoori Chicken with Basmati Rice
Ingredients
Tandoori Chicken
2 pounds skinless, bone-in chicken, I used thighs, wings and drumsticks
1 1/4 cups plain yogurt
1/2 onion, finely chopped
1 clove garlic, minced
1 teaspoon grated fresh ginger root
2 teaspoons garam masala
1 teaspoon cayenne pepper
1 teaspoon yellow food coloring
1 teaspoon red food coloring
2 teaspoons finely chopped cilantro
1 lemon, cut into wedges
Basmati Rice
2 cups basmati rice, 14 oz.
2 tablespoons unsalted butter
3 1/3 cups water
1 teaspoon salt
Instructions
Tandoori Chicken
In a medium bowl, combine yogurt, onion, garlic, ginger, garam masala, and cayenne pepper. Mix until smooth. Stir in yellow and red food coloring. Add chicken and coat well with the mixture. Cover and refrigerate for 6 to 24 hours (the longer the better).
Preheat an outdoor grill to medium high heat and lightly oil grate. Cook chicken on grill until no longer pink and juices run clear, about 15 minutes, flipping every 5 minutes.
If using an oven, preheat to 400 degrees and bake for 30 minutes.
Garnish with cilantro and lemon wedges.
Basmati Rice
Rinse rice in cold water until water runs clear. Drain well in a fine-mesh sieve. Melt butter in a 4-quart heavy pot over moderate heat, then add rice and cook, stirring, 2 minutes. Stir in water and salt and bring to a boil over high heat. Reduce heat to low and cook, covered, until rice is tender and liquid is absorbed, about 20 minutes. Remove from heat. Let stand, covered and undisturbed, 5 minutes. Fluff rice gently with a fork.
Enjoy!