Every Christmas, one lucky someone is sent down to the basement refrigerator at my in-laws' house to retrieve the tiramisu, and forgive me, but I think it's the happiest moment of the holiday season. The china comes out along with the fancy spoons and napkins, and a bunch of hungry dessert-lovers wait in anticipation at the dining table for our favorite final course. We may be full of dinner and the tiramisu may be store-bought, but with a cup of espresso it tastes like heaven on earth! Take it from me… Not long ago, I avoided coffee-flavored anything.
I will never be able to thank my married-into family enough, though, for coaxing me into loving this delicious confection! Soft, spongy and feather light with layers of whipped cream, mascarpone and sweet ladyfingers, just one spoonful is never enough. Now that I found a recipe with an almost identical taste to my favorite, I'll hopefully be able to debut my homemade dessert at a future Christmas with my family!
Best of all, this recipe is so easy and tastes best after a full day of sitting in the fridge! Though it turned out incredibly tasty, I wasn't sure if this tiramisu would work out at first, so I used the easiest-to-find ingredients possible, including store-bought ladyfingers and mascarpone. However, if you are interested in taking this homemade all the way, check out these recipes for homemade mascarpone from Teenie Cakes and homemade ladyfingers from Annie's Eats, two of my favorite food bloggers.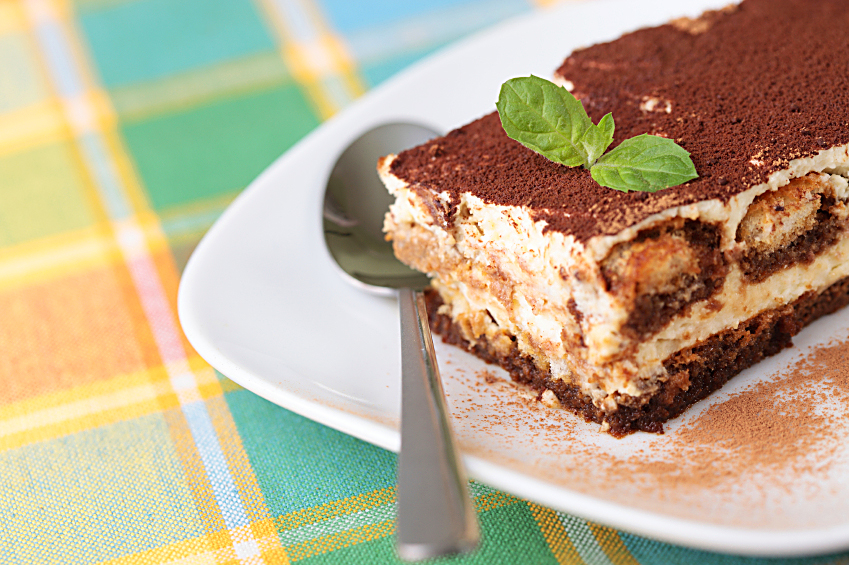 Tiramisu
Ingredients
3 egg yolks
1/2 cup and 2 tablespoons white sugar
1/2 cup and 2 tablespoons mascarpone cheese
3/4 cup and 2 tablespoons heavy whipping cream
1 12 ounce package ladyfingers
1/3 cup coffee-flavored liqueur, or strong coffee
1 tablespoon unsweetened cocoa powder, for dusting
1 1 ounce square semisweet chocolate
Instructions
Combine egg yolks and sugar in the top of a double boiler (If you don't have one, here's an easy tutorial on how to make your own). Reduce heat to low, and cook for about 10 minutes, stirring constantly. Remove from heat and whip yolks until thick and lemon colored.
Add mascarpone to whipped yolks. Beat until combined. In a separate bowl, whip cream to stiff peaks. Gently fold into yolk mixture and set aside.
Line the bottom and sides of a large glass dish with the ladyfingers. Brush with coffee liqueur or strong coffee. Spoon half of the cream filling over the lady fingers. Repeat ladyfingers, coffee and filling layers. Garnish with sifted cocoa powder and/or shaved chocolate. Refrigerate several hours or overnight.
If desired, use a round biscuit cutter to cut individual portions of tiramisu from the dish. (This keeps calories down and also creates a nice presentation for guests!)
Enjoy!