For the kid inside all of us… Super soft, buttery sugar cookies with sprinkles! These cookies are so delicious and fun for birthday parties, or any little occasion worth celebrating!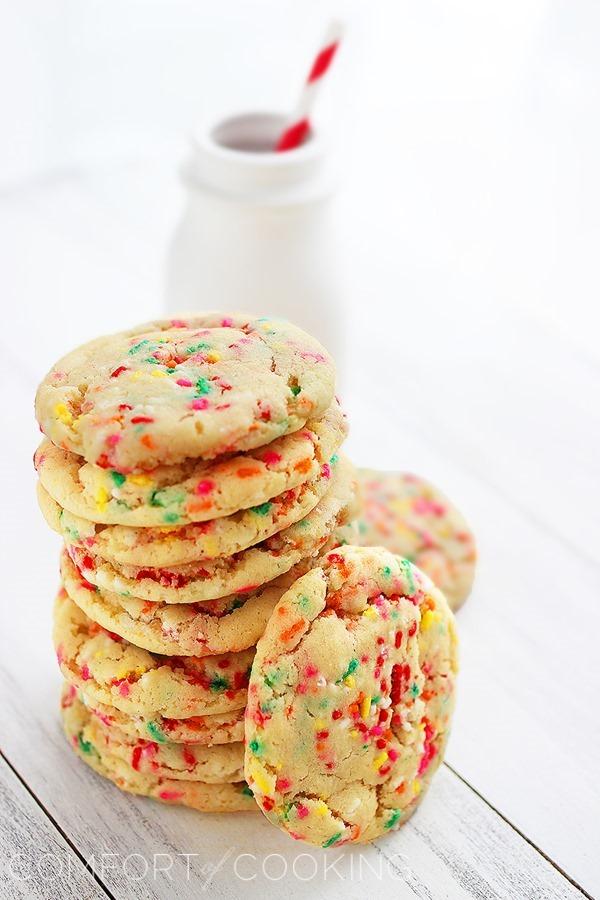 Over the weekend, we attended a kid's birthday party and I tell ya… It is so funny to watch those pint-sized partiers lose their minds over gifts and cake! How I wish we could all just go crazy with excitement as adults, like we did at that age.
It was lots of fun, and to say thanks for having us, I gifted these to the little lady's gracious parents and our good friends. A hard thing to do, letting go of sprinkle cookies, but I made the sacrifice!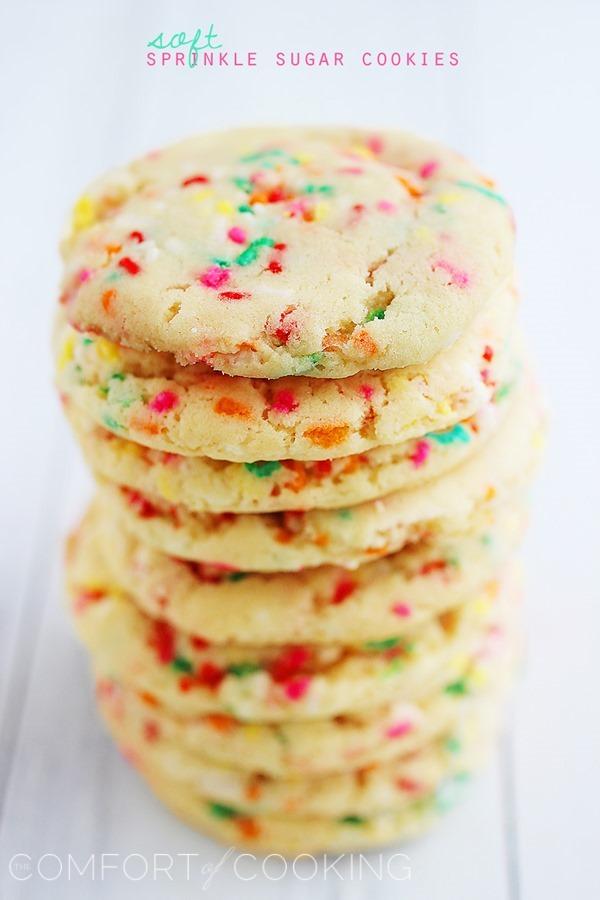 After seeing this recipe on two blogs last week, I went running out into the rain JUST for the sprinkles to make them.
A bit crazy? Yes. Totally worth it? You bet yer cookie lovin' buns.
These super soft, buttery sugar cookies really hit the spot! They were so quick and easy to make, baked up beautifully after only 8 minutes, and went down smooooth (get it) with a glass of milk.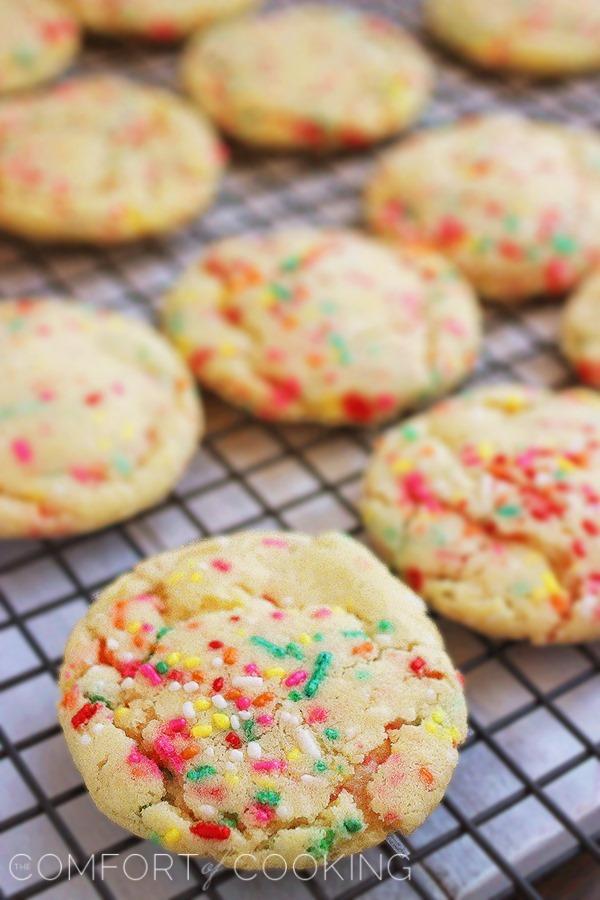 Eight minutes seems like both no time at all and an eternity when you're waiting for these cute cookies to emerge! Don't even talk to me after they come out of the oven… I have my laser sights on those warm, freshly baked treats and the timer telling me I have to wait. Waiting for them to cool is pure torture!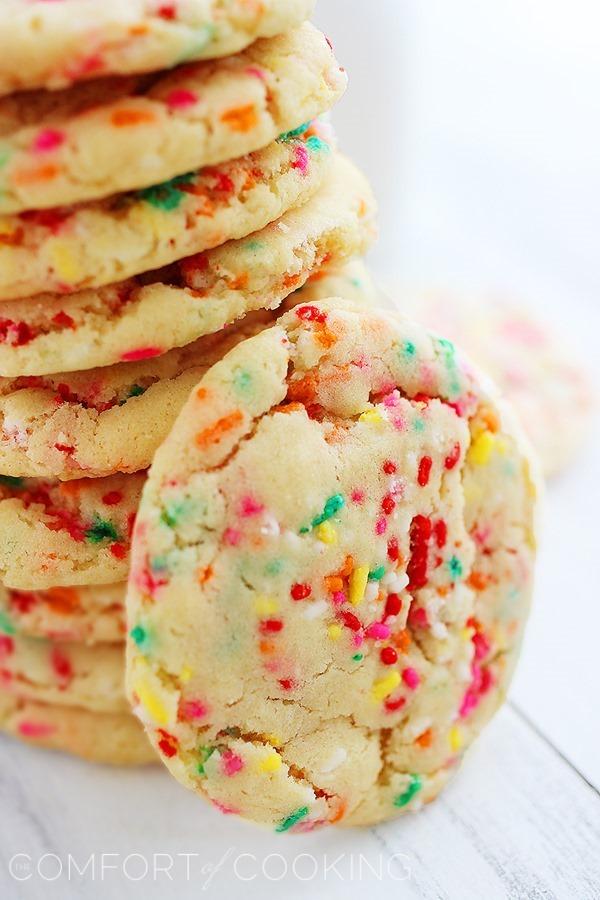 Make these for family gatherings, a kid's birthday party, or just to have a colorful treat in the house for indulging! You'll absolutely love 'em and probably already have all the ingredients to whip them up.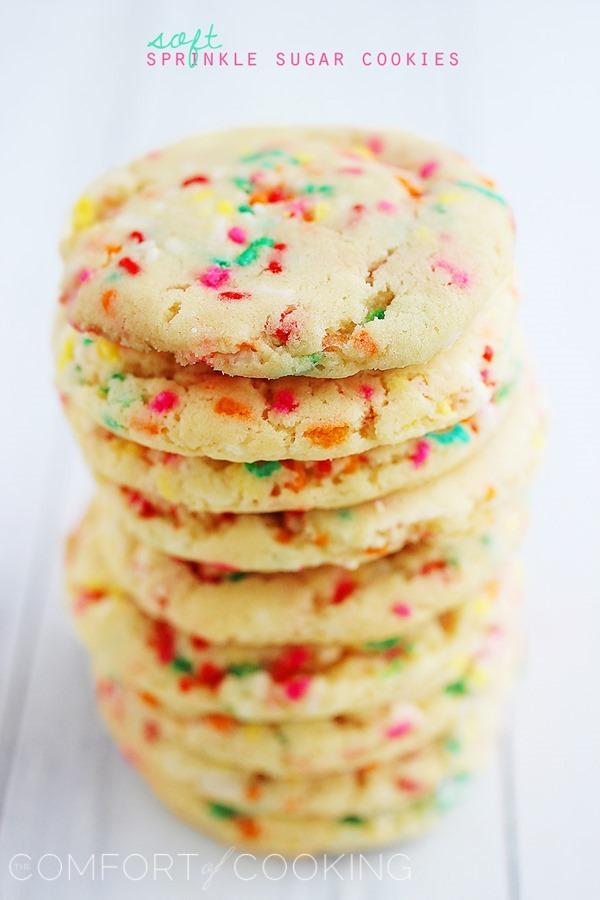 Soft Sprinkle Sugar Cookies
Ingredients
1 1/2 cups all-purpose flour
1 teaspoon cream of tartar
1 teaspoon baking powder
1/2 teaspoon baking soda
1/4 teaspoon salt
1/2 cup 1 stick unsalted butter, room temperature
3/4 cup granulated sugar
1 large egg
2 teaspoons vanilla extract
3/4 cup 1 (4.3 oz.) jar sprinkles
Instructions
Preheat oven to 350 degrees F. Line two baking sheets with parchment paper or silpats. Set aside.
In a medium bowl, whisk together flour, cream of tartar, baking powder, baking soda and salt. Set aside.
In a stand mixer, beat butter and sugar until light and fluffy. Add egg and vanilla extract, mixing until combined. Add flour mixture 1/2 cup at a time, mixing until completely combined. Stir in sprinkles until evenly distributed (you can do this by hand or with the stand mixer).
Roll one heaping tablespoon of dough into balls and place on prepared baking sheets. Leave about an inch on each side for spreading. (I placed 12 per sheet – 4 cookies wide and 3 tall)
Bake for 8 minutes. The cookies will not look browned or cooked, but they are (they will finish cooking while cooling on cookie sheet).
Remove from oven and let cookies rest on baking sheet for 5 minutes. Then transfer to a wire rack to cool completely. Store in an airtight container for up to 5 days.
Enjoy!