Here in Austin, we suffered an extremely hot summer, so I'm singing "Hallelujah!" for the wintry-like temperatures the city has been seeing lately. All I need to truly feel the winter spirit is a string of cold days, a toasty warm house and a pile of these delicious biscotti with a nice cup of chai tea. Oh! And my Snuggie, of course. A cold day simply isn't complete without it.
Pumpkin season may be over to some, but I'm still taking full advantage of the warm, spicy flavor and endless flavor combinations that can be created with my leftover silky, smooth pumpkin puree. Biscotti has been a longtime favorite in my family, and as soon as I saw this delectable recipe from Dessert for Two, I knew I had to try it for myself.
The flavor was rich and robust, and every bit as lovely as I imagined. Dipped into white chocolate and coated with walnuts, this slender Italian cookie was il cielo sulla terra (heaven on earth)! Perfect for a cold day cozied up under a warm blanket.
If you think it would be nice to try these for yourself, think of nice they would be to give as a gift with a box of tea, too! It's the season of giving after all, and once my mother and stepfather received a box of these, they gave them their own stamp of approval. I know you will, too, once you see how simple and simply delicious these biscotti are!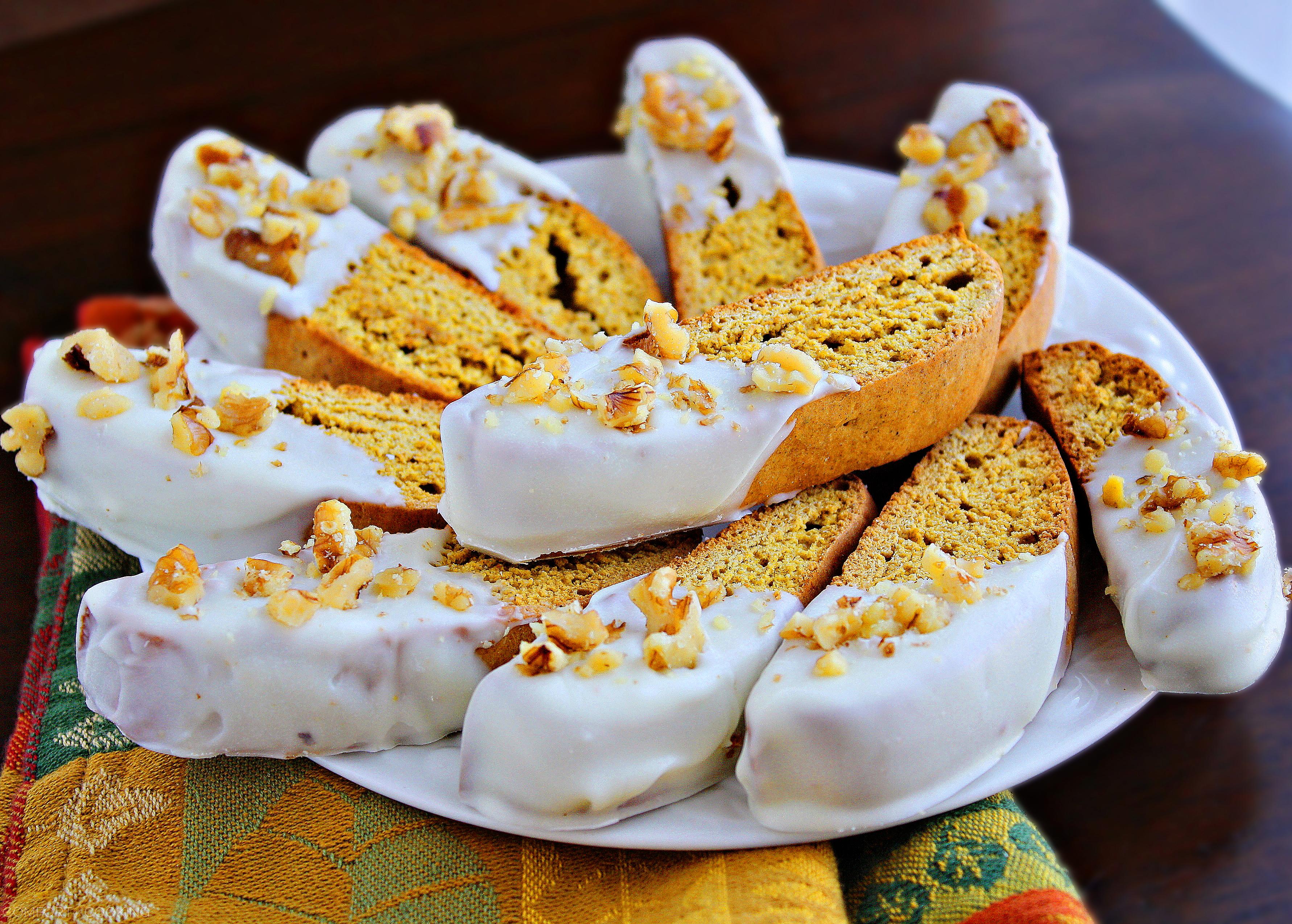 Pumpkin Gingerbread Biscotti
Ingredients
1 large egg
1/2 cup sugar
1/2 teaspoon baking powder
1/4 cup pumpkin puree
1/2 teaspoon cinnamon
1/4 teaspoon nutmeg
1/8 teaspoon freshly grated ginger
1/8 teaspoon ground allspice
1/8 teaspoon salt
1/2 teaspoon vanilla
1 1/4 cups flour
4 ounces real white chocolate, chopped, or white candy melts
1/3 cup chopped walnuts
Instructions
Preheat the oven to 350 degrees F. Line a baking sheet with parchment paper or a silicone mat.
In a medium bowl, vigorously whisk egg, sugar and baking powder until mixture becomes smooth and pale yellow. Add pumpkin puree, cinnamon, nutmeg, ginger, allspice, salt and vanilla. Whisk until well combined. Sift in flour and fold in with a spatula. Dough will be sticky.
Place dough on ungreased, lined baking sheet. Shape into a flat log about 3″ wide by 8″ long, using wet fingertips. Bake for 30 minutes, or until a toothpick inserted comes out clean. When cookies are done, turn oven temp to 300 degrees F.
Remove from oven and let rest for 15 minutes. Slice into 1/2″ slices, place on the baking sheet, and bake another 30 minutes, flipping each cookie halfway through. Let cool completely on a wire rack.
Once cool, prepare chopped walnuts and melt white chocolate or candy melts. Dip half of each biscotti into the white chocolate, sprinkle with a pinch of walnuts, and let set before serving.
Refrigerate, freeze, or store cookies in a resealable bag or container. They also make great gifts!
Enjoy!