This scrumptious, one-pot slow cooker meal is perfect for lazy weekends or weeknights when you want to walk in the door to deliciousness!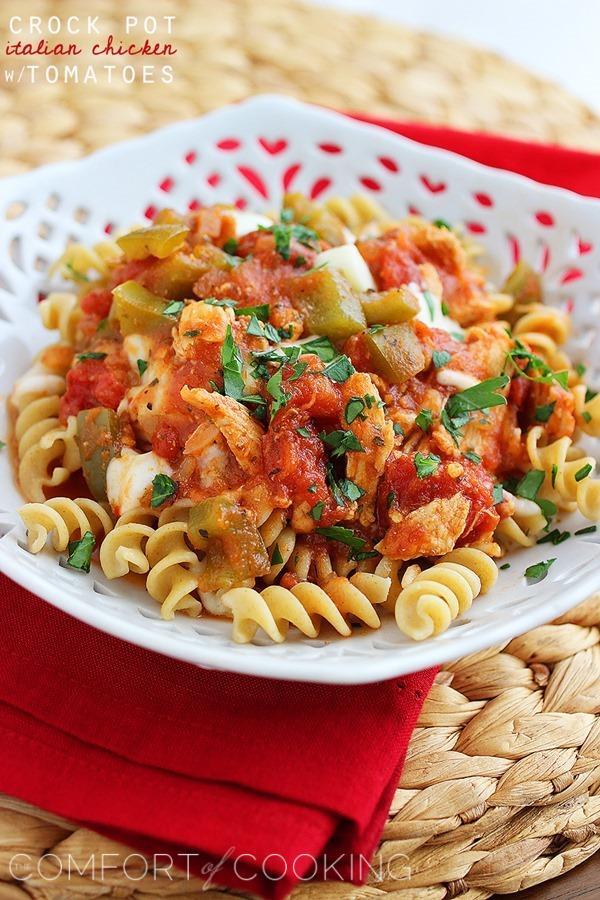 There's something about this time of year, when the summery sunshine creeps back and the weather warms up – I always forget to use my CrockPot! It just sits down there in my cabinet, all lonely and collecting dust 'til the next winter. Why is this?!
Lately, I've been busting it out more and loving the quick, easy weeknight meals that come from it. My slow cooker is my Monday thru Friday savior and it should be yours, too… no matter the season!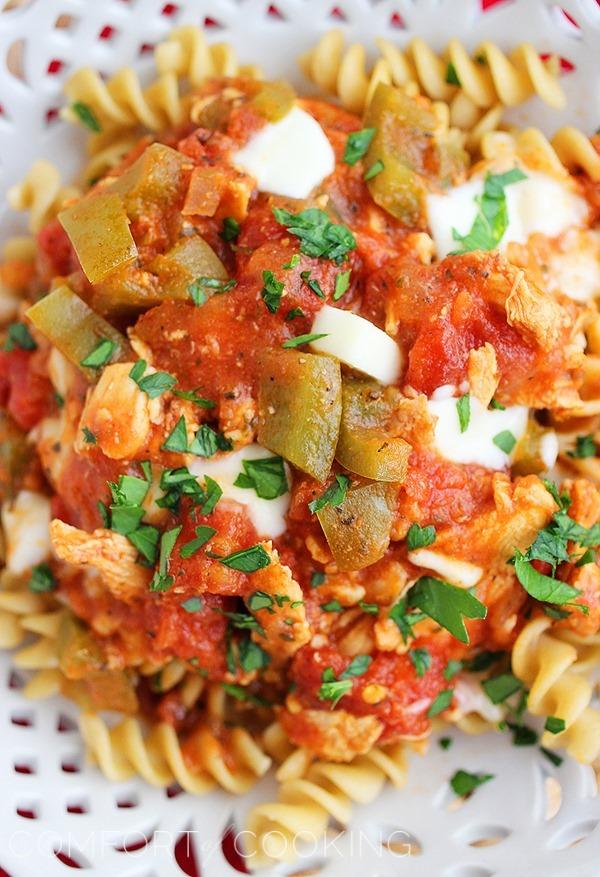 This saucy, scrumptious chicken with tomatoes, bell peppers and mozzarella was a GREAT use of my slow cookin' workhorse! I dreamt it up and dumped all the ingredients in at 4:30, and cooking on high, it was done in time for a 6:30 dinner. How 'bout that?
Using some fresh herbs from my new garden and a heap of simple, flavorful ingredients, this meal was totally mouthwatering for a Monday! I served it on top of a pile of whole grain pasta, poured some wine, and scarfed it down with my sweetie.
And the best part? Hardly any clean-up!
Toss this delicious meal together some morning before work, set it to cook on low, and forget it. That is, 'til you come home, smell the amazing aroma, and can't wait to dig in! I guarantee you'll love it just as much as we did.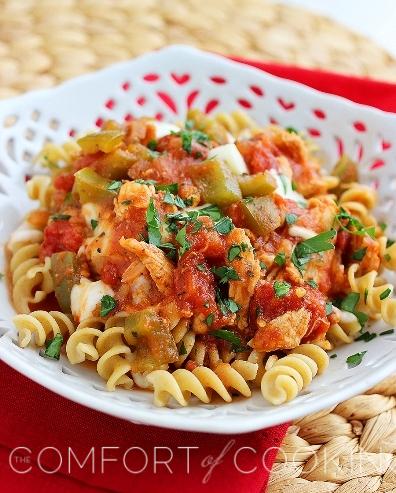 Crock Pot Italian Chicken with Tomatoes
Ingredients
1 lb. 2 boneless skinless chicken breasts, thawed
1 green bell pepper, chopped
1/2 yellow onion, chopped
2-3 garlic cloves, crushed
1 15 oz. can diced tomatoes, drained
1 15 oz. can tomato sauce
1 Tbsp. tomato paste
3 Tbsp. red wine vinegar
1 1/2 teaspoons Italian seasoning, or a mix of basil, rosemary, oregano, marjoram and thyme
1/4 teaspoon crushed red pepper flakes
1/2 teaspoon salt
1/4 teaspoon freshly cracked pepper
1/2 cup shredded mozzarella cheese or small chunks of fresh mozzarella
1 13-15 oz. box whole grain pasta, cooked al dente and drained
2 Tbsp. fresh parsley or basil, chopped, optional
Instructions
Place chicken in slow cooker. Add remaining ingredients and seasonings, except mozzarella, pasta and herbs. Stir ingredients gently to combine flavors.
Cover and cook on low for 6-8 hours, or high for 2-3 hours. (Mine only took 2 hours on high)
Once cooked, remove chicken and slice into bite-sized pieces. Add back to slow cooker and stir in mozzarella. Serve heaping spoonfuls on top of cooked pasta.
If desired, sprinkle with fresh parsley or basil.
Enjoy!