For a thoughtful, easy and inexpensive Mother's Day or birthday gift, surprise her with homemade tea bags (no sewing required)!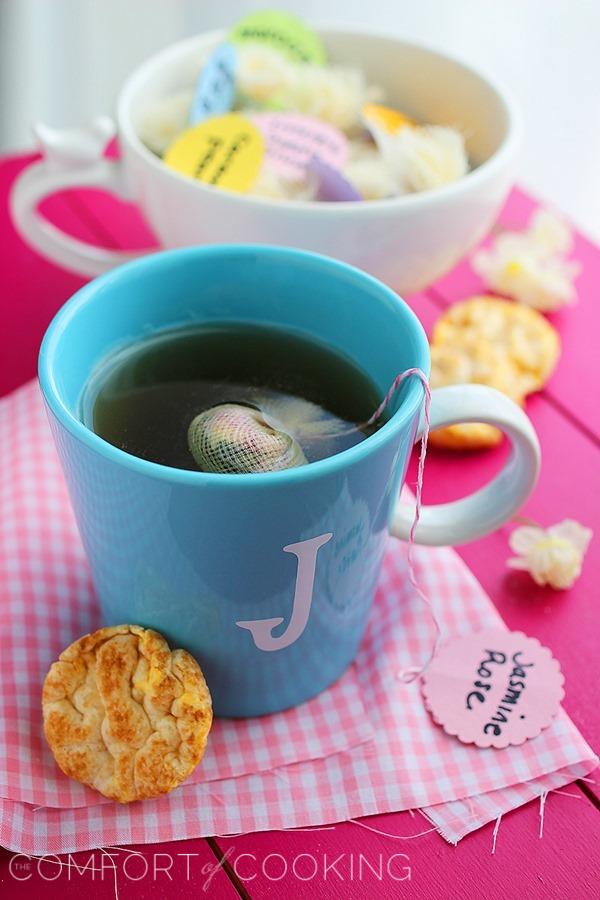 From messy crayoned cards to stacks of cookies baked with love, my mom has always appreciated my flair for the "homemade" approach on Mother's Day. She'd take a hand-knitted scarf over a pretty necklace any day!
Not that I can knit anyway. I can't and totally wish I could. But I can make tea bags! And so can you!
These little homemade tea bags are actually so easy, come together in minutes, and require no sewing. You just need a half yard cheesecloth or muslin fabric, your favorite loose tea, and some colored kitchen twine.
Because I had so much colored twine, I matched each color to various colors of cardstock. The cardstock was punched out with a decorative hole punch (found at most hobby/craft stores), and the two pieces sealed together with a glue stick, with the twine in between.
Yep, may be almost 30, but I love me some arts and crafts!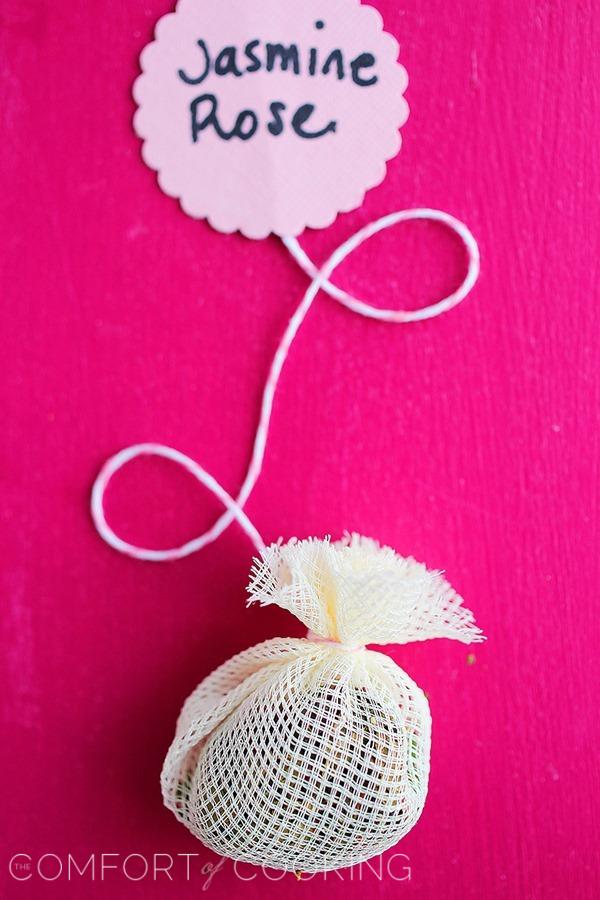 But, getting back to this adorable little bundle of tea cuteness… All I did was cut out a square of fabric, plop a teaspoon of loose tea in the center of each, twist it up tight, and secure it with twine. You can find loose tea in Whole Foods, specialty tea stores, and online. I got particularly lucky with lots of varieties at an Austin favorite, Central Market!
Gifted in an a big mug (also good for soups, snacks and other warm drinks), these tea bags make for a very sweet, sentimental gift for Mother's Day.
… Except mom doesn't have to know how simple they were to make!
For the special lady in your life, go the extra mile and make her these lovely little tea bags. She'll adore the thoughtful gesture and so enjoy sitting down to a hot mug of homemade tea!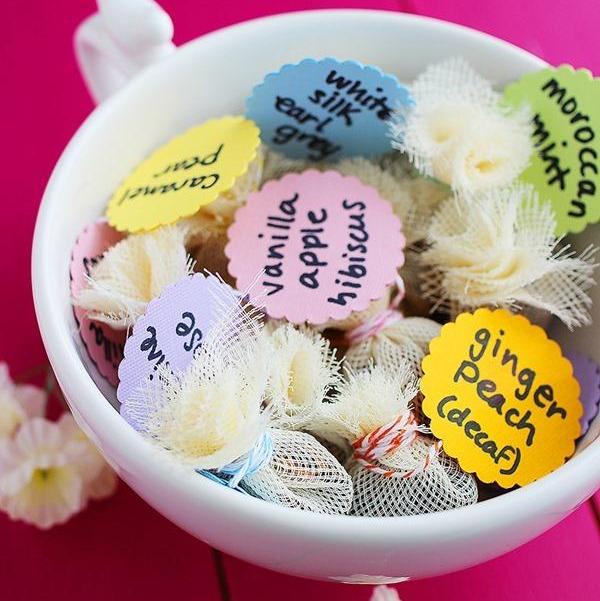 Homemade Tea Bags + Personalized Tags
Ingredients
You will need:
1 pair sharp scissors
About 1/2 yard cheesecloth or muslin fabric, found at most hobby/craft/fabric stores
Variety of loose tea*, I chose 6-7 different teas
Kitchen twine or embroidery thread*, various colors
Cardstock, various colors
Decorative hole punch, optional (You can also cut out small shapes with scissors)*
1 clear-drying glue stick
Fine-point Sharpie or black pen
Instructions
To make tea bags: With sharp scissors, cut fabric into a square about 6 x 6 inches. Cut a piece of thread/twine about 17 inches long.
Place 1 teaspoon of loose tea in the center of each piece of fabric. Gather up fabric around tea and twist. Tie with kitchen twine, securing with 1-2 knots. Cut off the excess top fabric. Repeat as needed.
To make personalized tags: Have assembled tea bags nearby. If threads are very long, trim slightly.
Fold various colors of cardstock in half. With the cardstock still folded in half, cut out two identical shapes with scissors or a medium- to large-sized decorative hole punch.
Rub glue stick on one of the two identical shapes. Place one end of the kitchen twine (attached to the tea bag) on the glued shape. Place the other shape on top. Sandwich together and press for a few seconds. Cut string of other end of twine, not attached to tag. Set aside and repeat.
With a fine-point Sharpie or pen, write the title of each tea on the tag.
Twist the twine around the top of each tea bag (where you knotted it) to keep from tangling.
You're done!