You won't believe how easy these cheesy, crisp chicken, mozzarella and tomato pizzas are! Serve this healthier spin on the comfort food classic with a green salad, and dinner is done.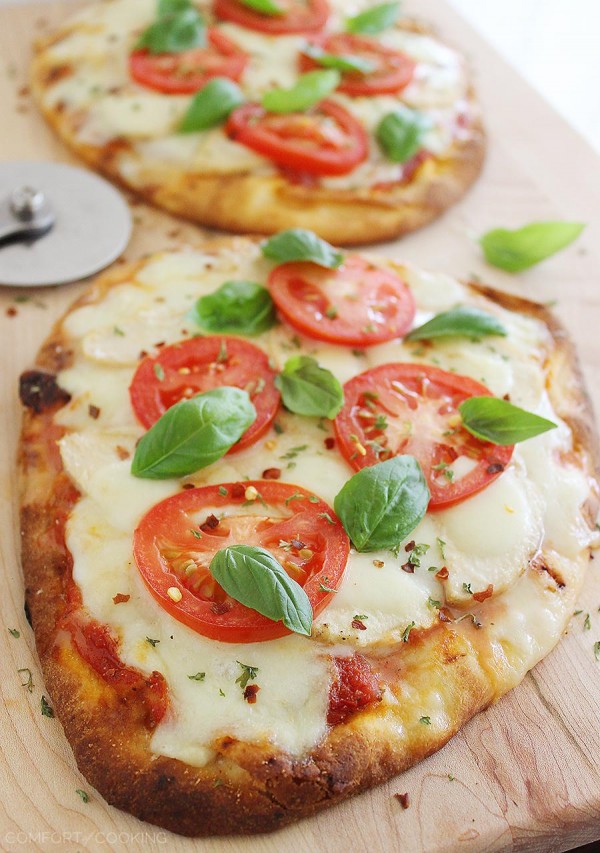 In addition to stocking our freezer full of meals for baby's May arrival, I also purchased heaps of premade flatbreads. They freeze perfectly, crisp up in the oven, and are soft but hearty enough to handle any pizza toppings. My favorite toppings lately? Cooked chicken, gooey mozzarella, and a bit of summer's beautiful bounty (while it's still in season)… juicy ripe tomatoes and fresh basil.
With whatever meat, veggies and cheese we have hanging around, I can cook up a delicious pizza dinner in no time. Flatbreads have become a great go-to lazy girl solution for a mouthwatering meal that's still homemade!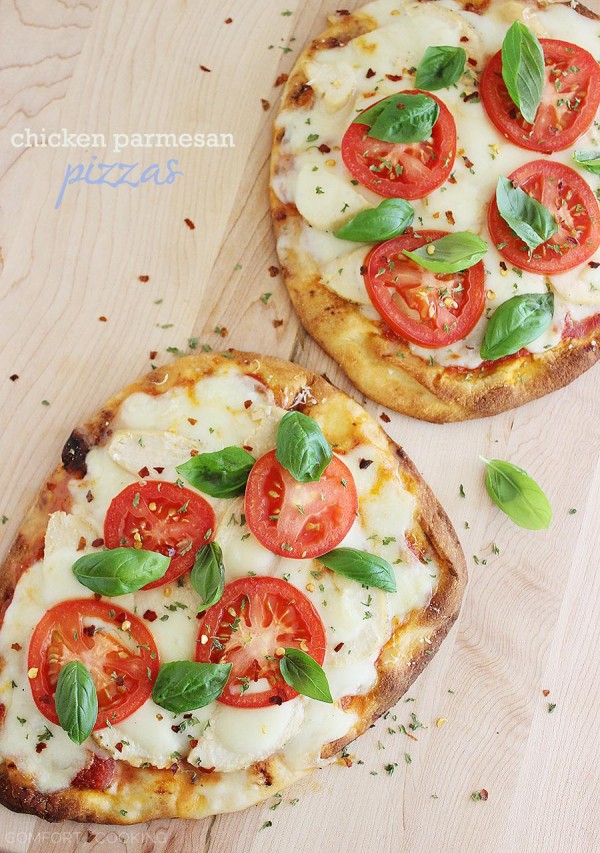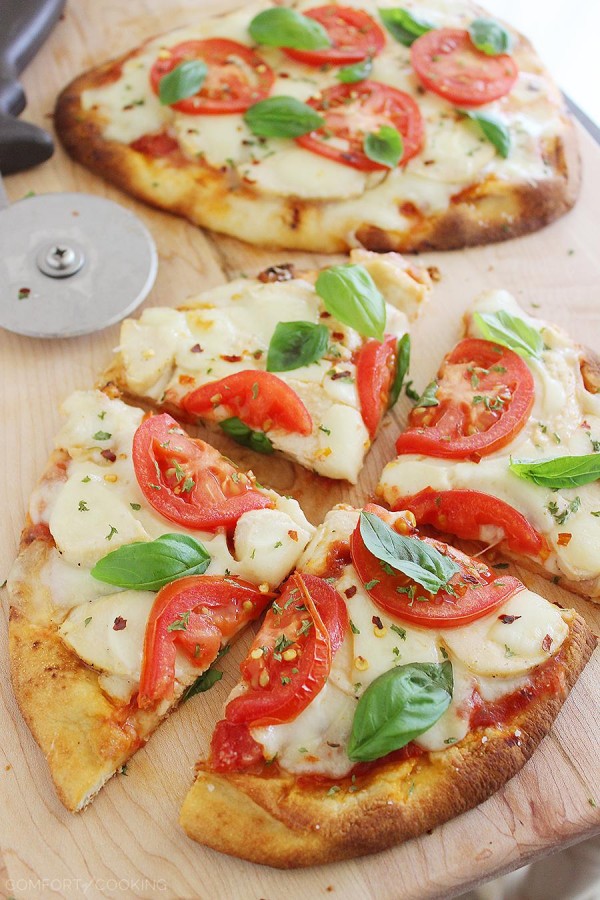 Recently, I decided to adapt another classic comfort food into something a bit more light and summery! Chicken parmesan is a big-time favorite in my house, but the traditional dish can pack a lot of fat, carbs and calories. So, I'm always looking for ways to skinny it up a bit (like in these recipes).
Baked 'til bubbly on a crisp, golden flatbread, the melty mozzarella, sweet tomatoes and basil, and tender chicken pieces are out of this world! Each slice is full of cheesy, scrumptious goodness. And it couldn't be easier to make with just a handful of ingredients – most found in your pantry!
You're just gonna love this Chicken Parmesan Pizza. Try it tonight!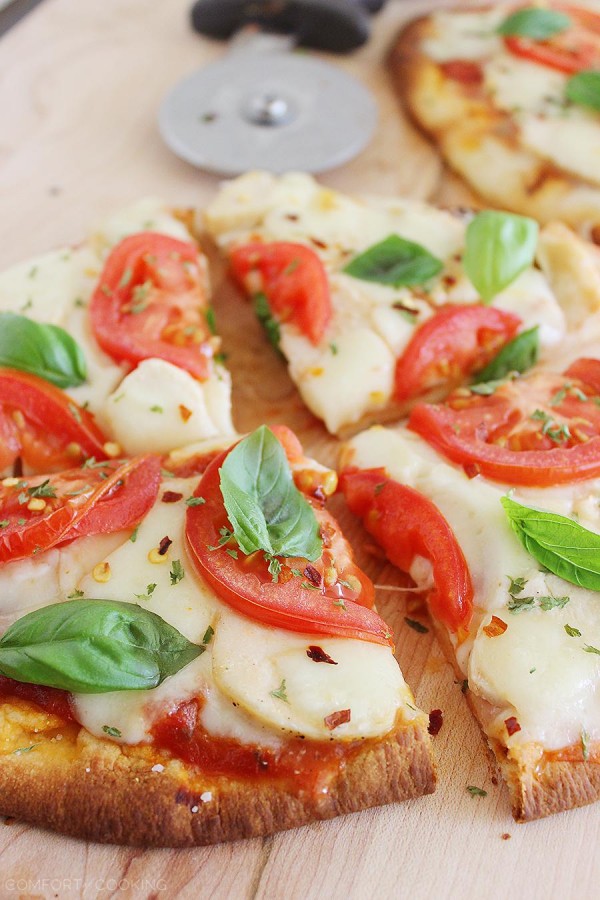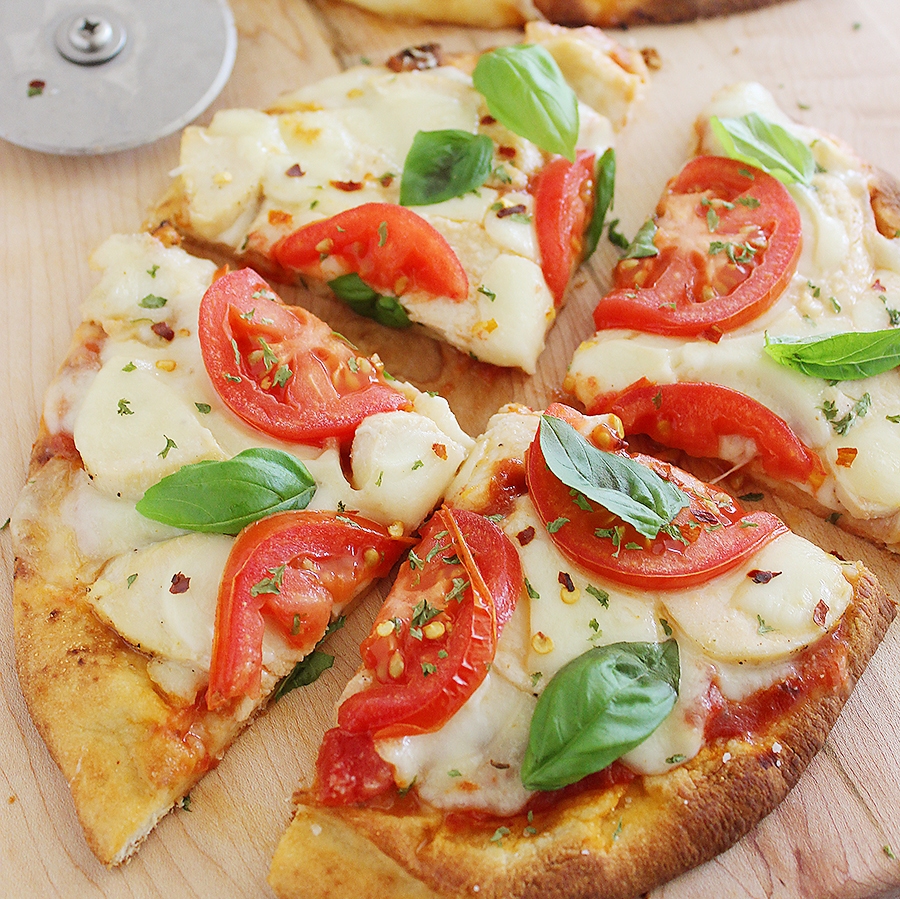 Cheesy Chicken Parmesan Flatbread Pizza
Yield:
8 slices (depending on size of crust)
Ingredients
1 prepared pizza crust or flatbread, I used Stonefire Naan
1/2 cup pizza or pasta sauce
1/2 cup chopped precooked chicken
1 cup shredded mozzarella
1/4 cup grated Parmesan
1 Roma tomato, sliced
1/4 teaspoon each: garlic powder, Italian seasoning, red pepper flakes
1/4 cup fresh basil leaves, for garnish
Instructions
Preheat oven to 400 degrees F.
Place pizza crust/flatbread on a large greased baking sheet. Spread crust with marinara. Top with chicken, mozzarella, Parmesan and sliced tomato. Sprinkle with garlic powder, Italian seasoning and red pepper flakes.
Bake for 10-15 minutes, or until crust is golden and cheese is melted. Top with fresh basil. Slice and serve.
Enjoy!