Tender skirt steak sizzled in your skillet with sweet, tangy balsamic tomatoes makes for a mouthwatering (and super easy) homemade meal… with restaurant-quality flavor!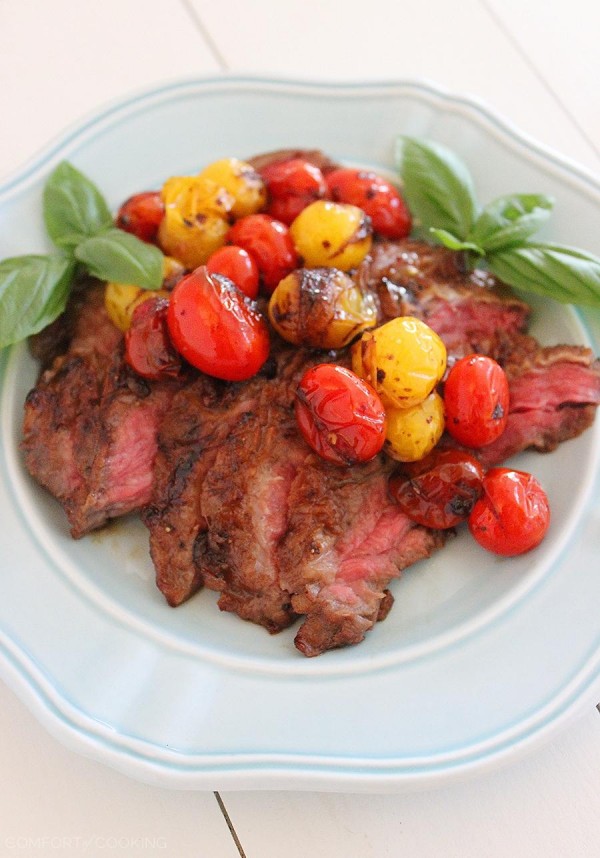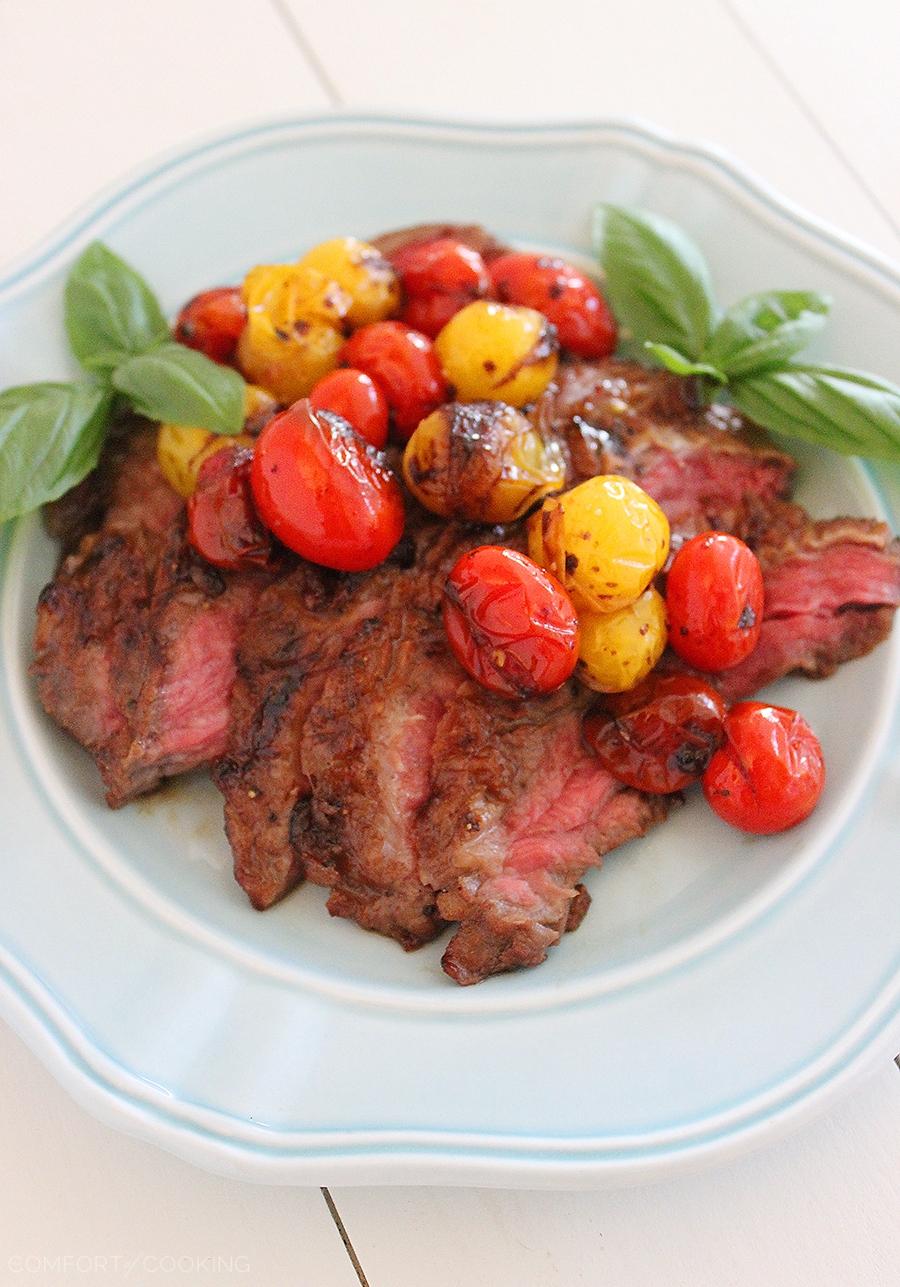 Have mercy! Just looking at this juicy, delicious steak makes my mouth water.
To be honest, this recipe is another one of my lazy-girl solutions… and I'm so excited to share it with you! When I want a restaurant quality steak (but don't want to pay the price), I toss a skirt steak in my grocery cart and make dinner plans in. Some of the best steaks we've ever eaten have been home cooked, after all.
This quick and easy skillet-sizzled steak with blistered balsamic tomatoes is no exception!
I love adding some color and pizzazz to my plate by adding fresh summer tomatoes. They adorn cooked meats, chicken and fish like little juicy jewels, adding sweetness and tenderness only amped up further with tangy balsamic. It's an out-of-this-world-good combination… and all you need are six ingredients to make it happen!
For weeknights that call for something vibrant and summery, sizzle up a skirt steak (flank is also a favorite and would work equally well). Add a big green salad, bread rolls and a glass of red wine, and your delicious dinner is served!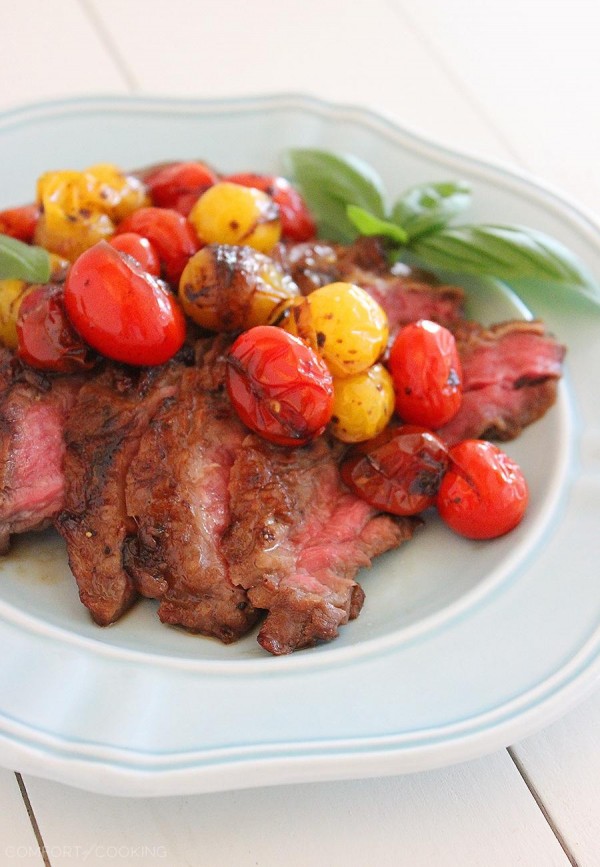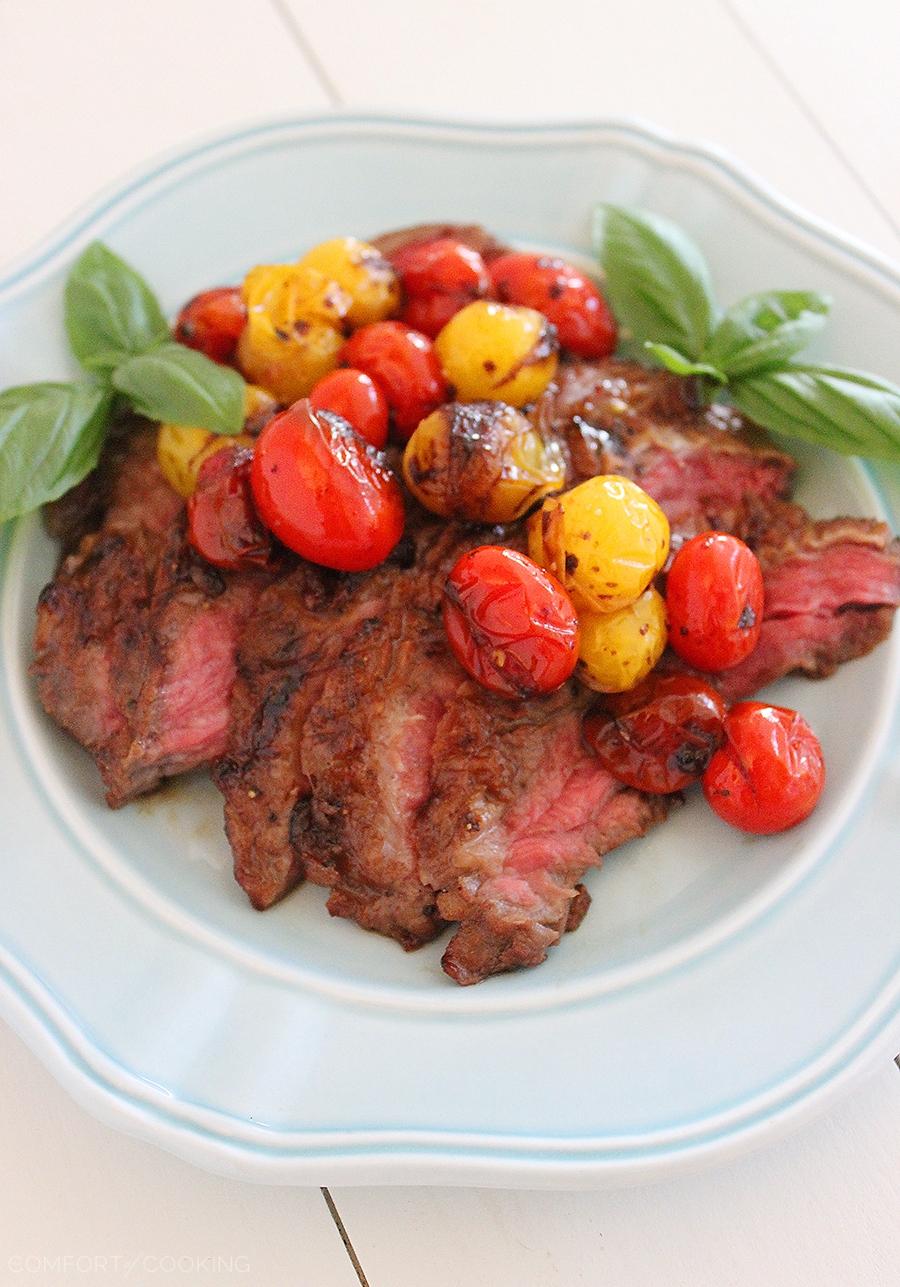 Skillet Skirt Steak with Balsamic Cherry Tomatoes
Ingredients
1 1/2 teaspoons olive oil
1 12 oz. skirt steak or flank steak
Salt and pepper, to taste
2 cups cherry tomatoes
2 cloves garlic, minced
2 Tablespoons balsamic vinegar
Instructions
Heat oil to medium-high heat in a large nonstick skillet. Once pan is very hot, season both sides of steak with salt and pepper. Cook for 3 to 4 minutes per side, or until steak is slightly firm to the touch. Remove to a cutting board.
Meanwhile, lower heat to medium. Add tomatoes and garlic to the pan. Cook for 2 minutes, shaking the pan occasionally. Add balsamic vinegar and cook for 2 more minutes, until tomato skins begin to split. Remove pan from the heat and season with salt and pepper.
Slice steak thinly and divide between plates, topping each portion with balsamic tomatoes.
Enjoy!