Today we're skinny-ing up a classic summer treat! Easy mini pineapple upside down cakes with butter, brown sugar, and a little cherry on top… and only 184 calories each!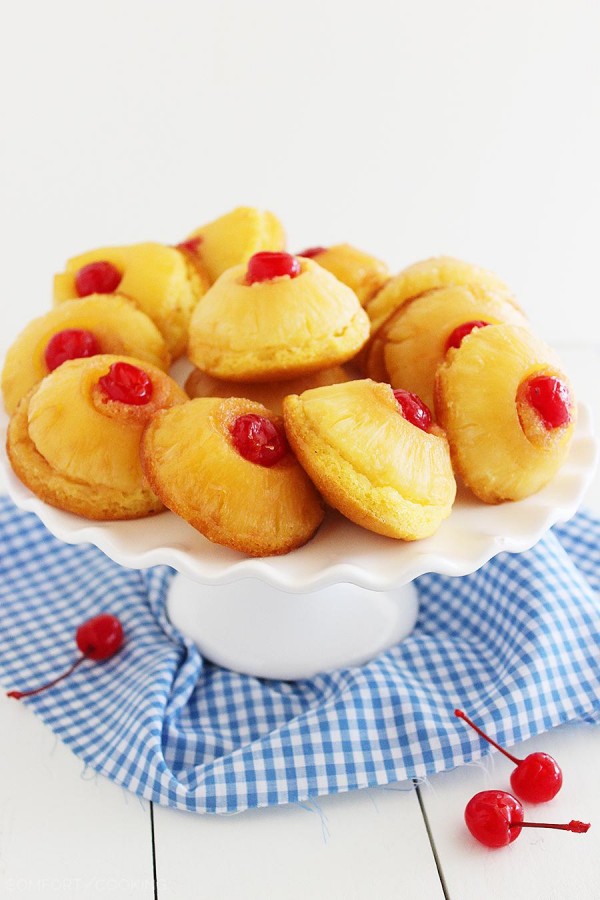 Did you know a traditional slice of pineapple upside down cake clocks in at almost 400 calories? Not very summer-body friendly, now is it? That's why I love shrinking 'em down and skinny-ing 'em up by baking mini cakes. They're under 185 calories each, easy to make, and look so darn pretty on a plate… They just beg you to grab one and show your friends, then quickly dash away so they don't steal yours. No fancy equipment necessary, either – you only need 7 basic ingredients and a muffin tin.
… And maybe a little self control to avoid snacking on those cute, crimson maraschino cherries. (The best part of a sundae, as everyone knows).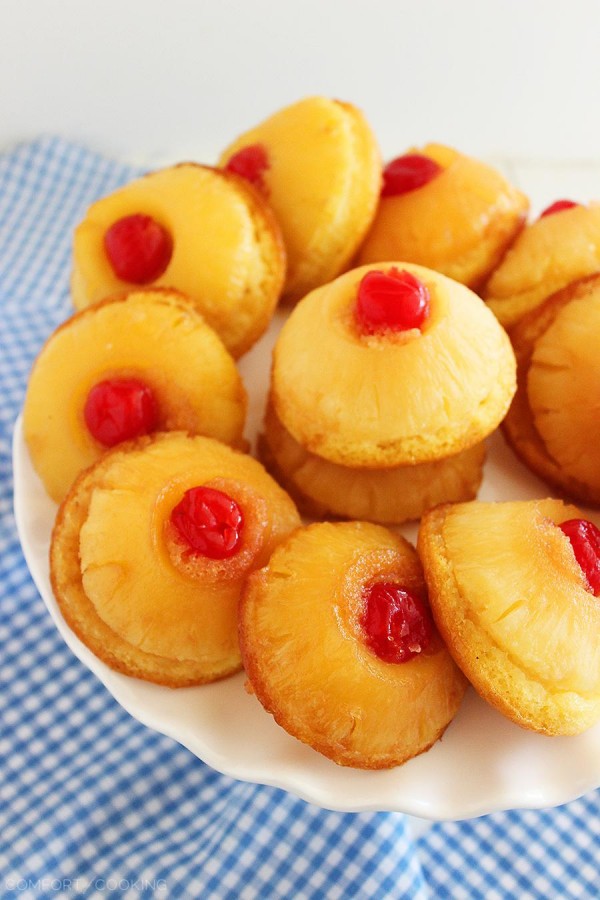 For spring and summer parties, I love toting these tiny upside down cakes with me… along with a nice bottle of wine for the host! These cakes are unique little sweet treats that will have everyone asking you for the recipe. Your choice whether to give your new secret away, though…
The yellow cake is super soft, with bright summery flavor and a buttery, sweet pineapple halo. A tiny maraschino cherry is the perfect colorful touch. Just 20 minutes in your oven and a few minutes to cool (if you can handle the suspense) is all it takes. Served on a pretty platter, these sweet summer cakes make the cutest presentation for parties.
Try this fun twist on the traditional cake and I know you'll be hooked!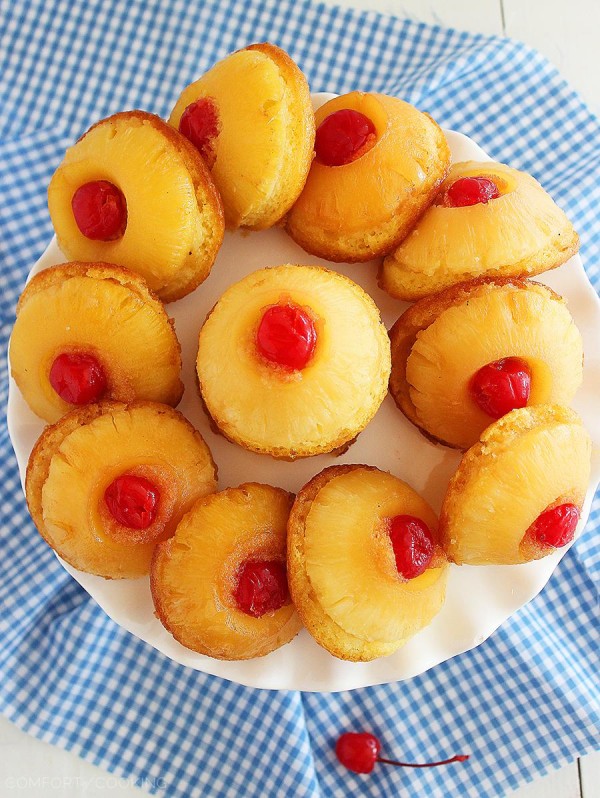 Mini Pineapple Upside Down Cakes
Ingredients
Nonstick cooking spray
2 20 ounce cans sliced pineapple
1 18.25 ounce package yellow cake mix
3 large eggs
1/3 cup vegetable oil
2/3 cup packed brown sugar
1/3 cup butter, melted
12 maraschino cherries
Instructions
Preheat oven to 350 degrees F. Spray the cups of a standard-sized 12-cup muffin tin with nonstick cooking spray. (Do not use paper muffin cup liners.)
Drain cans of pineapple into a measuring cup, reserving 1 1/4 cups of pineapple juice.
In a large mixing bowl, combine cake mix, eggs, oil and pineapple juice. Mix well.
In a separate small bowl, mix brown sugar and butter. Spoon 1/2 Tbsp. into each muffin cup. Press one pineapple ring to fit inside each muffin cup. Press a maraschino cherry into the center of the pineapple. Spoon cake batter over top, filling each cup 2/3 full.
Bake at 350 degrees F for 20-25 minutes or until a toothpick comes out clean. Immediately invert onto wire racks to cool.
Enjoy!