Creamy, cool potato salad goes perfectly with all your BBQ favorites! This easy, Southern style recipe is my best-ever batch, and uses fresh ingredients… a delish addition to any spring or summer party menu!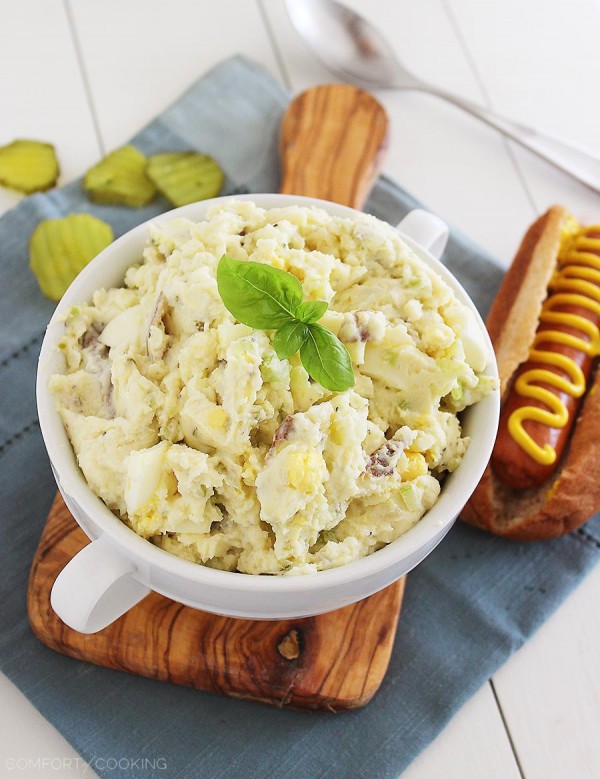 Before I wrap up all my summer recipes and suddenly come at you with cinnamon-pumpkin-autumn everything… it's time to introduce you to the BEST potato salad ever. It's easy. It's delicious. It's a whole lotta mashed up, mustardy, creamy goodness in a bowl. And, we all know potato salad makes the perfect side for your BBQ favorites.
Our grill is blazing almost every evening during hot Austin summers. Whether we're churning out chicken, ribs, burgers or sausages, you can bet this scrumptious potato salad is sitting pretty in the fridge. As much as I make it for weeknights, though, I make it more often for summer parties… and Labor Day!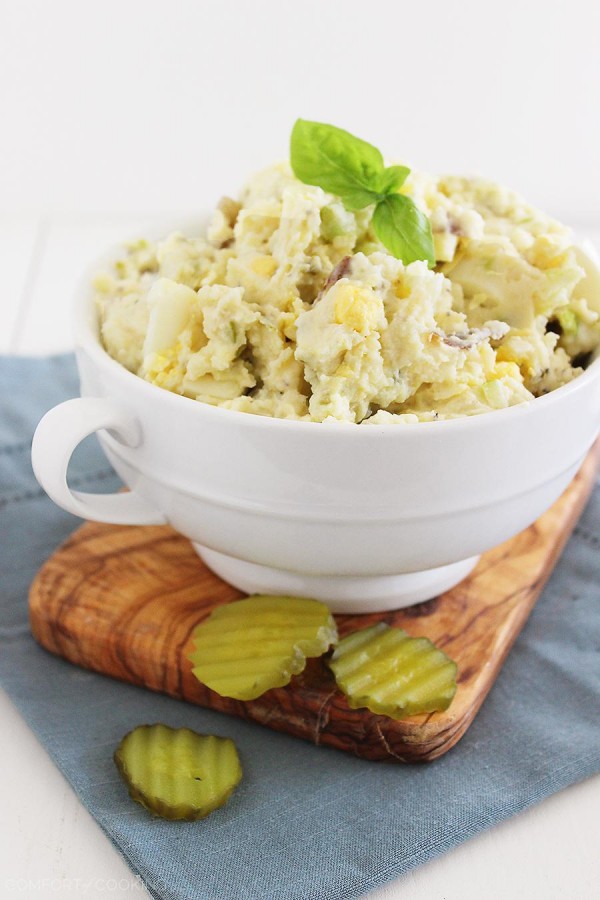 In my potato salad, I place a lot of emphasis on fresh ingredients – onion, celery, eggs, herbs – and of course, the best red potatoes you can get your mitts on. Skip mashing your potatoes if you like a chunkier potato salad. I just find mashing them helps you get a bit of everything in one bite!
For some tang, toss the cooked potatoes with vinegar then into a creamy mixture of mustard, mayo and sour cream. In goes the good stuff (see above), then into the fridge before serving all your hungry BBQ lovin' buddies. This is definitely one of those recipes that is even better the day after it's made, so feel free to make ahead of time!
You'll love this cool, creamy potato salad on the side of grilled meats and fish. Feel free to add a little more or less of anything you like, too. This is a hard one to mess up, I promise!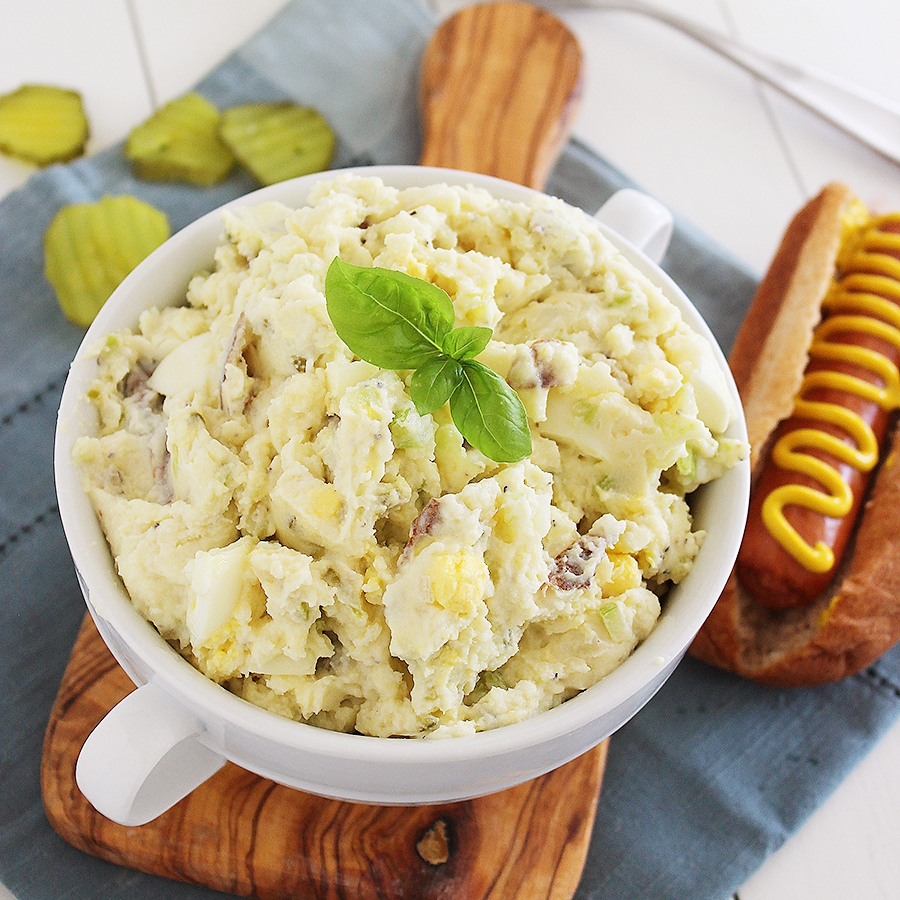 Simple Southern Potato Salad
Ingredients
3 pounds yellow or red potatoes, chopped
1/4 cup apple cider vinegar or white vinegar
1 cup sour cream
1/2 cup mayonnaise
2 Tablespoons Dijon or yellow mustard
1/2 red onion, finely chopped
3 stalks celery, finely chopped
2/3 cup finely chopped dill pickles or dill pickle relish
5 hard-boiled eggs, peeled and chopped
1/4 cup chopped fresh dill
Salt and freshly ground black pepper, to taste
Instructions
Bring potatoes to a boil in a large pot of salted water. Reduce to a low simmer and cook for 20-25 minutes, or until potatoes can easily be pierced with a fork. Drain potatoes and toss with vinegar. Mash gently with a fork or potato masher.
In a large bowl, whisk together sour cream, mayonnaise and mustard. Stir in red onion, celery, pickles, eggs and dill. Add potatoes and stir to combine. Season generously with salt and pepper.
Refrigerate at least 30 minutes before serving. Serve cold or bring to room temperature.
Enjoy!