These soft, chewy chocolate cookies with a gooey caramel center make for an easy and indulgent treat. Bake a batch this weekend!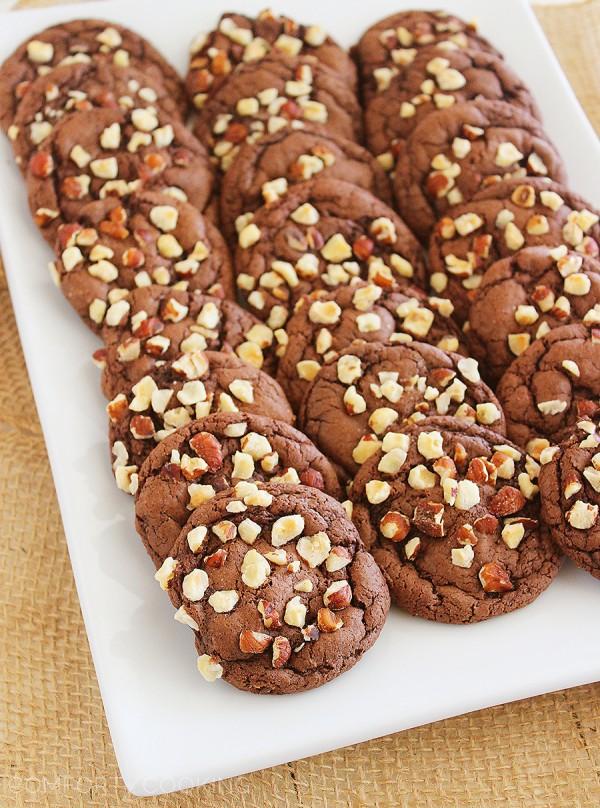 Tomorrow, we're ringing in the third month with our daughter. Three months. Ninety-ish days. Not a long time, I know, but I think that deserves a cookie. And not just any cookie. A gooey, chewy and chocolaty cookie stuffed with caramel, dotted with chopped hazelnuts and made with love. From a cake mix.
That's just how we new parents roll. It's all about ease, people!
On that note, can someone explain to me why it's been three months since I've been pregnant and I'm still a chocolate FIEND?! Is this the new me? Is there no end to the cravings? And can someone bring me some peanut M&Ms, please?
I'm no stranger to stuffing my cookies – and Rolo candies are my secret weapon for a fun sweet surprise. My Sea Salt Caramel Stuffed Snickerdoodles are many friends' favorites, and these Salted Caramel Chocolate Cookies make my hubby weak in the knees. But, I decided to take a simpler dessert shortcut by using a cake mix for my most recent batch of caramel cookie bliss… and they turned out brilliantly!
Just 6 ingredients and a few minutes of mixing (plus 10 minutes tops in your oven) yields the softest, most scrumptious cookies to satisfy any chocolate craving. The creamy chocolate flavor, crunchy hazelnuts and gooey caramel combine to make a mouthwatering treat.
Grab your ingredients and a chocolate lovin' buddy, and try these today!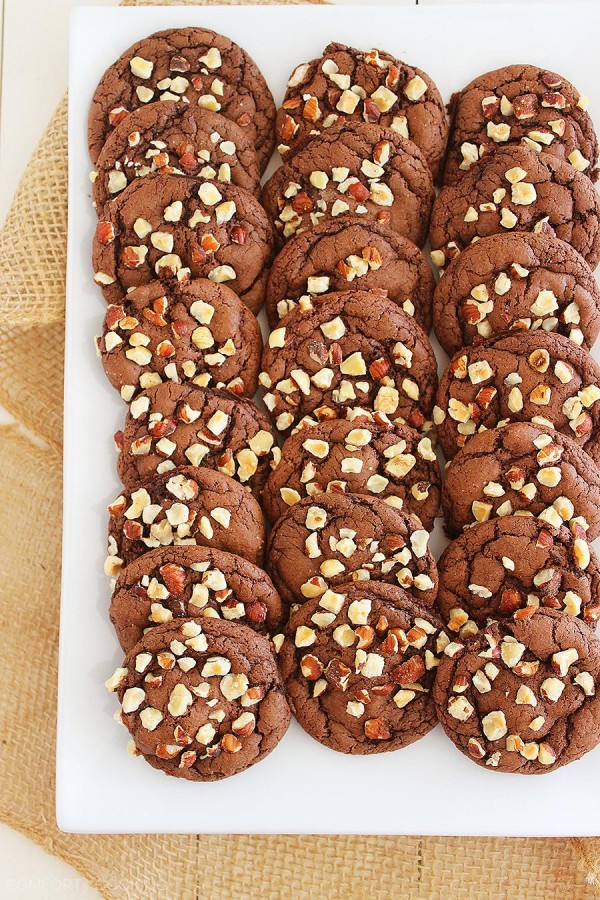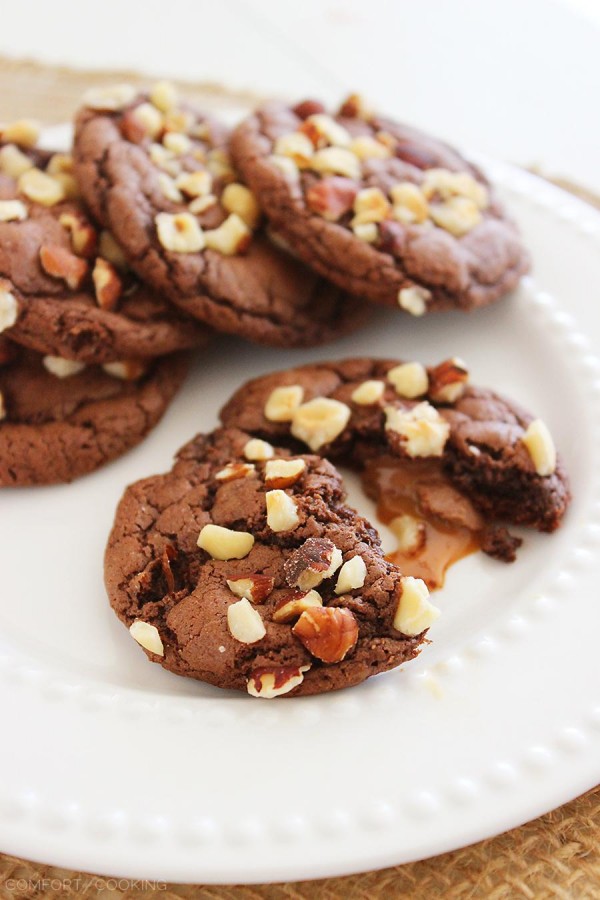 Easy Chocolate Caramel-Stuffed Cookies
Ingredients
1 package devil's food cake mix
1/4 cup water
3 Tablespoons vegetable oil
1 large egg
42 Rolo candies
1/2 cup chopped hazelnuts
Instructions
Preheat oven to 350 degrees F.
In a large bowl, combine cake mix, eggs and oil. Mix well (The dough will be thick and somewhat sticky.) Roll tablespoonfuls of dough into balls. Press a Rolo candy into each and reshape balls. Dip tops in hazelnuts and place 2 inches apart on ungreased baking sheets.
Bake for 8-10 minutes. Cool for 2 minutes before removing from pans to wire racks. Store refrigerated in an airtight container, up to 5 days.
Enjoy!