These scrumptious sloppy joes from scratch make a finger lickin' good weeknight meal! And SO easy. Just don't forget the napkins!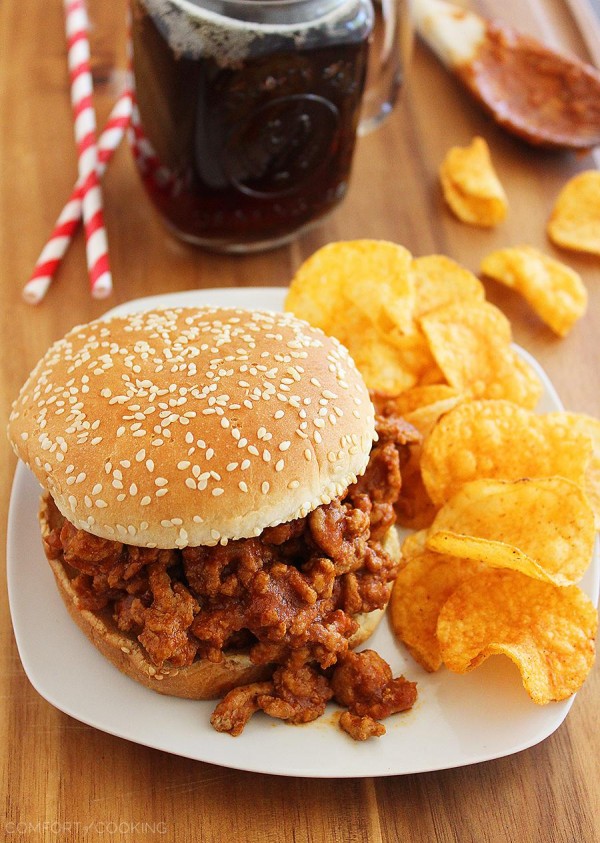 When I first met my husband, a college kid at the time, he lived with five guys in a small city apartment. They decorated with beer cans. They heaped dishes in the sink and wet towels on the floor. But, they cooked! At least whatever their best cookbook (appropriately titled, "A Man, A Can, A Plan") told them to. Anything besides microwaved Ramen and greasy pizza was enticing to me. And I loved the fact that he put in effort, at least. Even though everything he cooked tasted like metal.
Of course, I was enamored with the fact that he didn't live with his parents AND could at least heat up a can of slop on the stovetop. So, it was love. But, it wasn't until I fell hard and we got our first place that I wanted to cook him something good. And I mean good. No cans required.
Now that that goofy college kid and I have a baby, the emphasis of my good home cooking is a bit more on the quick-and-easy side, a bit less gotta-impress-this-fella. He's impressed enough with a sloppy joe from scratch!
This sandwich is one of our favorite comfort foods, and full of hearty homemade goodness. Sweet and salty, with a little spice from your favorite hot sauce, these sloppy joes make a mouthwatering weeknight meal. And incredibly easy, too!
You'll love this recipe, and so will any kiddos in your life. Just don't forget a pile of napkins… these sandwiches really live up to their name!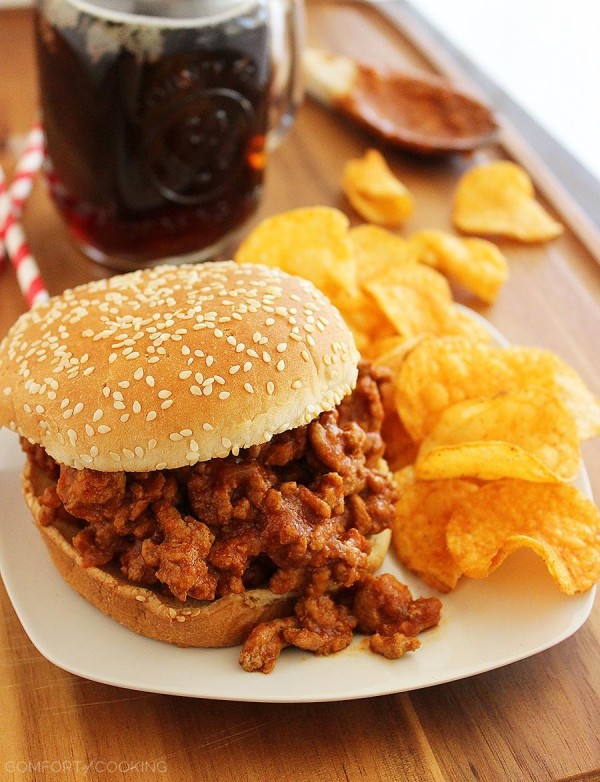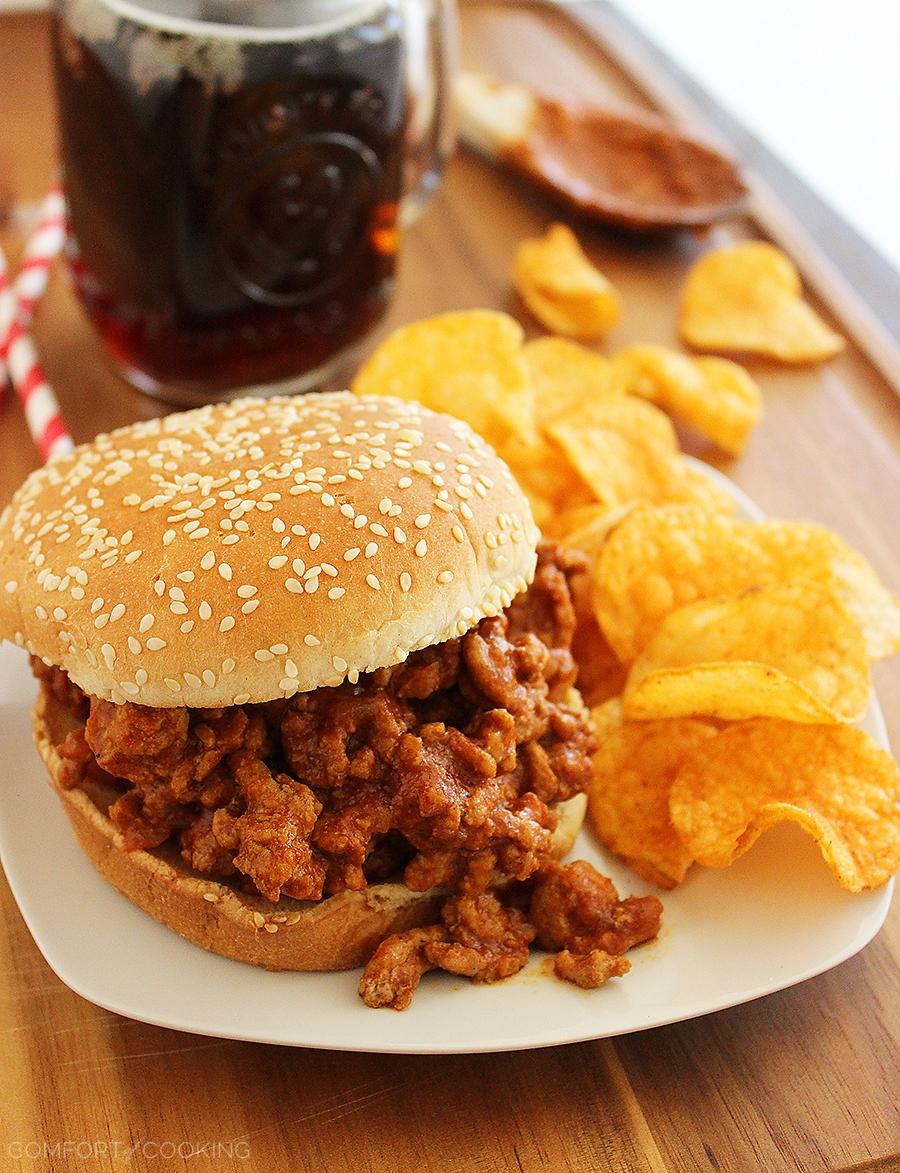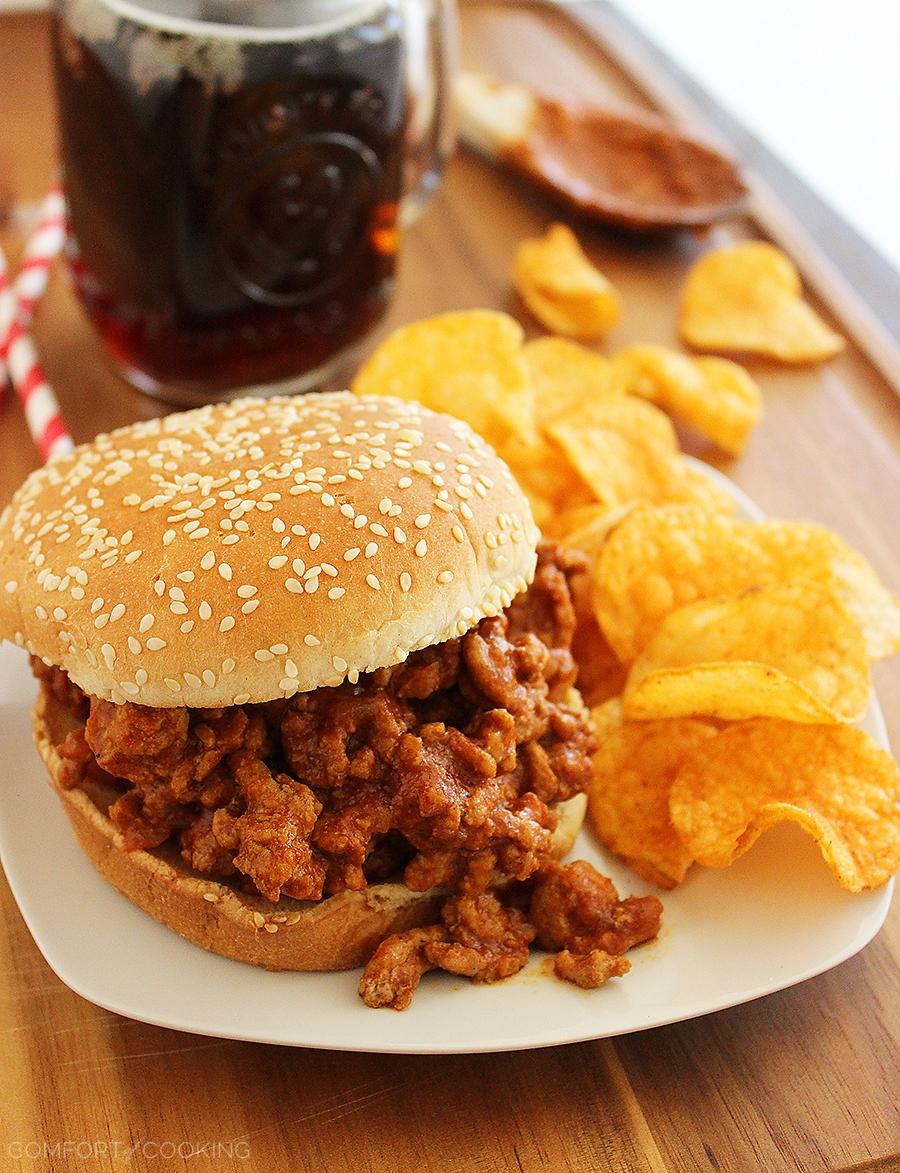 Root Beer Turkey Sloppy Joes
Yield:
4 (serving size: 1 sandwich)
Ingredients
1 teaspoon canola or vegetable oil
3/4 cup chopped onion
20 oz. ground turkey
1/2 cup tomato sauce
1 teaspoon tomato paste
1/4 cup bottled chili sauce or hot sauce, I used Frank's Red Hot
1/4 cup root beer, I used diet
1 Tablespoon Worcestershire sauce
1 teaspoon each: garlic powder, chili powder, ground mustard
For serving:
4 hamburger buns, toasted
Instructions
Heat a large nonstick skillet over medium heat. Add oil. Once hot, add onion and cook 3 minutes. Add turkey and cook 4 minutes, or until browned, stirring to crumble. Stir in tomato sauce and remaining ingredients. Bring to a simmer. Cook 5 minutes or until slightly thickened, stirring occasionally.
Divide turkey mixture evenly among bottom halves of buns; top with top halves of buns.
Enjoy!