This delicious medley of colorful, fresh flavors could be a salsa or salad, or just good enough with chips and margaritas!
I've been undecided about whether to call this a salsa or a salad, but really, it could be either! This mouthwatering medley of bright, fresh flavors is so versatile it could be darn well anything, don't you agree?
It's delicious all wrapped up with fluffy scrambled eggs in a tortilla, or as a topping for grilled meat or seafood. Toss it with salad greens or roasted vegetables, or stuff it into tacos, burritos or enchiladas. Oh, the possibilities!
This happy marriage between salsa and salad is also tasty enough on its own. With a colorful combination of fresh corn, red bell peppers, avocado and mango – just to name a few – it makes for a scrumptious side dish alongside tacos or grilled meats. You could also just serve it with chips and margaritas!
Try this high-protein and high-flavor salad (or salsa!) sometime for yourself and you're bound to agree that it's a fun, flavorful way to get your fill of veggies and break routine!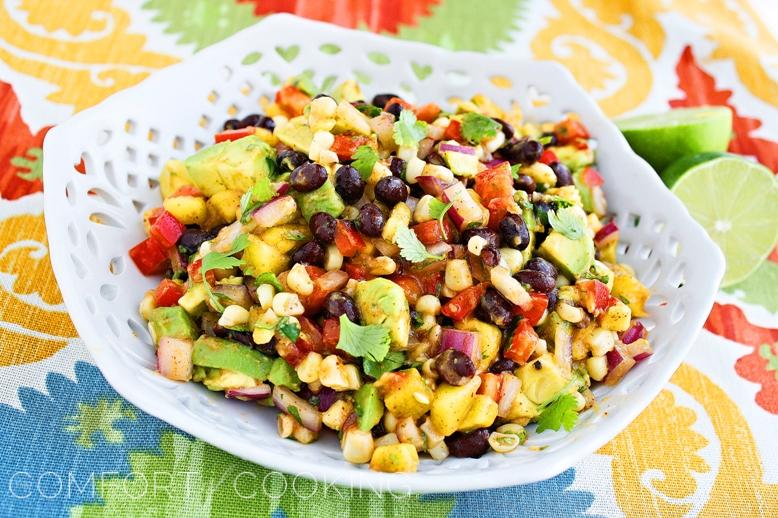 Avocado, Corn and Mango Salad
Ingredients
2 cups frozen or fresh corn, recommended: fresh
1 14 oz. can black beans, rinsed and drained
1 red bell pepper, seeded and chopped
1 ripe avocado, chopped
2 Roma tomatoes, chopped
1 ripe mango, chopped
1/2 red onion, chopped
2 garlic cloves, minced
1/4 cup chopped cilantro
2 teaspoons hot sauce
1 lime, juiced
1/2 teaspoon ground cumin
1/2 teaspoon ground chili powder
Salt and pepper, to taste
Instructions
If using fresh corn, microwave whole for 6-8 minutes. Carefully remove with potholders and, once cool, peel off and discard corn husk. Slowly slide knife down ear of corn to remove kernels.
Combine all ingredients in a bowl. Let stand at least 15 minutes to allow flavors to combine, then toss and serve.
Enjoy!