These beautiful berry cobblers with fresh strawberries, raspberries and blackberries are best served warm with vanilla whipped cream or ice cream!
Last Saturday, I hosted a delicious dinner party for eight good friends. As you know, nothing makes me happier than cooking for people I love, so it was lots of fun to have everyone crowded around the kitchen, eating and drinking, telling stories and sharing laughs.
I'll share our full menu on Friday, but for today, let's just skip to the best part – dessert! After a scrumptious meal (if I do say so myself), we enjoyed these little gooey pots of mixed berry cobblers with fresh berries and vanilla whipped cream. It was heaven!
A few days before the party, I tested a full-sized cobbler with the same dough but doubled, just to see how it would turn out. It was just as tasty, but if given the chance I'll always go for mini, so that's the way I served it instead. Dessert is so much cuter that way!
The recipe for this big beauty of a cobbler can be found below. For the mini cobblers I used the same measurements as in my Mini Raspberry Cobblers, but instead used mixed berries. Reference that recipe and you'll turn out the same great results!
These little cutie cobblers made for a perfect end to a lovely evening spent with friends. They're so versatile, too! If you don't like mixed berries, use strawberries, blackberries or raspberries. You can even use peaches and mangoes. Throw some oats or coconut flakes into the dough. Do whatever you like – just make sure to enjoy these cobblers with some whipped cream or vanilla ice cream!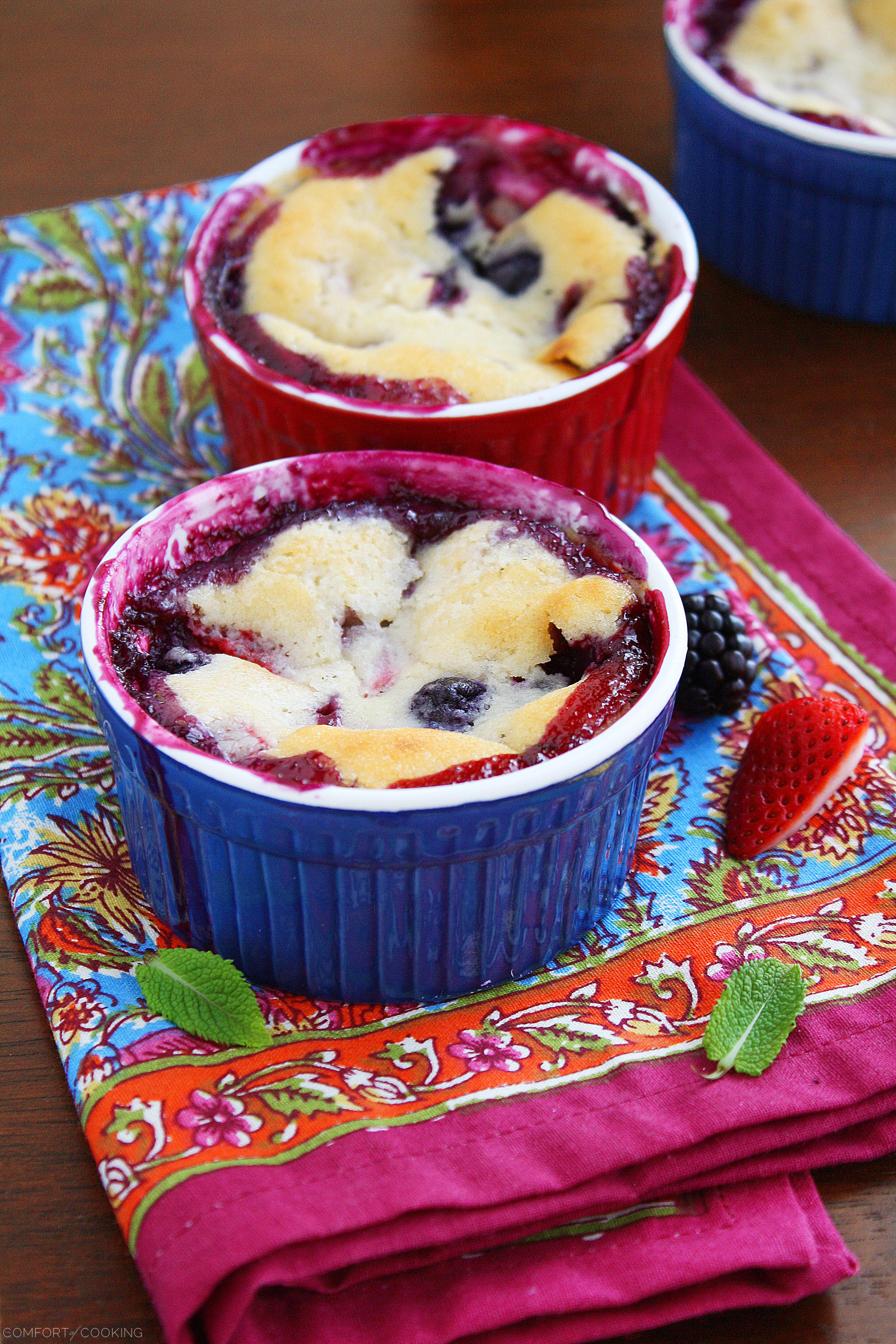 Mixed Berry Cobbler
Yield:
8 mini cobblers, or one 13 x 9 cobbler
For the Mini Mixed Berry Cobbler recipe, reference my Mini Raspberry Cobblers. The measurements are the same – I just used mixed berries instead.
Ingredients
1 tablespoon melted butter
2 cups mixed berries, strawberries, blueberries, raspberries, blackberries
1/4 cup half stick unsalted butter, room temperature
1/2 cup granulated sugar
1 1/4 cups flour
1/2 cup milk
2 teaspoons baking powder
1/2 teaspoon table salt
1 teaspoon vanilla extract
1/2 cup warm water
1/4 cup granulated sugar
Instructions
Preheat oven to 350 degrees F.
With a pastry brush, coat the bottom of a 13 x 9 or large oval dish with melted butter. Evenly spread mixed berries on the bottom. Place dish on a lined baking sheet.
In a medium bowl, mix butter, sugar, flour, milk, baking powder, salt and vanilla with a wooden spoon. Spoon batter over fruit and spread evenly.
Mix remaining 1/4 cup sugar and 1/2 cup warm water. Pour evenly over dish. (This creates a golden brown crust and makes the fruit more soft and sweet)
Bake for 50-55 minutes, until topping is golden brown and fruit is bubbling.
Serve warm as is, or with vanilla whipped cream (recipe below) or vanilla ice cream.
Enjoy!