Try these fluffy, flavorful mashed potatoes made light with sour cream, cream cheese and fat free milk. They taste just as indulgent as full-fat mashed potatoes, with half the calories!
Fluffy, buttery mashed potatoes will be waiting for me in heaven, I just know it. I absolutely love them and if you don't, you should – They're great with grilled meats and roasted vegetables. Pot pies and roast meats love 'em too. And they make you feel good inside, like you're getting a big, warm hug. What doesn't always feel the best, though, is the guilt that comes with all those calories. But, never fear! I've discovered a perfectly simple, scrumptious way to get your potato fill without filling up your waistline … all without any butter! Really.
A mixture of fat-free cream cheese and milk, as well as reduced fat sour cream, does the trick and then some. Replacing fatty heavy cream and whole milk, these ingredients combine to make for the most mouthwatering mashed potatoes ever. Ever, ever, ever. If I type it one more time does that make it true?
Okay, then. EVER.
Try this spin on the classic favorite sometime for yourself and I know you'll agree! With a little garlic powder and fresh herbs, these mashed potatoes tasty dreamily decadent but pack under 150 calories per 2/3 cup serving. No need to feel guilt about this delish side dish – dig in!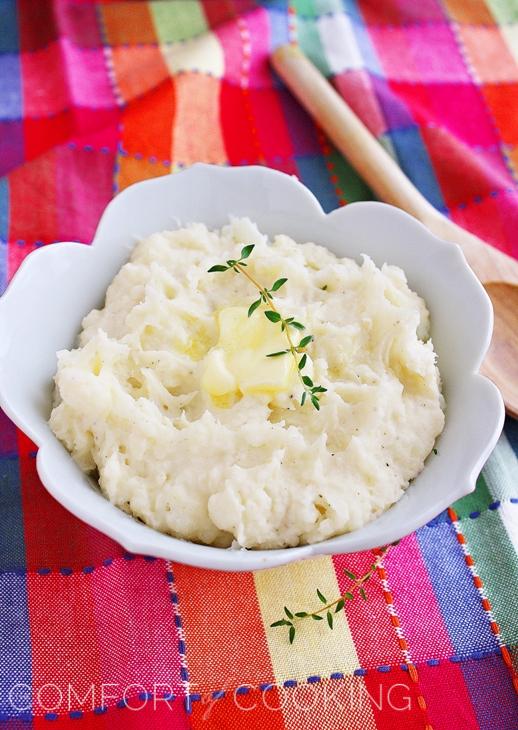 Light 'n Creamy Garlic Mashed Potatoes
Ingredients
3 cups quartered peeled potatoes, about 3 pounds
2 ounces fat-free cream cheese, cubed
1/4 cup reduced-fat sour cream
1/4 cup fat-free milk
1/2 teaspoon salt
1/4 teaspoon garlic powder
1/4 teaspoon pepper
1 Tbsp. chopped chives or herbs, such as parsley or thyme
Instructions
Place potatoes in a large saucepan and cover with water. Bring to a boil. Reduce heat; cover and cook for 15-20 minutes or until tender. Drain.
Transfer potatoes to a large bowl and mash, or blend with a handheld mixer. Add the cream cheese, sour cream, milk, salt, garlic powder and pepper; beat until smooth. Top with chopped chives or herbs, if desired.
Enjoy!