You'll love this juicy grilled chicken with a fresh, zesty salsa! This colorful and healthy dinner is ready in under 1 hour. A truly scrumptious twist on your typical weeknight dinners. Serve with tortilla chips for salsa scooping!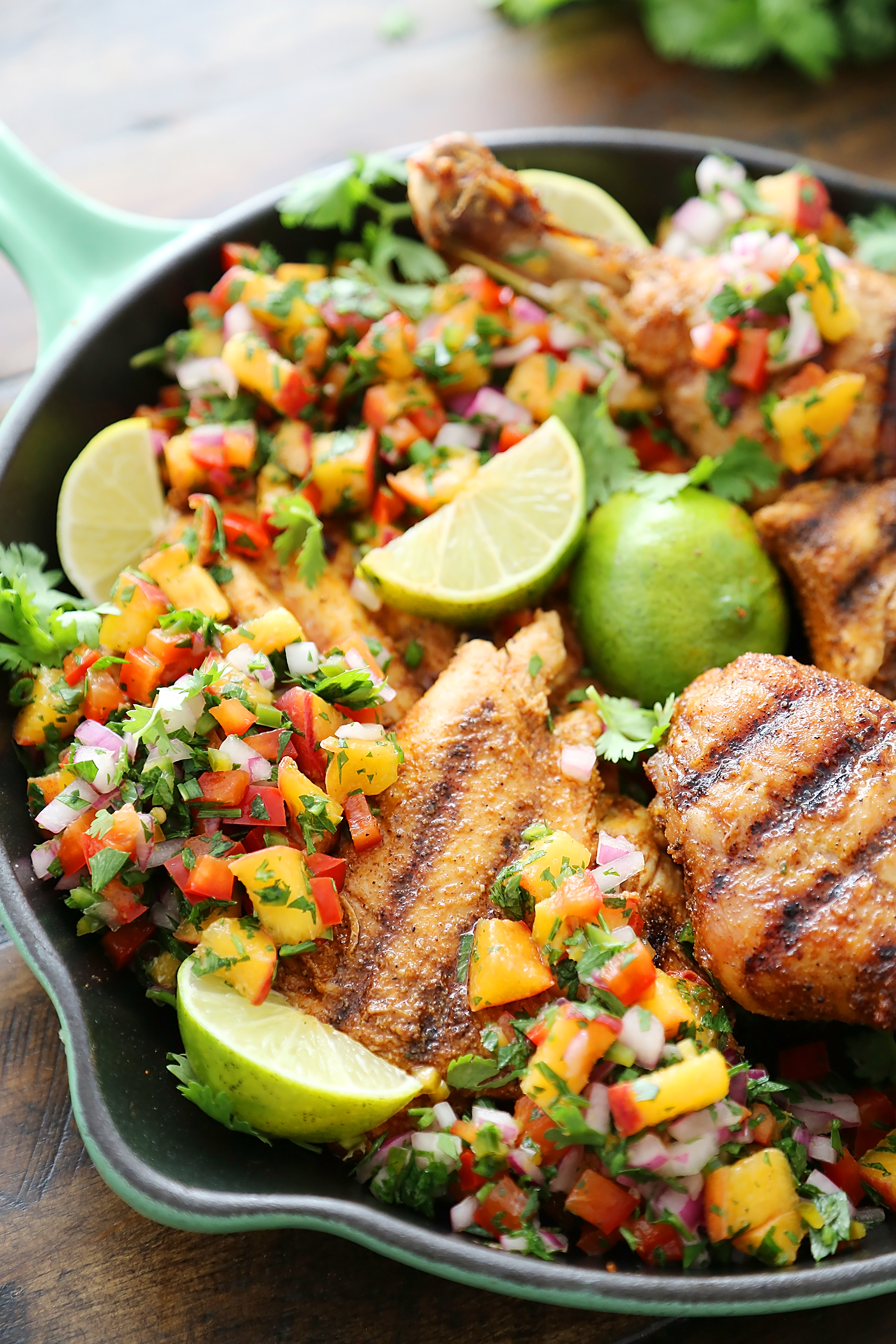 Ever feel like you've been cooking on autopilot? It's time to kick things up a notch in the kitchen!
My family and I love this spiced and tangy twist on traditional grilled chicken, with a fresh peach salsa. A frosty margarita and a pile of tortilla chips for scooping on the side always helps, too!
We have cooked chicken every way imaginable. But, my little picky eater's favorite remains this juicy, tender grilled chicken, so we cook it weekly for a healthy and flavorful dinner! If serving to kids or spice-sensitive guests, you can lessen the chili powder – otherwise, the spice in this chicken marinade is minimal, but the flavor packs a punch! You can use an indoor grill pan or gas grill for searing all the spiced goodness into your chicken. Use bone-in or boneless chicken, whichever you prefer. The chicken is fully cooked when it reaches 165°F on a thermometer.
When you eat chicken as often as we do, it's imperative to have tricks to keep things interesting! Thankfully, you've come to the right place for a lot of these tricks. This is one delicious dinner waiting to happen, with a handful of simple ingredients and a little time on your hands. What results is a meal the whole family will love, and happy bellies!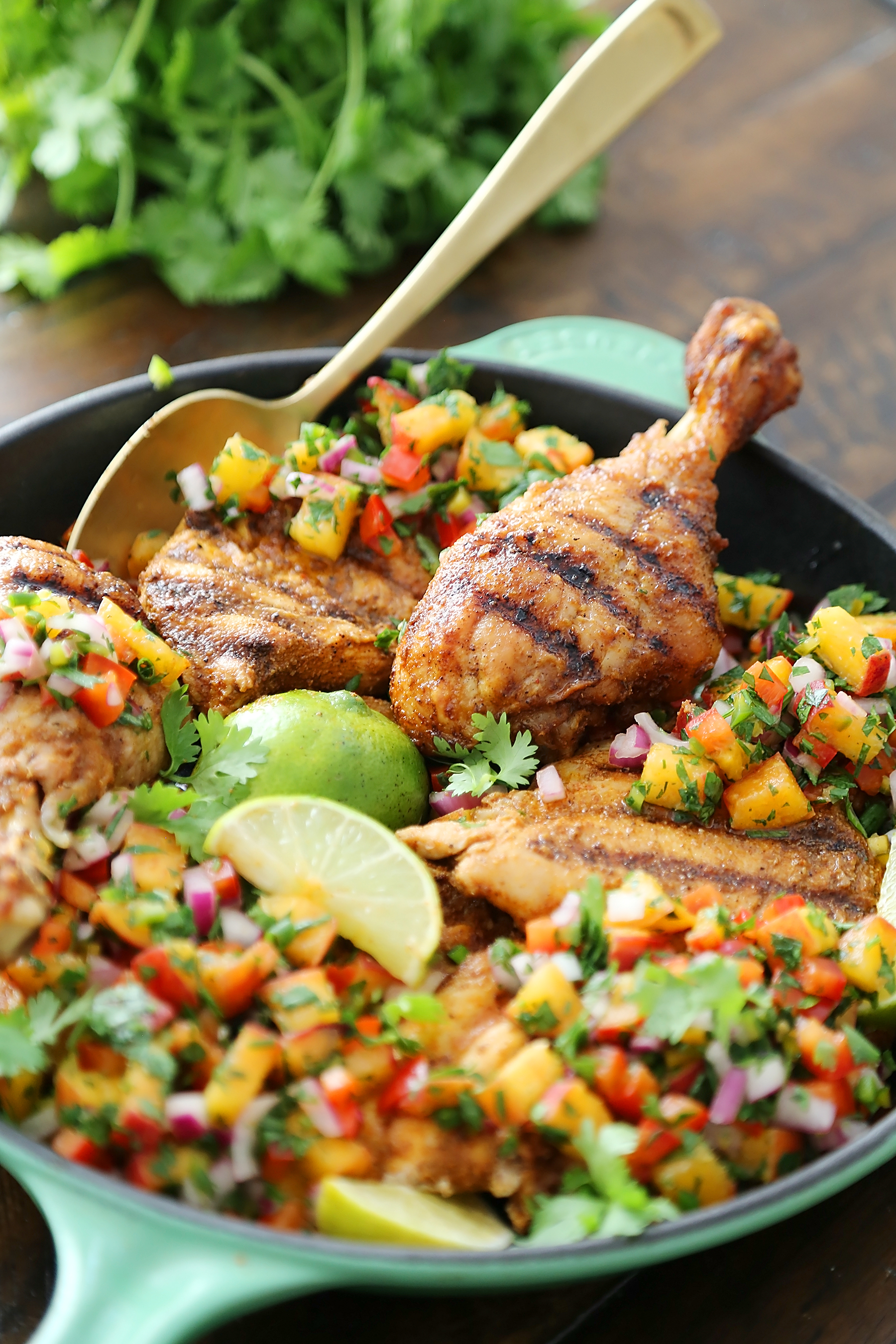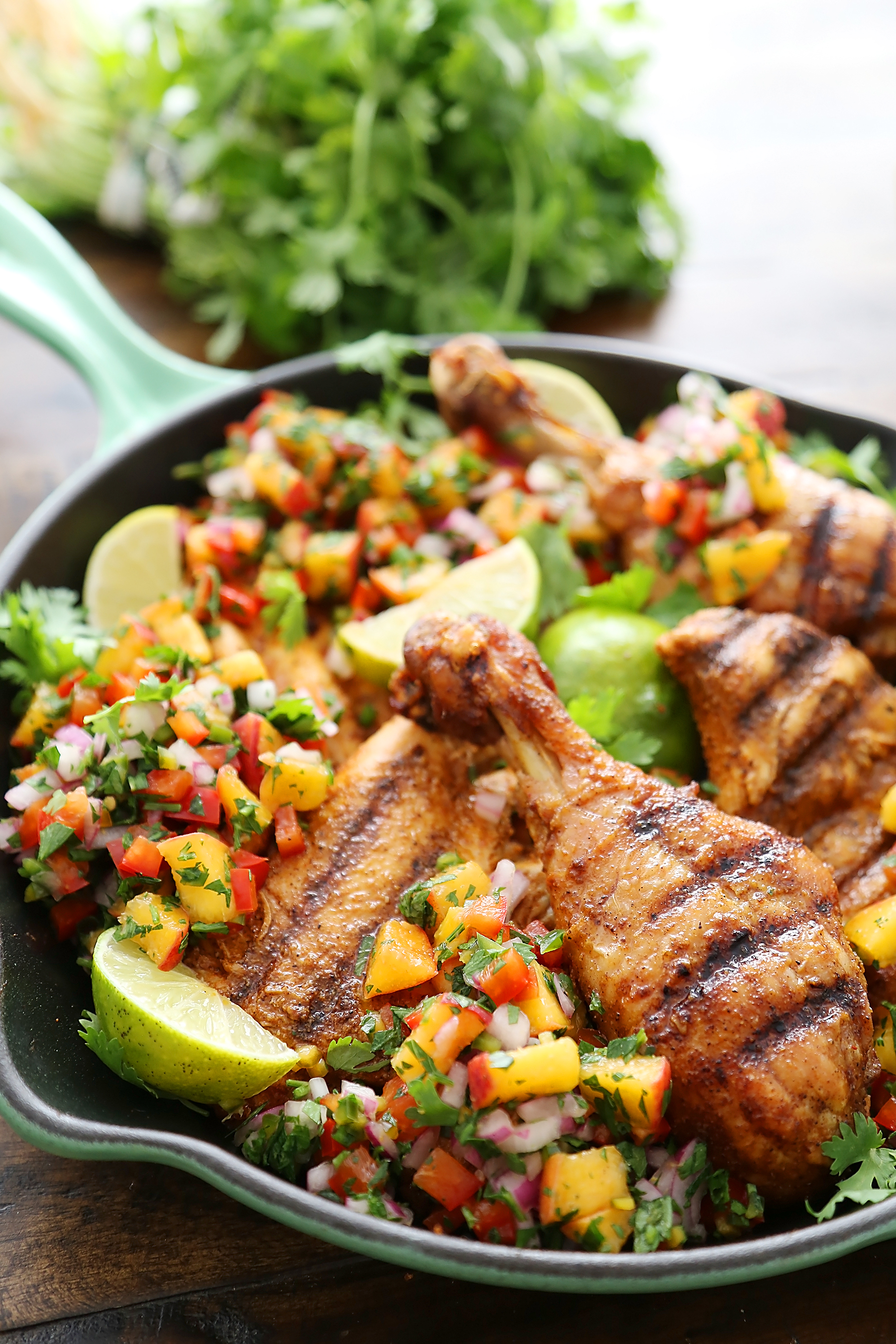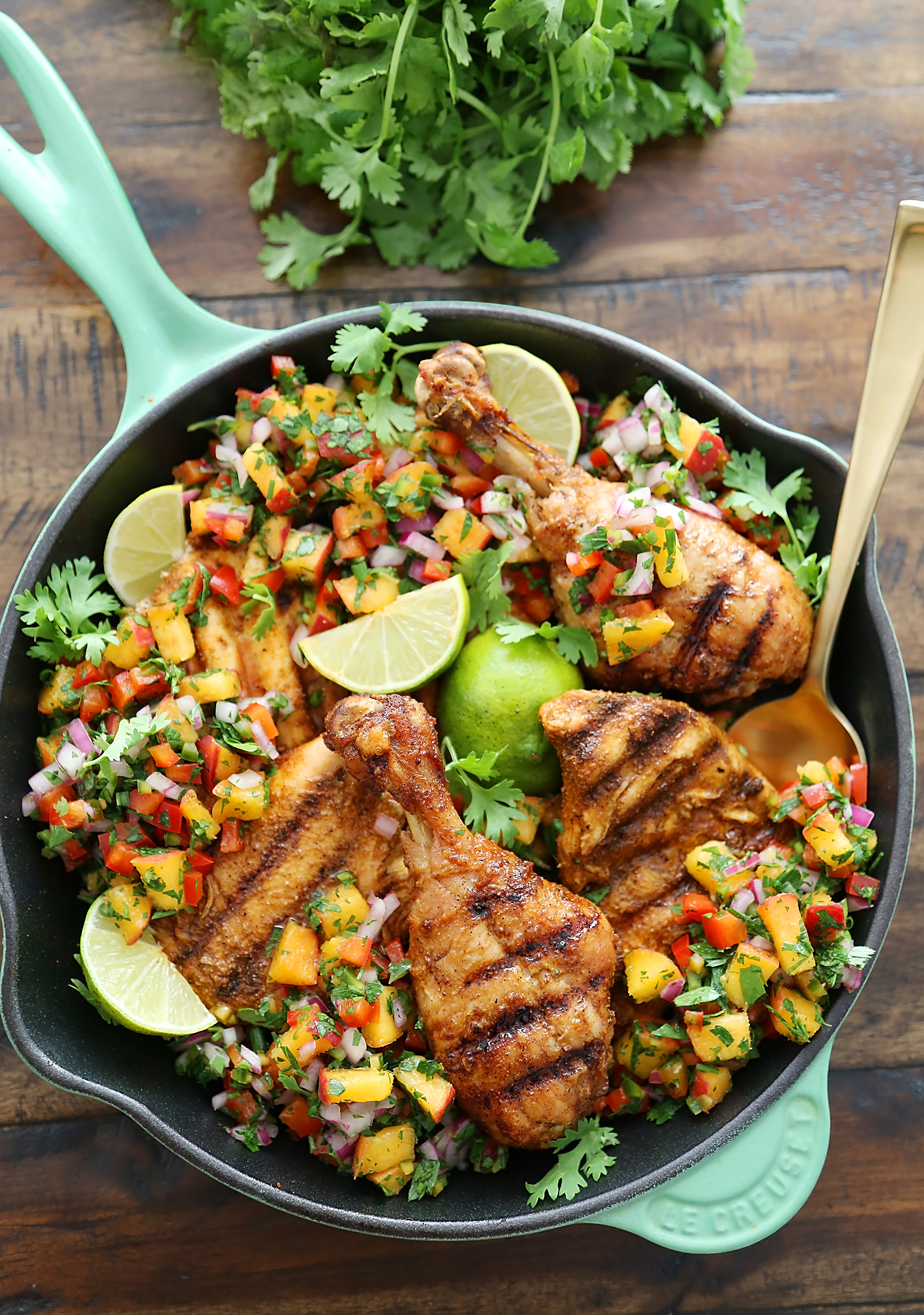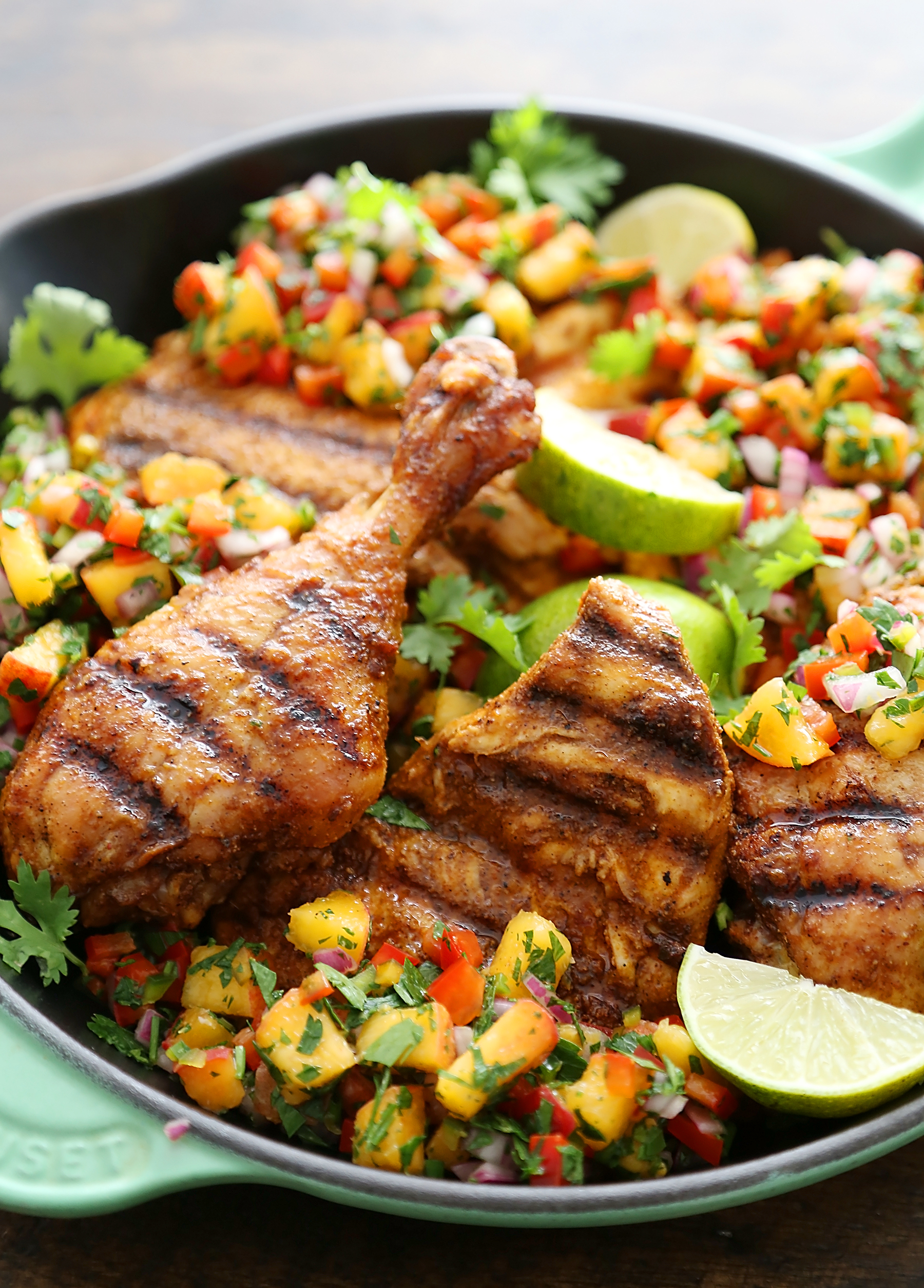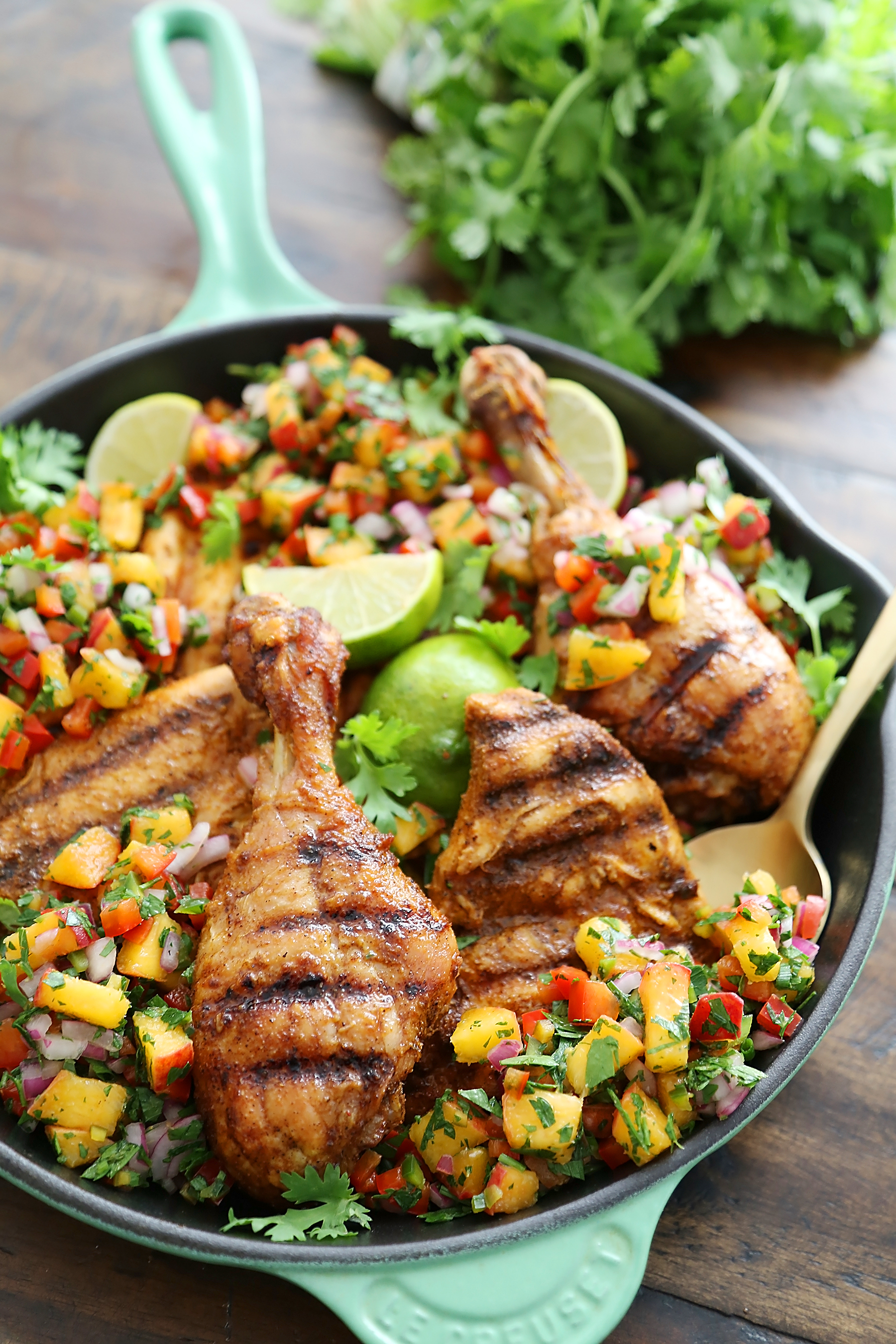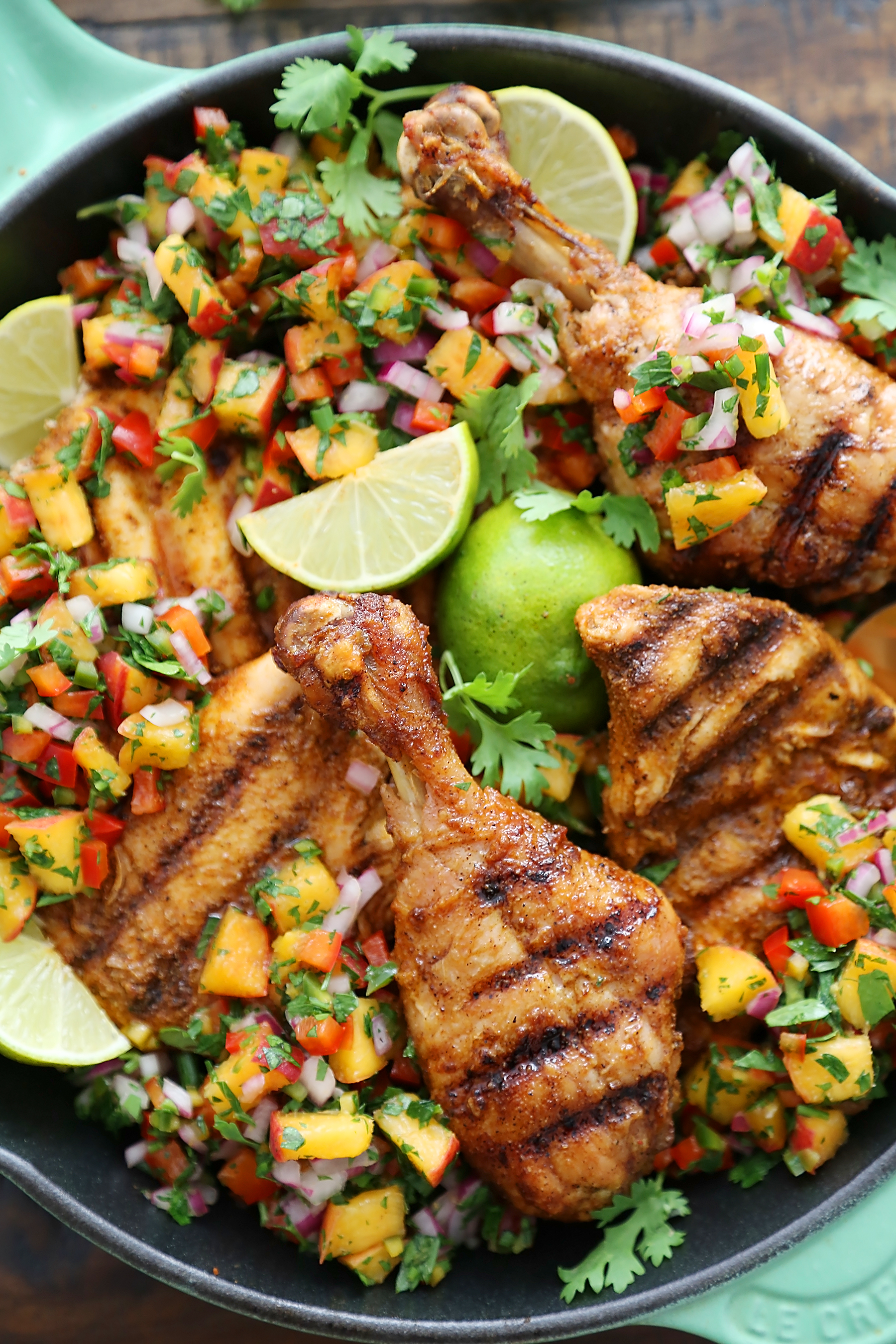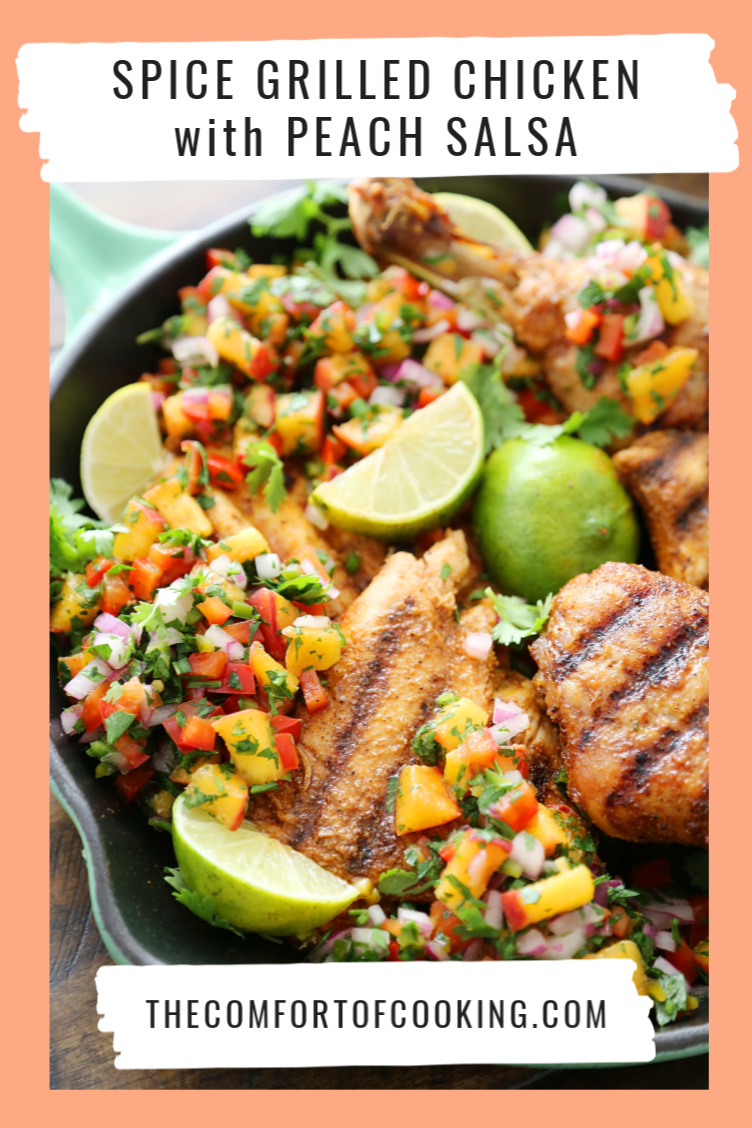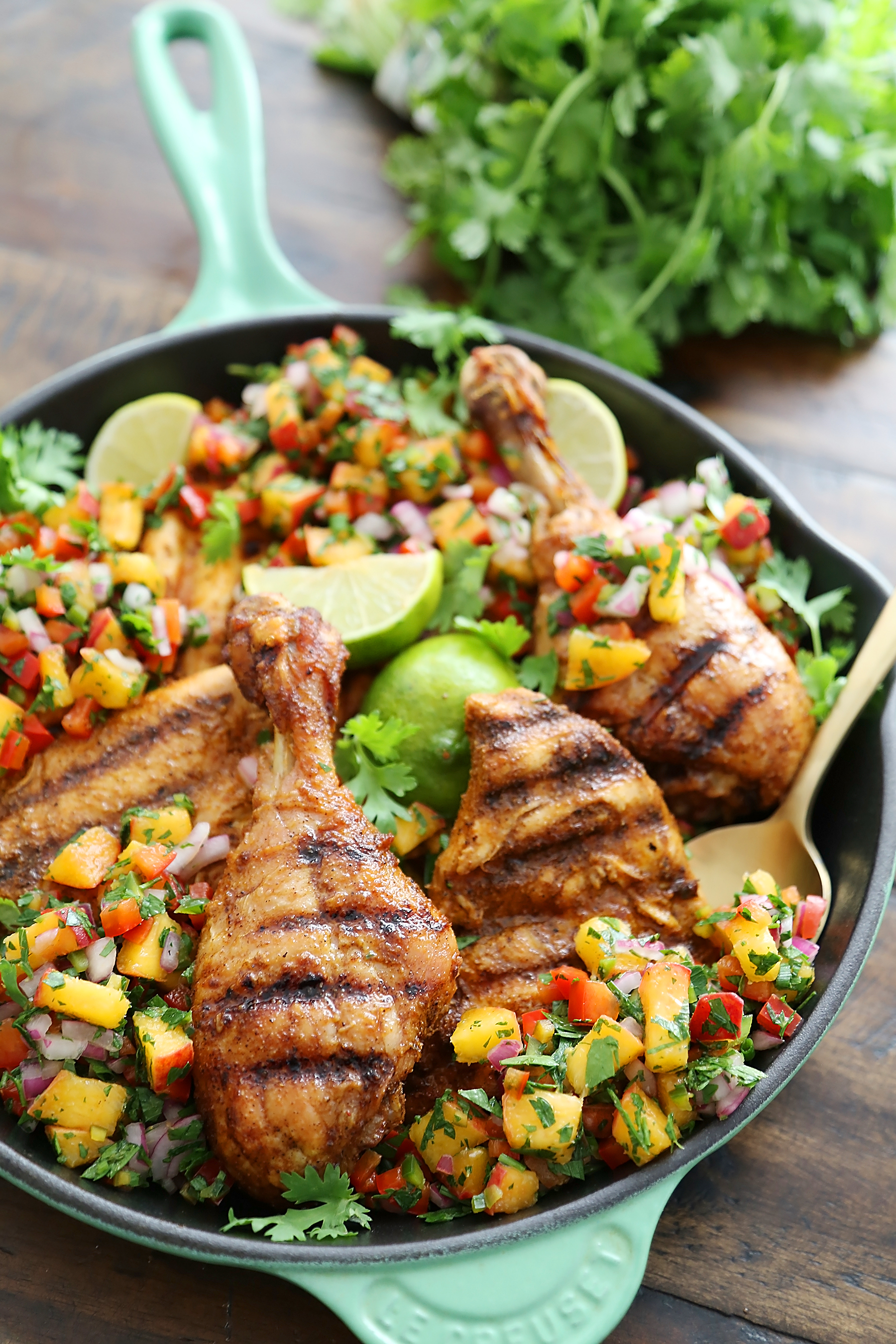 Spice Grilled Chicken with Peach Salsa
Ingredients
4 boneless skinless chicken breasts or 4-6 bone-in chicken thighs/legs
For the chicken marinade:
1/4 cup olive oil
2 Tbsp. fresh lime juice
1 tsp. kosher salt
1/2 tsp. chili powder
1/2 tsp. garlic powder
1/4 tsp. onion powder
1/4 tsp. black pepper
For the peach salsa:
3 large ripe peaches, small diced
1/2 medium red onion, finely diced
1/2 red bell pepper, finely diced
1 jalapeno, very finely diced
1/2 cup chopped cilantro
1/4 cup fresh lime juice (from 1-2 limes)
1/2 tsp. kosher salt
For serving, optional:
Fresh lime wedges
Fresh cilantro
Instructions
For the spice grilled chicken:
Whisk together marinade ingredients in a large bowl. Add chicken and toss to combine evenly with marinade mixture. Cover and refrigerate for at least 30 minutes, or up to 8 hours.
When ready to cook, preheat a greased indoor or outdoor grill to medium-high. Arrange chicken pieces on hot grill, then discard marinade.
Grill for 6-10 minutes on each side, or until cooked through. Serve with lime wedges and cilantro, if desired.
For the peach salsa:
Combine all ingredients in a medium bowl and stir to combine. Cover and refrigerate at least 30 minutes before serving, to allow flavors to marinade.
Spoon over grilled chicken or serve on the side.
Enjoy!
Notes
Inspired by The View from Great Island