This twist on the classic cornbread is fluffy, slightly sweet and perfect alongside your next soup, stew or chili!
There's just about nothing I love more on a brisk evening than a big bowl of spicy chili, and nothing better alongside it than this pumpkin cornbread! Whether you need a scrumptious side dish for soups, stews and chili, or just a creative way to use that leftover puree, THIS is it my friends!
Fluffy, scrumptious and slightly sweet, this cornbread calls to be paired with your favorite cozy fall comfort foods. It's easy to whip up – all you need is one bowl, basic ingredients, and a bit of patience while it bakes!
Spread it with a bit of butter, drizzle over a little honey or enjoy this easy, delish cornbread as is. You can also grate a little cheddar or Parmesan into the batter before baking, or toss in some chopped herbs.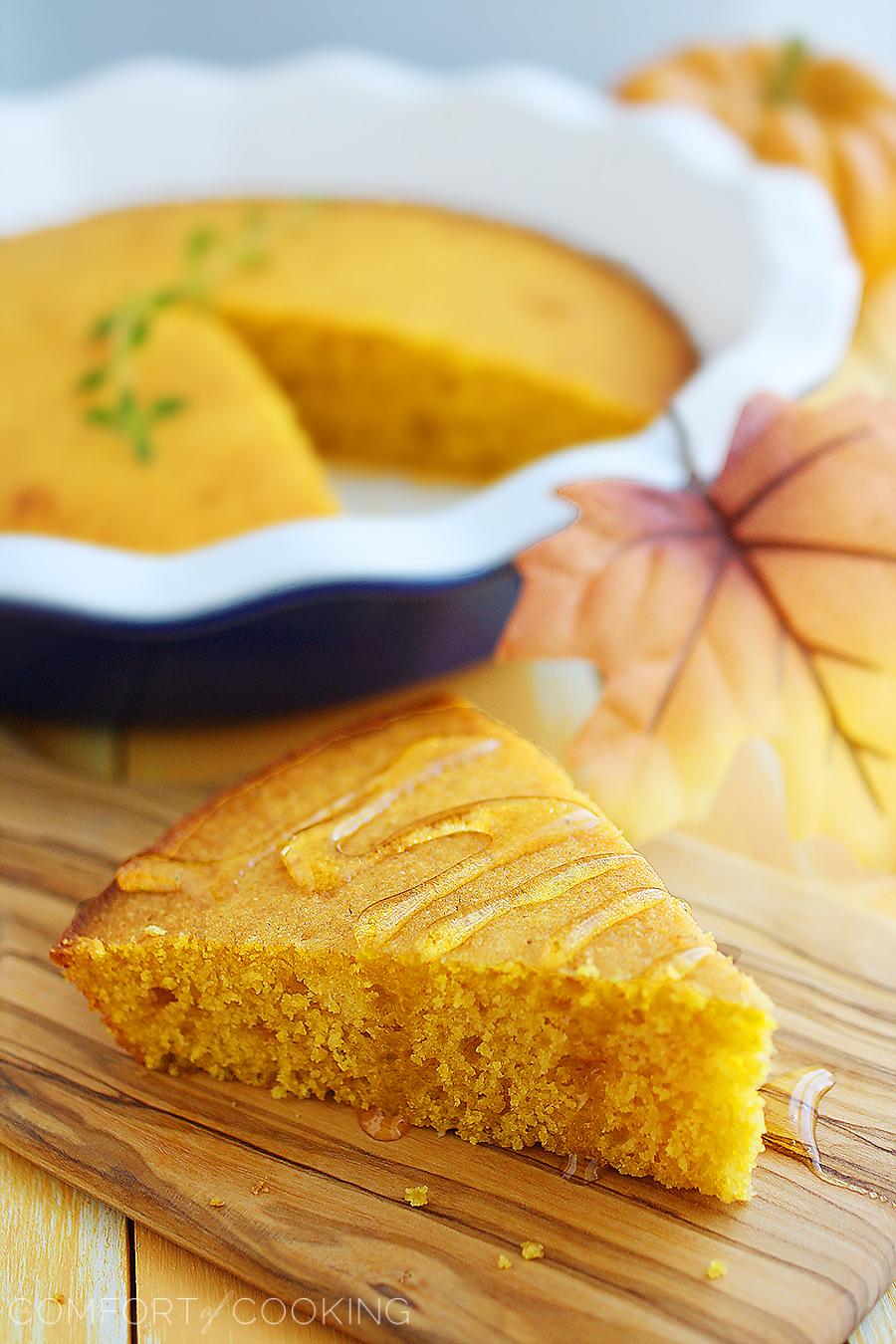 Pumpkin Honey Cornbread
Ingredients
1/4 cup melted butter
1/3 cup sugar
1 Tbsp. honey
1 large egg
1/4 tsp. baking soda
1/4 cup buttermilk
1/4 cup pumpkin puree
1/4 tsp. salt
1/2 cup yellow cornmeal
1/2 cup flour
Instructions
Preheat the oven to 350 degrees.
In a medium bowl, stir butter, sugar and honey together. Whisk in egg. Whisk in baking soda, buttermilk and pumpkin puree. Add salt, cornmeal, and flour. Do not overmix. As soon as the flour disappears, stop mixing.
Add batter to a greased 8-inch baking dish and smooth out the batter. Bake for 25 minutes, or until top is golden brown. Prick the center with a toothpick and if not clean, bake for about 5 more minutes.
Serve with additional honey and butter, if desired.
Enjoy!