My husband and I spent pretty much the entire weekend in swimsuits, walking along the beach, napping in the warm sun, and dining out around where we were staying in Pismo Beach. That's why, once Sunday rolled around and we were back home, I was feeling a little winded but ready to cook something simple, summery and fresh. For our Sunday spread, I laid out a tangy Chicken Tortilla Soup with avocado and lime and this subtly spicy and moist cornbread to go along with it. Easy, delicious and… well, not the route I'd typically go on the first 82-degree day of the year (Popsicles for dinner, anyone?).
Thankfully, I only needed to fire up our little toaster oven to 375 degrees for a perfect cornbread, but we had all the windows open just in case any heat escaped!
The jalapeño cornbread made for a mild but oh-so-scrumptious side dish to the spicy soup, and the honey-lime butter was a very fresh and light spread. The best thing about this cornbread is that you can easily omit the jalapeños altogether and it would still be delicious!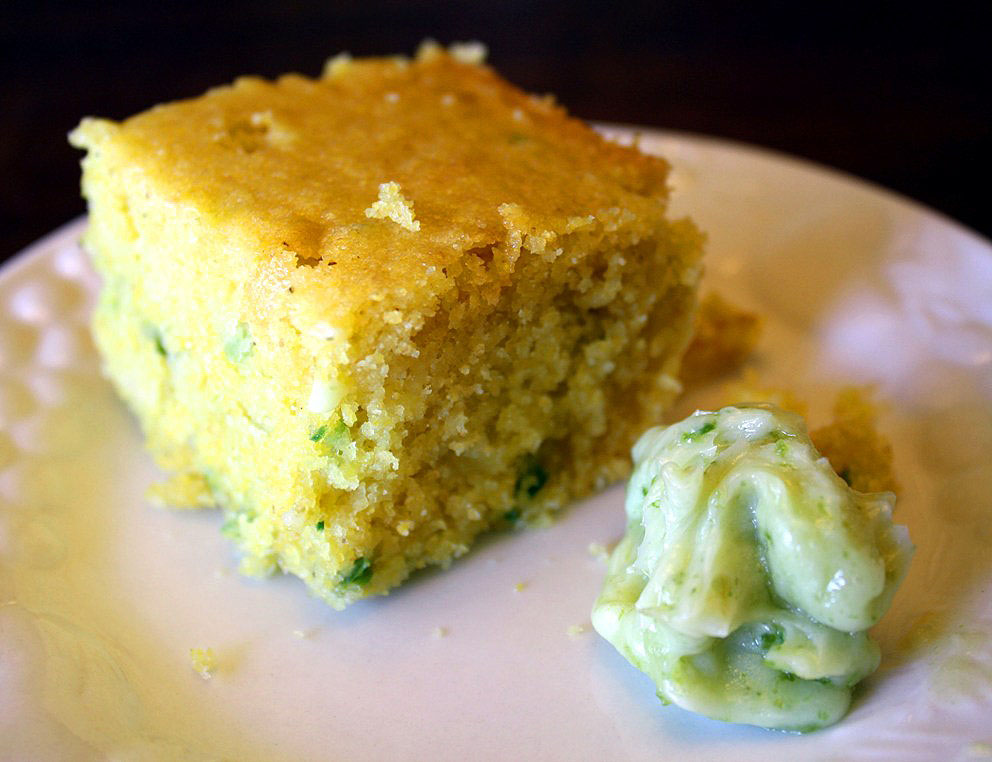 Jalapeño Cornbread with Honey-Lime Butter
Ingredients
Cornbread:
2

jalapenos

2/3

cup

sugar

1/2

cup

melted butter

2

large eggs

1/2

tsp.

baking soda

1

cup

buttermilk

1/2

tsp.

salt

1

cup

yellow cornmeal

1

cup

flour
Honey-Lime Butter:
1/2

cup

softened butter

1

tsp.

lime zest

1

tbsp.

honey
Instructions
For Cornbread:
Preheat the oven to 375 degrees. Remove the seeds from and slice jalapenos finely. Set aside.

In a medium bowl, stir sugar and butter together. Whisk in eggs. Whisk in baking soda and buttermilk. Add salt, cornmeal, and flour. Do not overmix. As soon as the flour disappears, stop mixing. Add jalapeno slices.

Add batter to a greased 8-inch baking dish and smooth out the batter. Bake for about 35 minutes, or until top is golden brown. Prick the center with a toothpick and make sure it comes out clean. If not clean, bake for about 5 more minutes.
For Honey-Lime Butter:
Combine ingredients together and mix well. Serve with cornbread.