Spice things up with these tangy chicken and veggie kebabs, along with an easy side of lemon roasted potatoes!
Here in Texas, the warm weather is just starting to give way to cooler temps, so we're finding ourselves being able to enjoy the outdoors more often! This means plenty of card playing on the porch, watching our pup race around the yard, and getting our last uses out of the grill before it gets brisk.
Grilled kebabs are one of my favorite weeknight meals and are a good way to use up whatever's in the fridge! Recently, I had plenty of peppers, tomatoes, and fresh herbs on hand, so I decided to combine them with a spicy marinated chicken. Delish!
Mmm, scrumptious sizzlin' kebabs! Layered together and cooked at high heat, all the ingredients become incredibly tender and flavorful. I love to serve them with crisp lemon potatoes, a big pile of rice, or a fresh leafy salad.
I also served the kebabs and potatoes with plain yogurt mixed with fresh cilantro. It made for a light, refreshing accompaniment to an already delicious meal!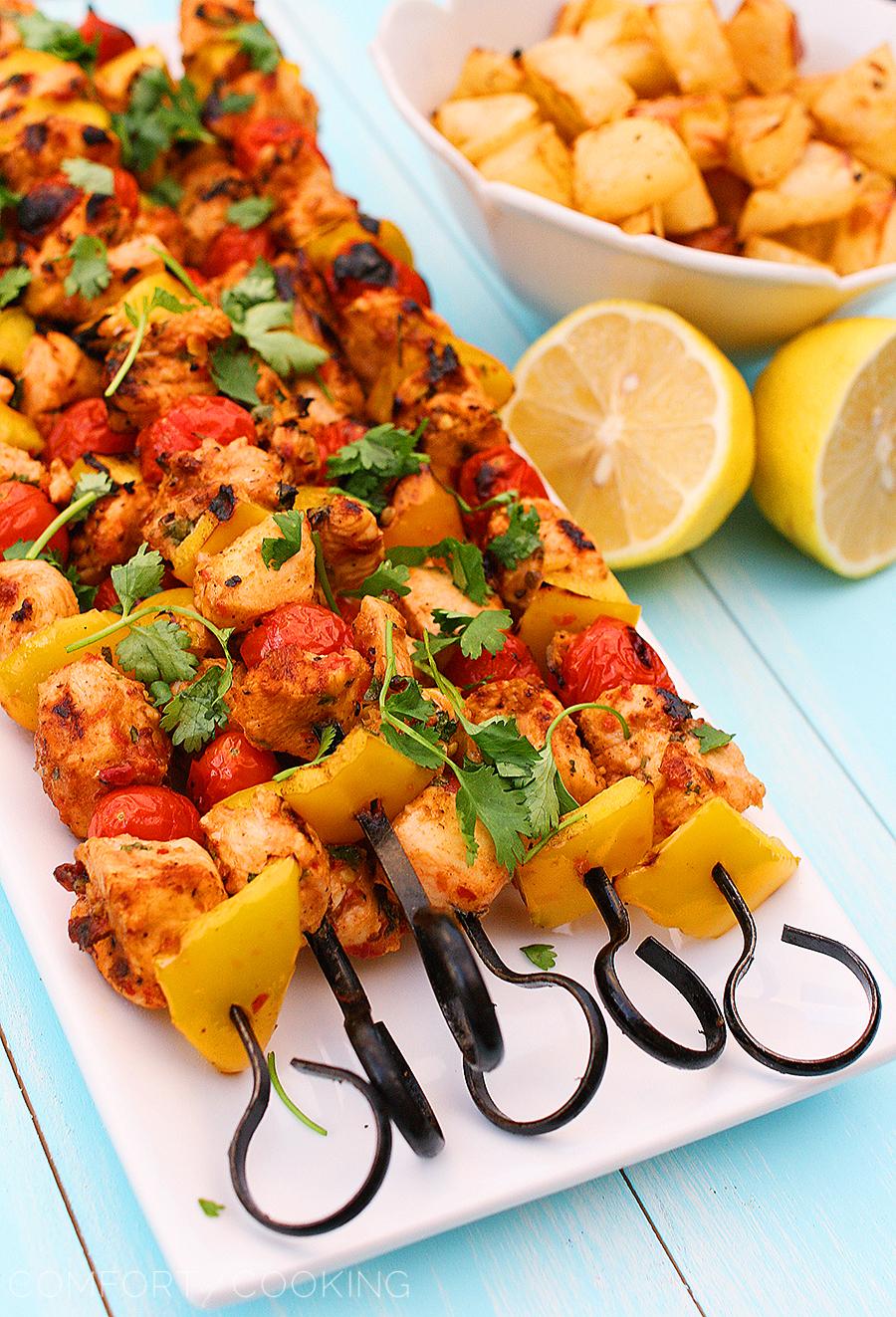 Spicy Chicken Kebabs with Lemon Potatoes
Ingredients
Spicy Chicken Kebabs
2 garlic cloves, minced
1 1/2 tablespoons chili paste, such as Sambal Oelek
2 tablespoons olive oil
1 teaspoon ground cumin
1 teaspoon kosher salt
1/2 teaspoon freshly ground pepper
2 skinless, boneless chicken breasts, cut into chunks
1 yellow bell pepper, cut into chunks
12 cherry tomatoes
Cooking spray
Fresh cilantro, finely chopped
1/4 cup plain yogurt
Lemon Potatoes
4 medium potatoes, washed and cut into chunks
1/4 cup olive oil
1 lemon, zest and juice
3 cloves garlic, crushed
Salt and freshly ground black pepper
Instructions
Spicy Chicken Kebabs
Combine first 6 ingredients in a medium bowl. Add chicken and toss to coat. Cover with plastic wrap and refrigerate for at least 30 minutes, or up to 1 day.
Immerse 12 long wooden skewers in water; soak 30 minutes. Drain and pat dry.
Meanwhile, remove chicken from marinade (discard marinade) and thread onto skewers along with bell pepper chunks and cherry tomatoes.
Preheat gas grill or grill pan to medium-high heat. Coat with cooking spray. Place skewers on grill and grill 4 minutes on each side, or until chicken is no longer pink.
In a small bowl, combine fresh cilantro and yogurt. Serve as a dipping sauce with kebabs.
Lemon Potatoes
Preheat oven to 400 degrees F.
In a medium bowl, mix together the oil, lemon zest and juice, and minced garlic. Add potato chunks and toss to coat evenly.
Spread the potatoes in a single layer on a rimmed baking sheet. Season with salt and pepper. Bake for 30 minutes, tossing occasionally, or until the potatoes are tender and crisp.
Enjoy!