Serve this spicy, citrusy chicken tortilla soup for special occasions, dinner with friends, or as a fun twist on your weeknight meals! Every spoonful has outrageous flavor, and the toppings let you make it yours! Add crunchy baked or fried tortilla strips (recipe included), cilantro, avocado and crumbled queso for a truly amazing soup!
I have loved chicken tortilla soup ever since I discovered its amazing combination of flavors. That zesty, citrusy lime and tomato broth, with creamy avocado and crumbled queso, tender chicken and crispy fried tortilla strips! Literally the only savory dish I will lick the bowl of. I can't get enough!
Surprisingly, I've never found a great replication of this dish at a restaurant – they have either been too spicy, too bland, or not decorated with enough delicious toppings (read: soggy tortilla strips). Catastrophe! However, I knew with the right balance of fresh ingredients and moderately spicy flavorings, I could ace this authentic Mexican soup at home.


I raced out to the store, rolled up my sleeves, and began simmering this scrumptious soup! But, first things first – Before I began the soup, I started roasting some bone-in chicken leg quarters on a large baking sheet (about 400 degrees for 1 hour. This would make up the 'precooked chicken' component of the soup. You can sometimes find leg quarters pre-seasoned at your grocery, but unseasoned is fine.
Once the chicken was ready, the fun started! Into a hot, heavy pot went the onions, jalapenos, garlic and fresh tomatillos, which cooked down into a soft, fragrant mixture that made my house smell amazing. Then the fresh corn, tomatoes, black beans, chicken broth, and cooked chicken joined the cast. Next up, lime juice and some spicy seasonings for depth of flavor – chili powder, cumin, smoked paprika, salt, pepper and a dash of cayenne. It was getting zesty, and smelling oh-so-good!
While my soup simmered, I set my sous chef/husband to work frying the tortilla strips. I've included recipes for both frying and baking methods below. Between the two methods, I prefer frying because I think it's more authentic and gives you that super-crispy crunch. But, baking is fine too. Only use corn tortillas, not flour, say my expert friends (truly, their moms have been cooking this soup for decades)!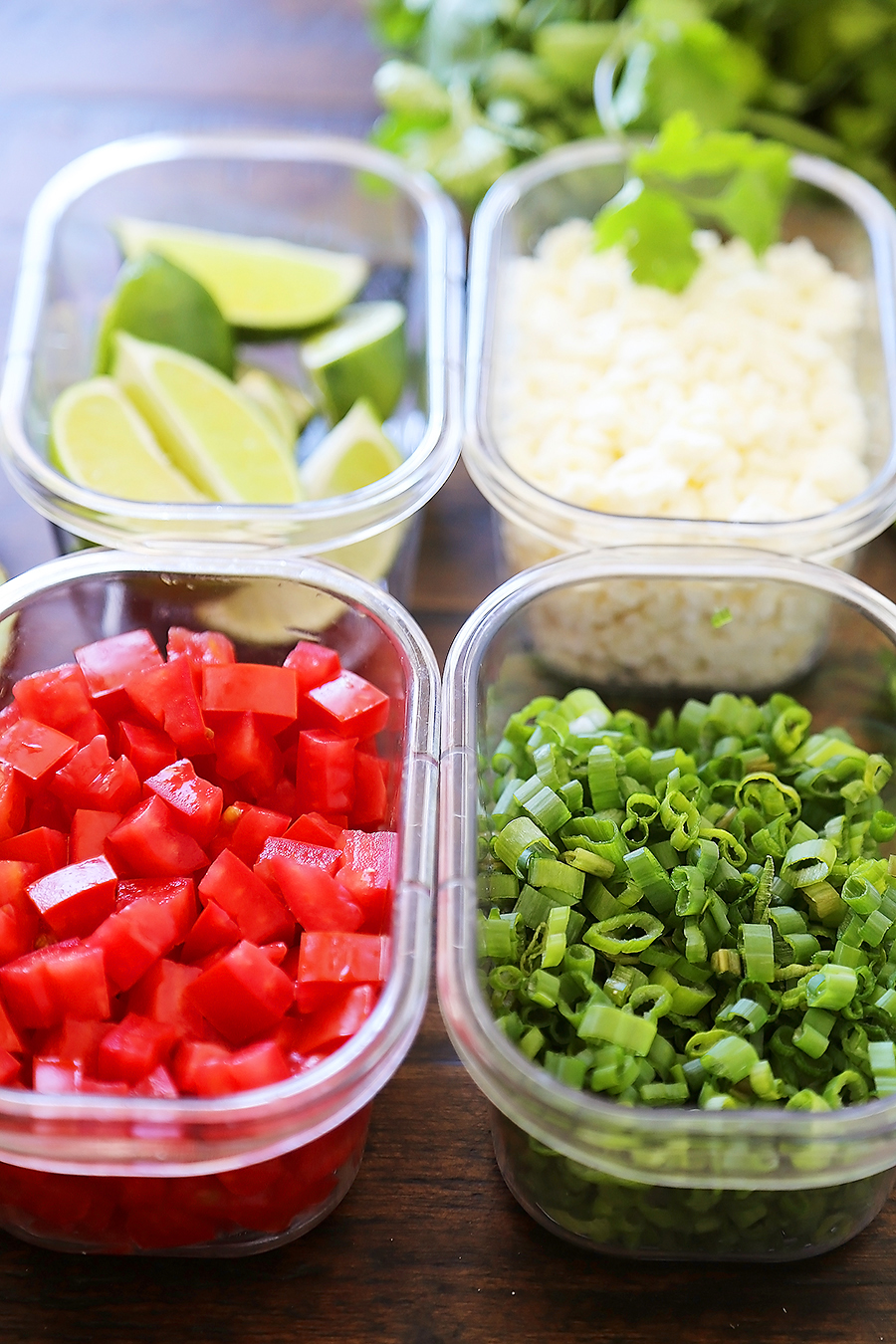 Between my family of three, we only polished off about half the amount of soup we made. So, that's where some reliably leak-proof storage came in handy for making sure leftovers tasted just as good – if not better – the next day! Enter my new best buddy: Rubbermaid Brilliance food storage containers.
Not only were these stackable, stain-resistant containers awesome for storing my soup, they kept toppings perfectly fresh from my earlier prep. My chopped tomatoes, green onions, and limes were just as juicy as I left them two days earlier! The next day, when we went to reheat, we didn't have to bother simmering the soup in a pot. We could just pop it in the microwave, zap it, and what did we find? Splatter resistant! No mess, no fuss, just an easy leftover dinner with minimal clean up.
Want to snag your own set? Leave a comment for a chance to enter my giveaway!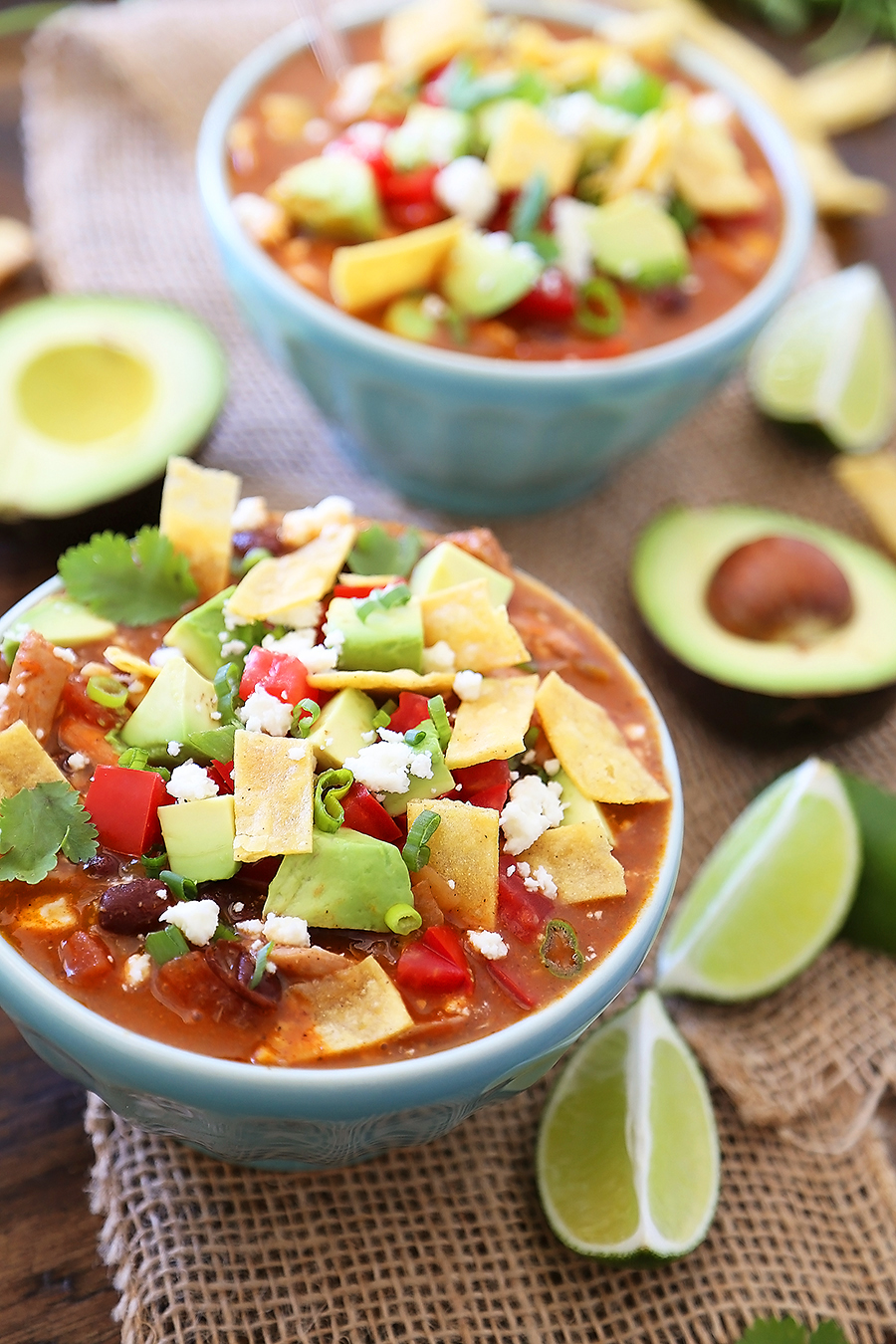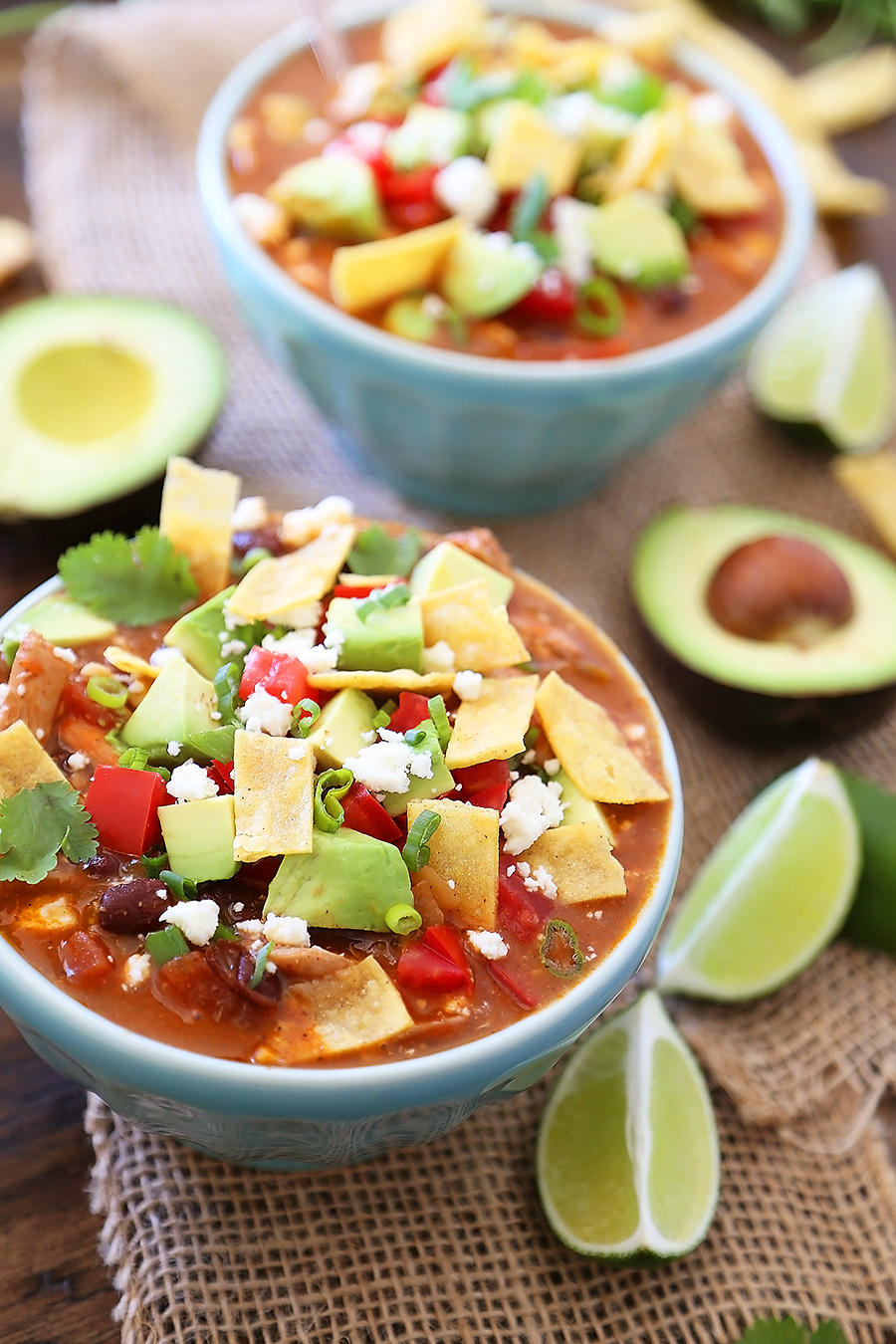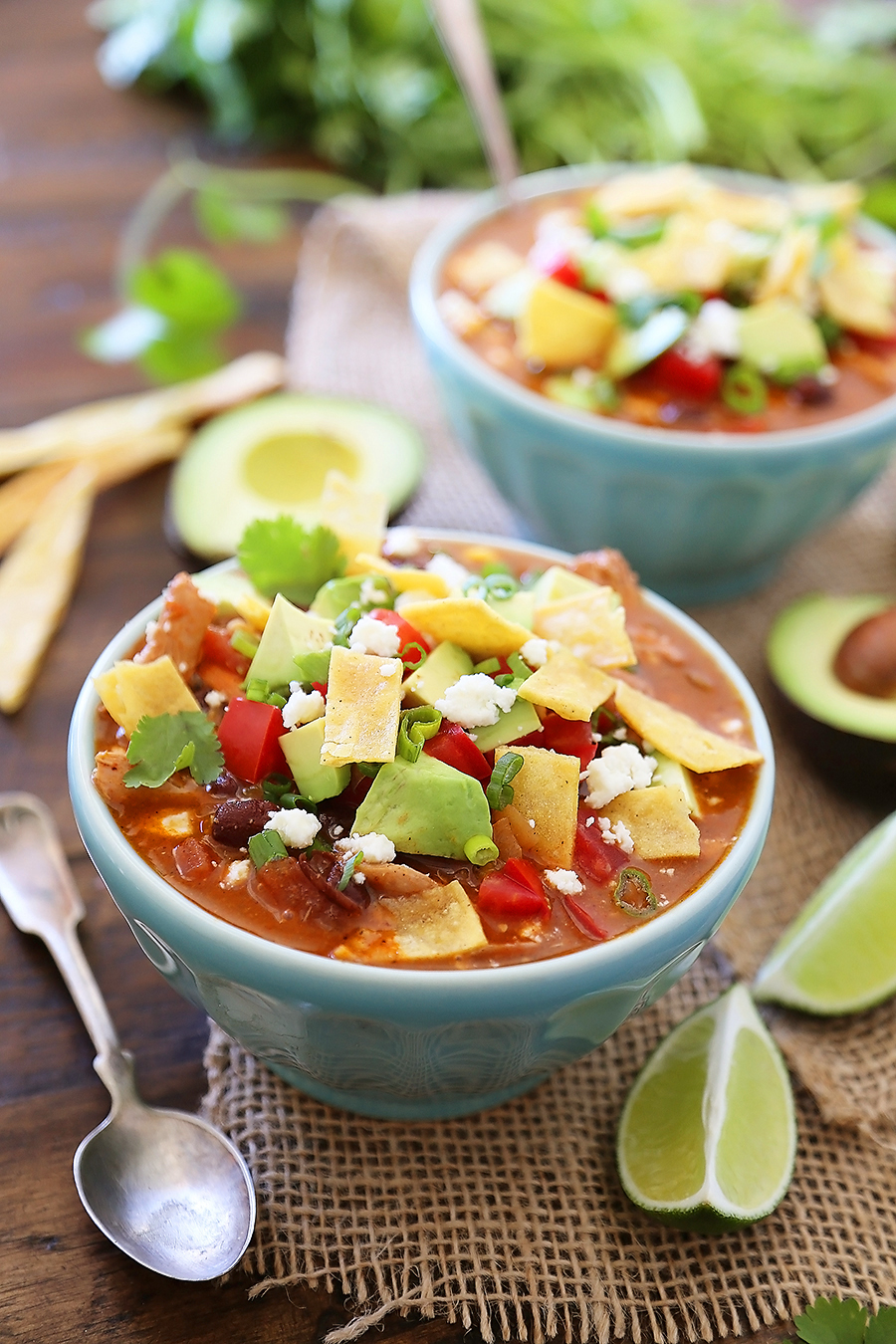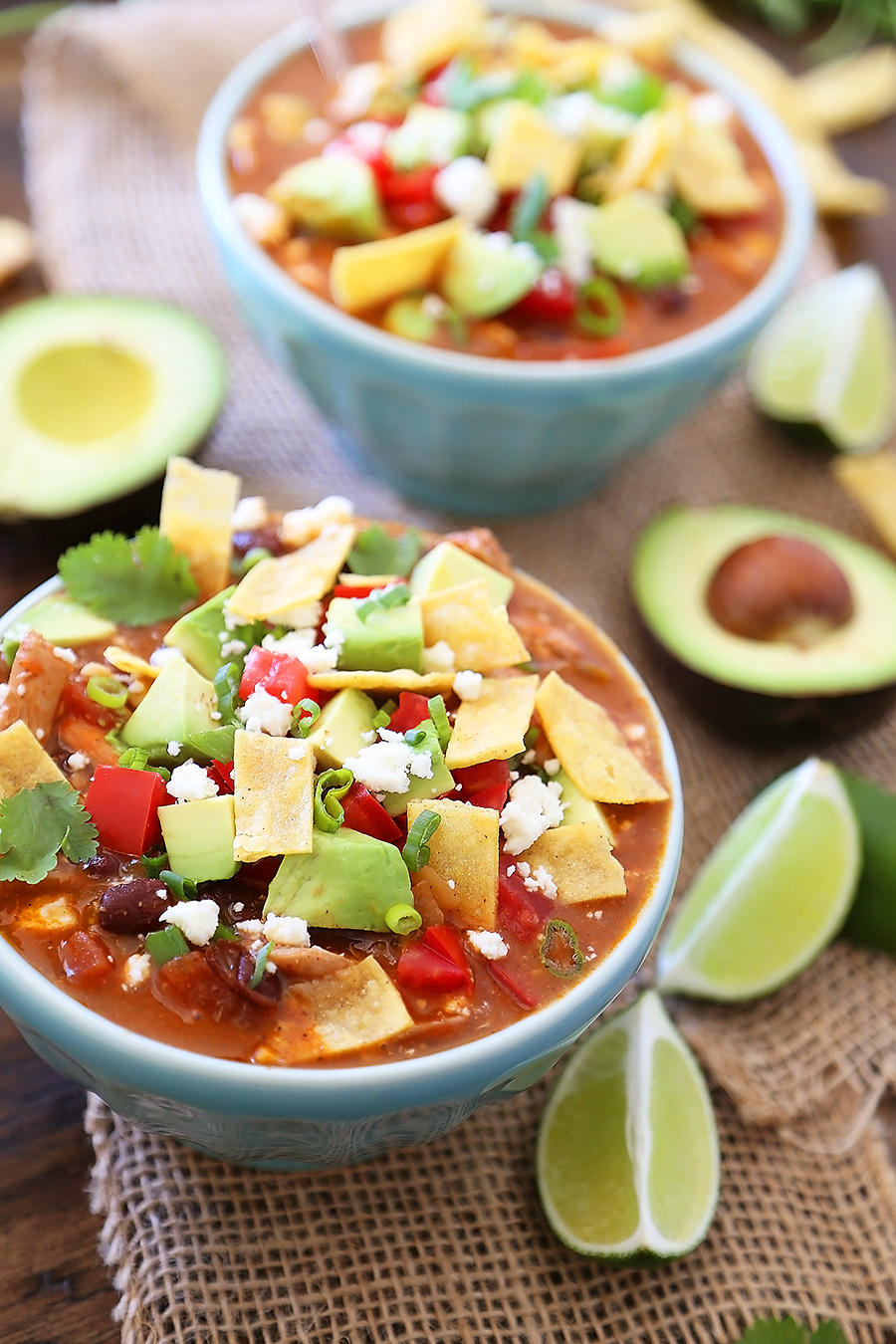 Easy Chicken Tortilla Soup
Ingredients
For the Soup:
2 Tablespoons olive oil
1 medium yellow onion, small diced
2 jalapeno peppers, minced
4 garlic cloves, minced
2 tomatillos (optional), small diced
4 cups (32 oz.) low-sodium chicken broth
2 (14.5 oz.) cans diced tomatoes with juice
1 (15 oz.) can black beans, drained and rinsed
2 cups shredded cooked chicken
1 1/2 cups fresh or frozen corn
1 Tablespoon lime juice
1 Tablespoon chili powder
2 teaspoons ground cumin
2 teaspoons kosher salt
1 teaspoon black pepper
1 teaspoon smoked paprika
1/4 teaspoon cayenne pepper
For the Tortilla Strips (or use storebought):
10 small corn tortillas, cut into 1/4-inch wide strips
For baking:
2 tablespoons olive oil
1 teaspoon kosher salt
For frying:
2 cups vegetable oil
1 teaspoon kosher salt
For Serving (optional):
Chopped fresh cilantro
Sliced or diced avocado
Shredded or crumbled cheese (cheddar, Monterey, queso, etc.)
Instructions
For the Soup:
Set a large pot or Dutch oven with a lid to medium-high heat. Add 2 tablespoons olive oil.
Add onion and jalapeno, and sauté until vegetables begin to soften, about 5 minutes, stirring occasionally. Add garlic and sauté for 1 additional minute.
Stir in remaining ingredients for the soup. Bring mixture to a gentle boil for about 5 to 7 minutes. If you prefer more broth, or liquid level looks low, add 1 to 2 cups of additional broth. Reduce heat, cover pot, and simmer for 20 minutes.
Meanwhile, fry or bake your Tortilla Strips (recipe included).
For the Tortilla Strips:
To bake: Preheat oven to 375 degrees F. Line a baking sheet with parchment paper or foil. Scatter the tortilla strips on the pan. Evenly drizzle with olive oil and sprinkle with salt; toss to coat. Bake for about 15 minutes, or until crisp and lightly golden brown; set aside.
To fry (as shown in pictures): Prepare a large plate lined with paper towels. Add oil to a large skillet or pot set to medium-high heat. After about 5 minutes, flick the oil with a little water to test its temperature. If it shimmers, you're ready to fry! If not, continue to heat oil until hot. Add your tortilla strips in small batches of 8-10 at a time, watching closely, tossing occasionally. Fry for about 2-3 minutes per batch, working with just a handful of strips at a time. Remove to the paper towel lined plate.
For Serving:
Ladle soup into serving bowls. Top with tortilla strips, cilantro, avocado, cheese, and/or sour cream.
Notes
Store soup in Rubbermaid Brilliance containers for an airtight leak-proof seal.
Soup will keep refrigerated for 5-7 days, or in the freezer for up to 6 months.
Extra tortilla strips will keep airtight at room temp for up to 5 days.
Instead of making your own tortilla strips, you can substitute store-bought strips, or use tortilla chips.
Disclosure: This recipe was created for Rubbermaid. All opinions are my own.