Just 5 simple ingredients and a handful of quick tips can yield a flawlessly tender, juicy filet mignon with a red wine-balsamic glaze! Cook this easy, elegant dinner at home for any special occasion.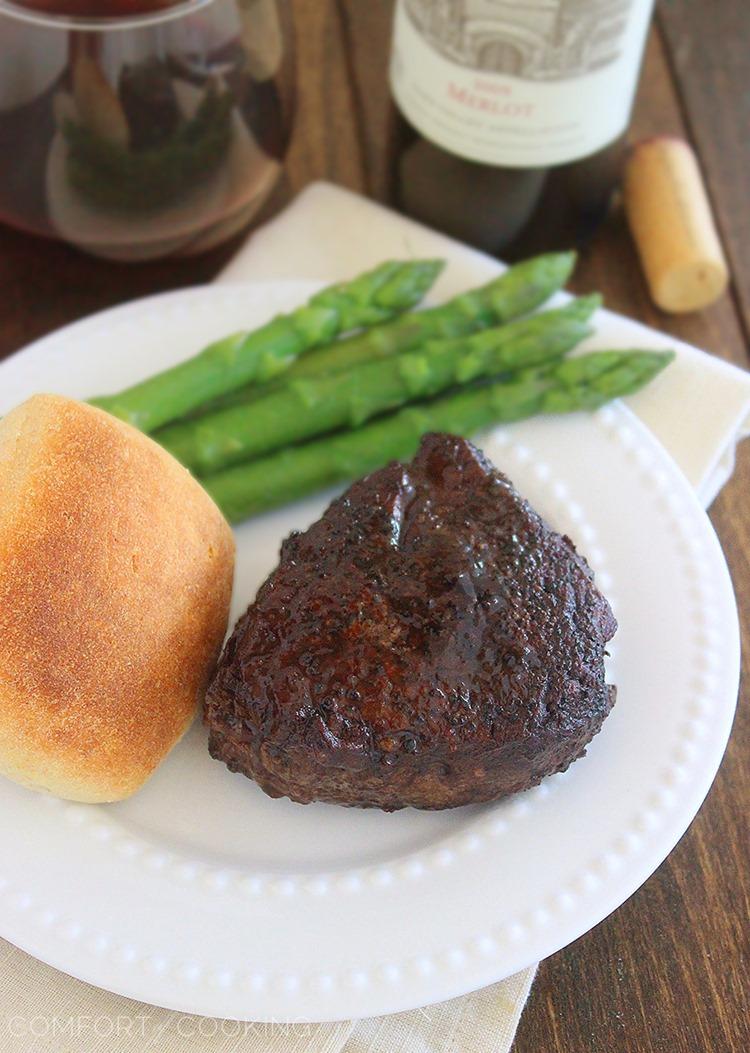 There's nothing I love more than being able to recreate a delicious restaurant meal at home! We love to go out for dinner once in a while. But, I often find that you can whip up amazing, inexpensive copycats of your favorite restaurant meals with few ingredients… and little effort! Besides, the clean-up after cooking is totally worth it for having leftovers in the fridge. If you're lucky to have any!
Recently, we decided to experiment with a fancy but oh-so-easy filet mignon recipe. In under 5 minutes, it yielded us the most juicy, mouthwatering steak we'd ever enjoyed at home. It was SO simple, quick and only needed 4 ingredients, plus salt and pepper. There was some careful planning involved ahead of time, however!
Let me share my best tips with you towards your own scrumptious steak…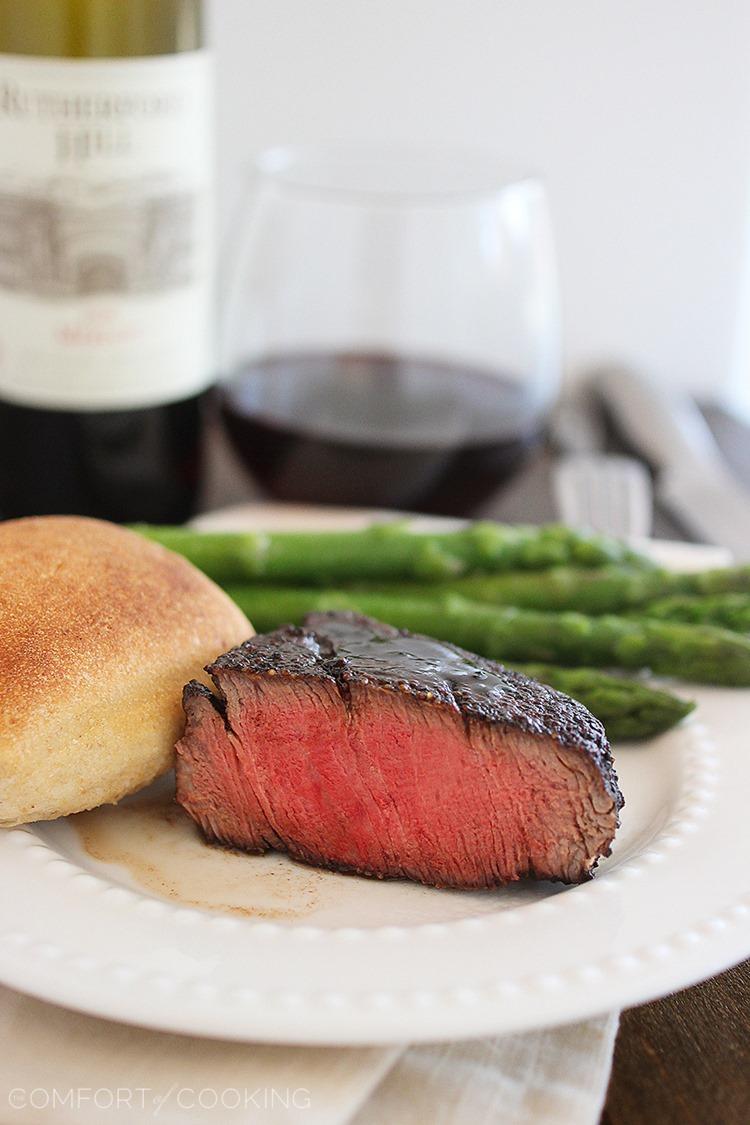 Begin by removing your steaks from your refrigerator about 45 minutes before you'll be cooking them. Pat them dry on all sides. Drying the meat before cooking will get you that deep, dark peppery crust that steakhouses are famous for. Capiche?
Now, season the top and bottom with coarse salt and pepper. Don't be afraid to go heavy on it! A good 1/4 teaspoon of each on both sides works well, but you can eyeball it. Seasoning your meat in advance intensifies the flavor and draws some of the moisture out. This is a good thing, since a drier surface area means that a better crust will develop. Let the meat sit at room temperature until you're ready to cook.
Once you're ready, it's time for the fun part! Start with a screamin' hot pan. I added a dollop of vegetable oil to my nonstick cast iron pan, but you can also cook it without oil. Do not use olive oil. Place your steaks in the hot pan, cooking quickly until browned on both sides, and then splash in your wine and vinegar. Cover it up, cook for a few minutes on both sides, and remove your steaks to warm plates. Let them sit for a few minutes before serving, then drizzle the bubbly-syrupy balsamic glaze over top.
Voila!
Served with buttery warm rolls and steamed asparagus (or even better, my Lighter Creamed Spinach), this easy and elegant meal is perfect for two! Try it for yourself and your sweetie some special night, and I know you'll agree. Just use the best quality steak, balsamic vinegar and red wine you can get your hands on… there are only few ingredients needed, but they should be quality ones.
With this simple recipe and tips, I promise that a beautifully cooked filet mignon can be a breeze. You won't believe how delicious this steak is, done perfectly medium rare!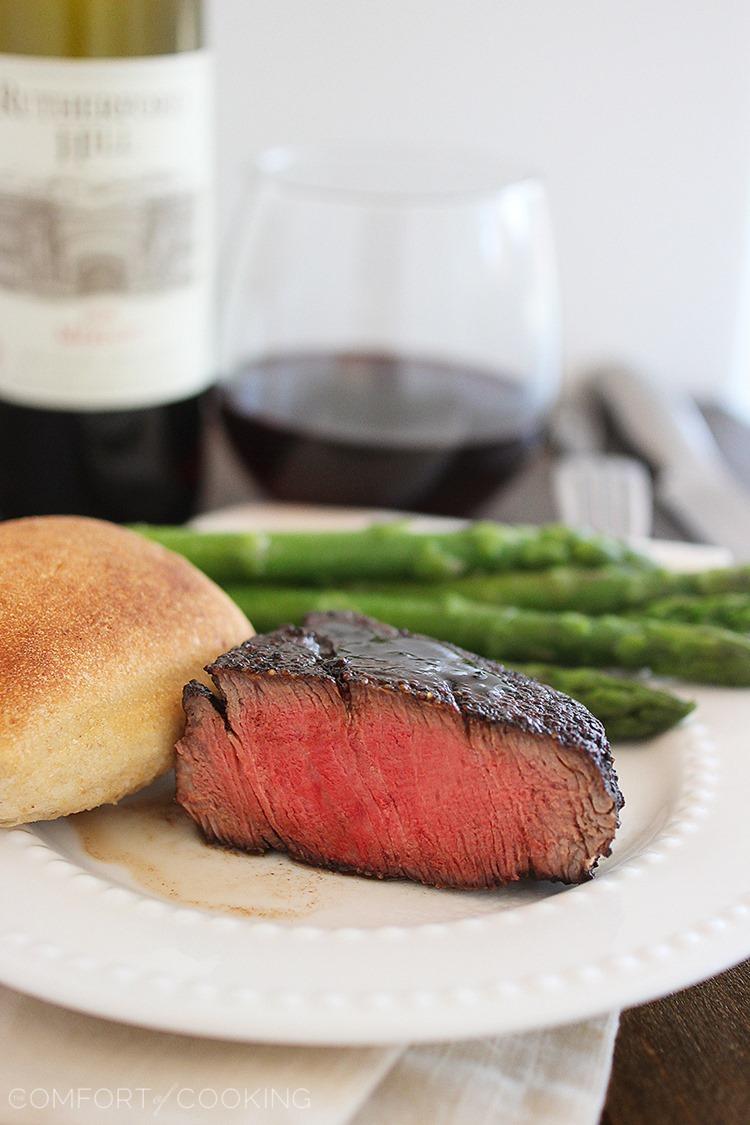 Easy Balsamic-Glazed Filet Mignon
Ingredients
2 4- to 6-ounce filet mignon steaks
1/2 teaspoon each kosher salt and freshly ground black pepper
1/2 Tablespoon vegetable or canola oil
1/4 cup balsamic vinegar
1/4 cup dry red wine
Instructions
About 45 minutes before cooking, remove steaks from refrigerator and pat dry on all sides. Season both sides with salt and pepper. Let rest at room temperature.
When ready to cook, add oil to a large nonstick skillet over medium-high heat. Pat all sides of steak dry again. Place steaks in the hot pan and cook for 2 minutes on each side, or until browned.
Reduce heat to medium-low, and add balsamic vinegar and red wine with steaks. Cover and cook for 3 minutes on each side, basting with sauce when you turn the meat over.
Remove steaks to two warmed plates and let sit for 5 minutes. Just before serving, spoon balsamic glaze over each steak.
Enjoy!