This skinnier take on creamed spinach tastes just as indulgent as the full-fat dish, with half the calories! Perfect for the side of a delicious steak dinner.
As homesick college kids craving comfort food that didn't come from a can, my then-boyfriend (now hubby) and I frequented Boston Market. Our stops there were often after some blistering cold walk through the city, slushing in like wet dogs and stuffing our faces with chicken and cornbread. My plate was piled high with mac 'n cheese and mashed potatoes (a big step up from Pop-Tarts), and his was loaded with crispy chicken and… creamed spinach. Blegh. I always thought he was being SO healthy!
Little did I know.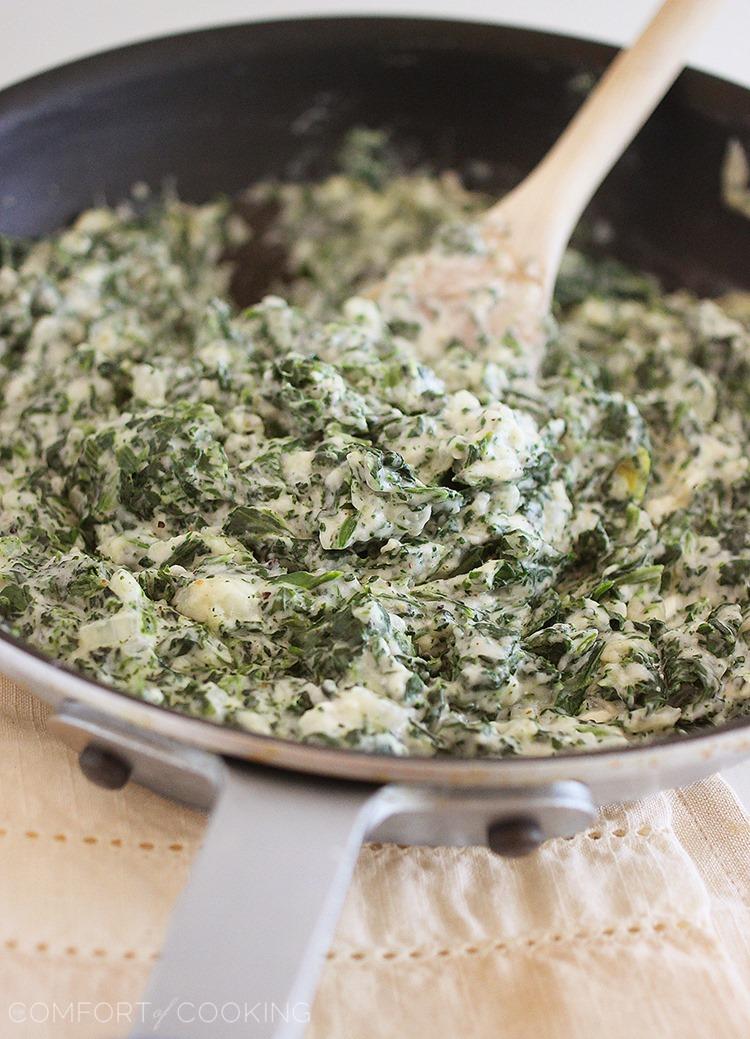 Thing is, he was indulging the same way I was… but with a little green thrown in for good measure! Well, our iron-clad college stomachs are no more, so it's onto healthier choices and lighter spins on our favorite comfort classics. I couldn't leave this one out!
A typical serving of creamed spinach clocks in at over 200 calories and 12 grams of fat. But this one? For a heaping 2/3 cup serving, you're having your comfort food and enjoying it, too, at 123 calories and half the fat.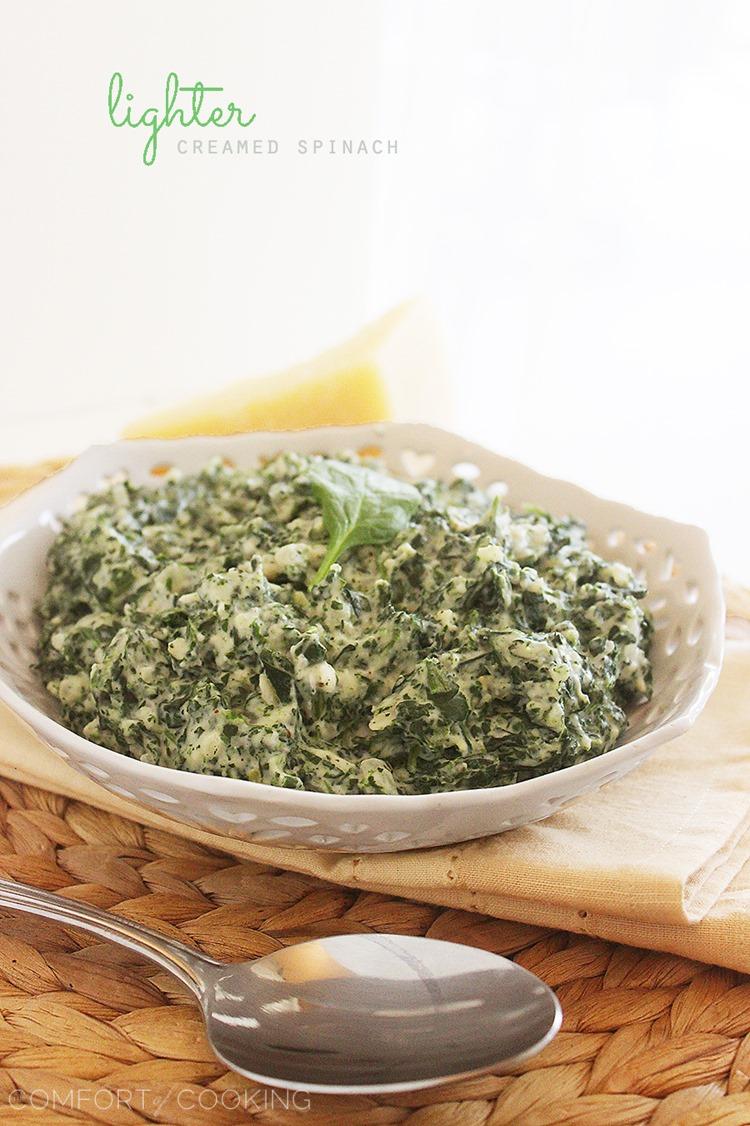 I know creamed spinach has always been a big favorite of hubby's, so I was determined to do it right… and convince myself to love it, too. With this easy, elegant and absolutely delicious recipe, I managed both!
Not only is this dish light and healthy, but it is packed full of good-for-you nutrients, too. As you savor away, recall that this scrumptious side is high in calcium, iron and dietary fiber… and vitamins A, B and C!
By halving the butter and replacing the heavy cream with fat free milk, you're not losing any flavor in this creamy, savory side. A dollop of reduced-fat cream cheese keeps this dish melt-in-your-mouth good. And, I'm sorry, but is there any aroma in the world more comforting than onions and butter sizzling on the stovetop? That should be reason enough to cook this up.
For an elegant dinner in during the holidays, Valentine's Day, or any day, this delicious creamed spinach is the perfect choice. Easy, sophisticated and oh-so scrumptious!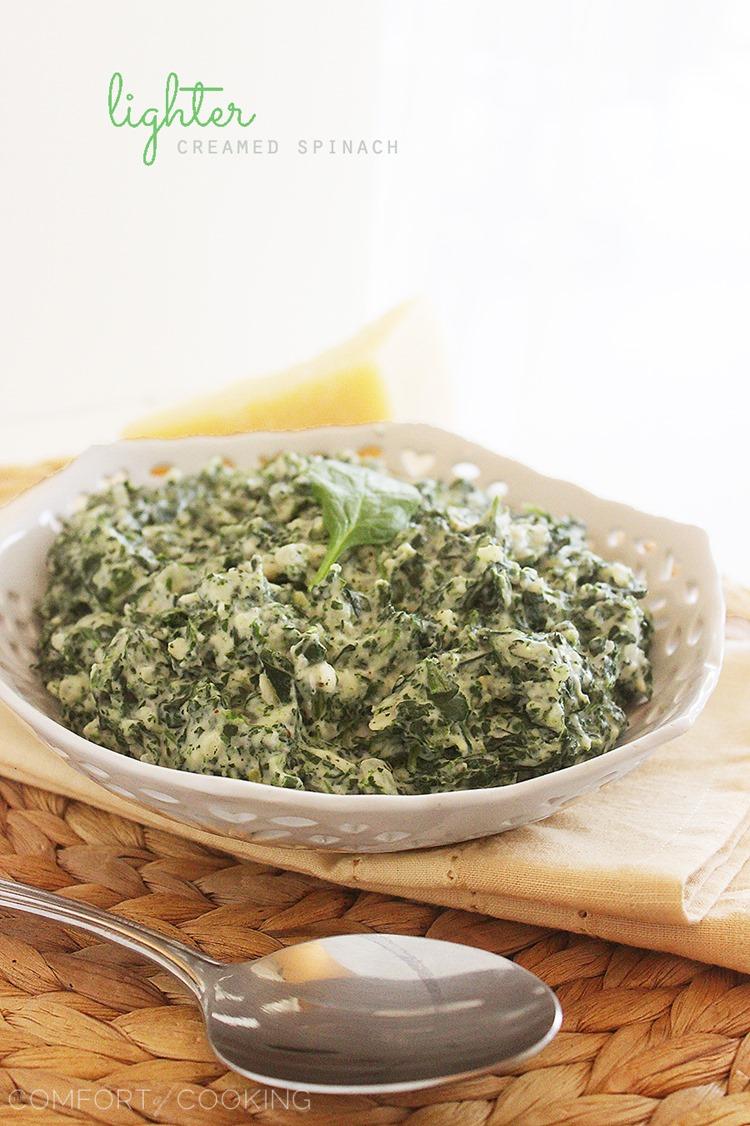 Lighter Creamed Spinach
Ingredients
1 Tablespoon unsalted butter
1/2 cup freshly minced onion or shallots
1 clove garlic, minced
1 1/2 Tablespoons flour
1 1/2 cups fat free milk
2 Tablespoons Parmesan cheese
3/4 teaspoon salt
1/4 teaspoon ground nutmeg
1/4 teaspoon freshly cracked black pepper
4 oz. reduced-fat cream cheese
16 oz. bag frozen chopped spinach, thawed and drained of all moisture
Instructions
In a large sauté pan set to medium heat, melt butter. Add onion and garlic; cook until softened, about 5 minutes. Whisk in flour and cook 1 more minute. Reduce heat to low and whisk in milk, parmesan cheese, nutmeg, salt and pepper. Add cream cheese and mix until smooth. Add spinach and combine well with sauce. Cook 1 minute, until heated through. Adjust seasonings as desired. Serve hot.
Enjoy!