From happy hours to girls' nights, my neighborhood has pretty frequent get togethers and I'm always on the lookout for something tasty to bring along with a bottle of wine. Personally, I like two-bite treats like these, and I find they make for easy mingling. Besides, who wants to try to hold a conversation while having to balance, drink, food and looking nice in a pretty dress?
These cute little potato bites are both easy to make and enjoy, and the subtly spicy artichoke dip in the center of each warm potato is absolutely delicious. And kind of elegant, too, dontcha think?
Just take a few fingerling potatoes, snip off the tops and a little bit of the bottoms, and hollow them out with a melon baller. Mix together artichokes, sour cream, freshly grated Parmesan, lemon peel, garlic and red pepper flakes, and your dip is done. Fill up the potatoes, bake those beauties in the oven, and right before serving, sprinkle on some chopped parsley.
Whether as a small bite for your Thanksgiving guests, something nice to bring to your neighbors, or just a treat to try out and enjoy for yourself, I know you will savor these spicy artichoke stuffed potato bites!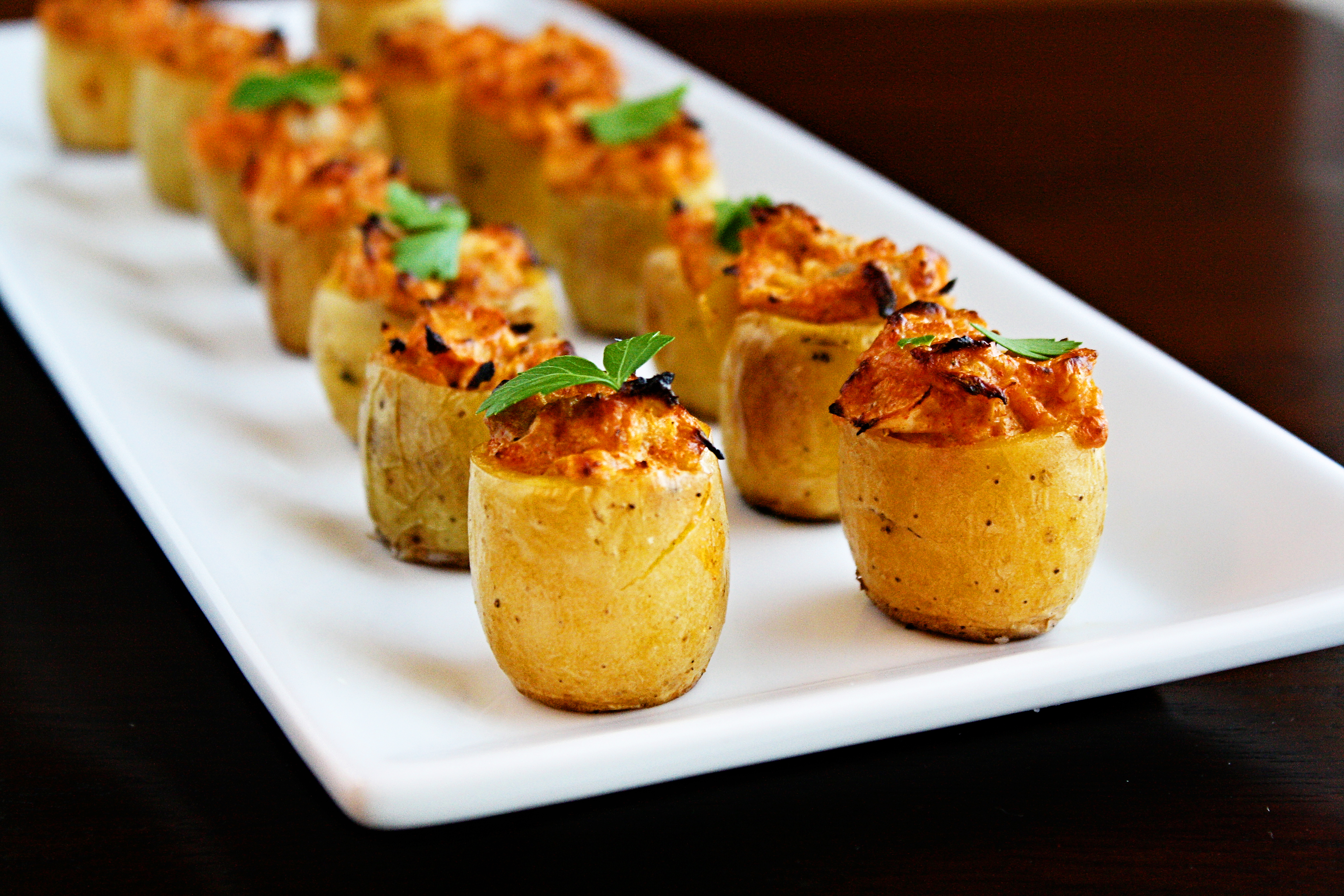 Artichoke Stuffed Baked Potato Bites
Ingredients
16 small potatoes, 1-1/2 to 2 inch diameter
1 tablespoon olive oil
Kosher salt and freshly ground pepper
1 14 ounce can artichoke hearts, drained and chopped
½ cup light sour cream
¼ cup finely shredded Parmesan cheese
2 tablespoons finely shredded lemon peel
2 cloves garlic, minced
Dash crushed red pepper flakes
¼ cup chopped fresh parsley
Instructions
Cut off the top third of each potato, and a thin slice off the bottom of each potato so it will sit level (Discard potato trimmings, or cook and use to make potato salad or mashed potatoes.). Using a melon baller, hollow out the potatoes, leaving small empty shells. Lightly coat potatoes all over with oil and sprinkle in some salt and pepper. Place in a shallow baking pan and set aside.
For filling, in a medium bowl combine the artichoke hearts, sour cream, Parmesan cheese, lemon peel, garlic, crushed red pepper flakes. Spoon about 1 tablespoon of the filling into each potato shell.
Bake in a 450 degree F oven about 15 minutes, or until potatoes are tender and filling is golden brown. Sprinkle the chopped parsley over the potatoes.
Enjoy!