Starting today, my husband and I are on the road to our new home in Austin, Texas, and we couldn't be more excited, nervous and eager! So, to celebrate our new Southern nest, I thought what better recipe to post than my most recent favorite for baked BBQ chicken…
This recipe is the most simple and scrumptious I have ever come across, and my love affair with BBQ chicken has been a long one! I grew up on a farm where it was a year-round staple, and ever since childhood it's been one of my most favorite comfort foods.
The tangy, slightly sweet barbecue sauce comes together easily and coats the chicken in a marinade for a few hours. Once it's ready to bake, just put a cooling rack on top of a baking sheet and plop your chicken on top (The cooling rack allows heat to get under the chicken, avoiding sogginess). In 15 minute increments, take your chicken out a glaze it with more sauce, and in an hour it's done – You have the most unbelievably moist, tender chicken with flavorful, crispy skin that tastes even better than grilled!
This sticky, saucy baked BBQ chicken falls right off the bone and is absolutely delicious with my Crispy Oven-Baked Potato Fries and an ice cold drink. Now, if that doesn't make you crave summertime, I don't know what will!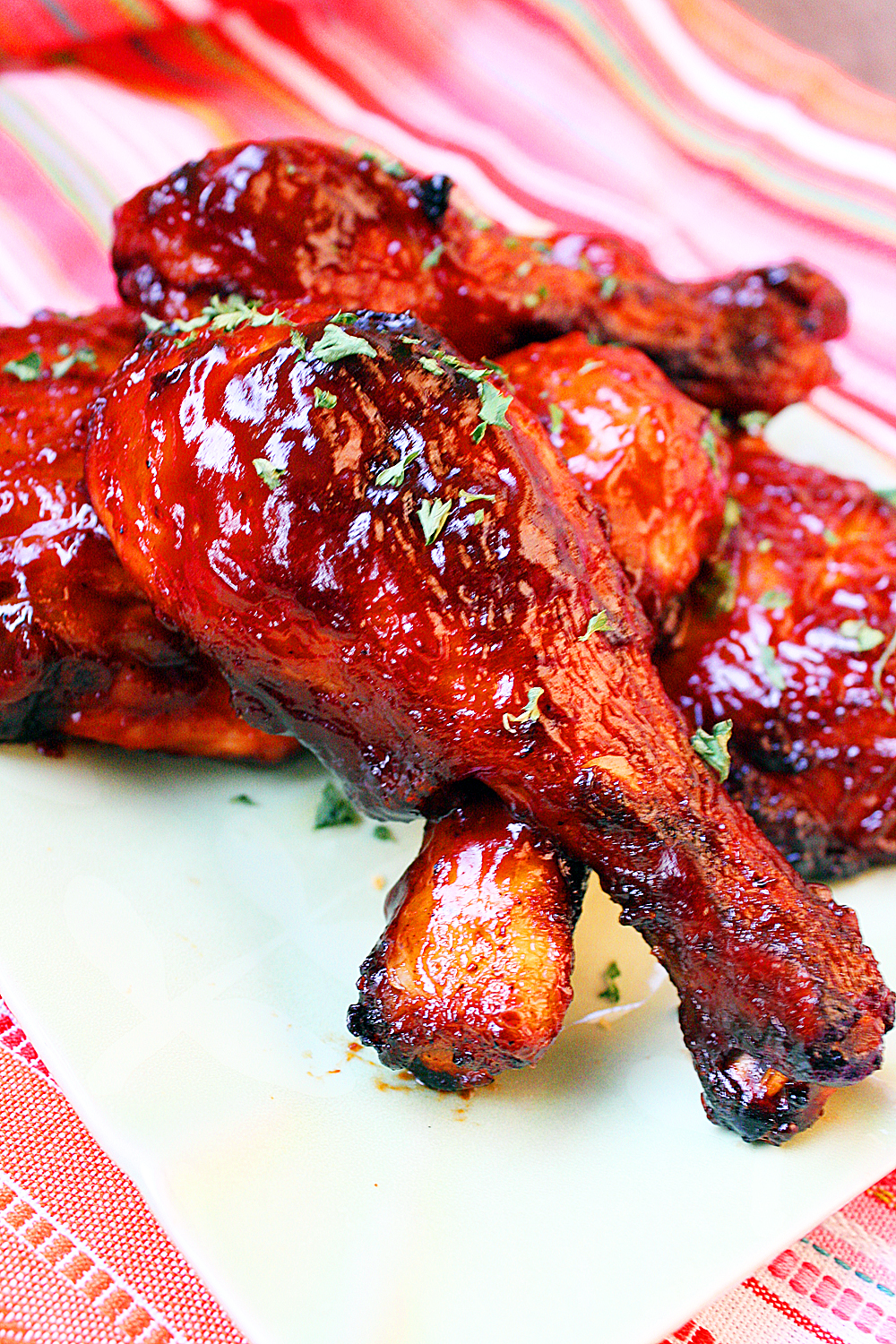 Saucy Baked BBQ Chicken
Ingredients
12 chicken drumsticks or 8 thighs, about 3 1/2 pounds
1 cup barbecue sauce, divided
1 tablespoon brown sugar
1 tablespoon cider vinegar
1 teaspoon salt, plus more, as needed
1/2 teaspoon freshly ground black pepper
1/2 teaspoon hot sauce
Vegetable oil to grease pan
Instructions
With a sharp knife, make 2 slashes about 1-inch apart into the thickest part of the drumstick, cutting to the bone. Transfer the chicken to a large sealable plastic freezer bag.
In a small bowl, mix together 1/4 cup of the barbecue sauce with the rest of the ingredients. Pour into the bag of chicken, press out most of the air, and seal tightly. Shake the bag gently to distribute the sauce evenly. Refrigerate for at least 4 hours.
Preheat oven to 400 degrees F.
Line a baking sheet with foil and top with a heatproof wire cooling rack. Remove the chicken from the bag with tongs and space evenly on the rack. Discard the contents of the bag. Brush both sides of the drumsticks with barbecue sauce.
Bake for 15 minutes, remove, and brush generously with more sauce. Return to the oven, and repeat this brushing process 3 more times, for a total cooking time of about 50-60 minutes. When done, the chicken will be fork tender and nicely glazed.
Enjoy!