We're here, finally, in Austin and it's about darn time. The last few days have been a blur of maps, pavement, excitement and exhaustion during our road trip here from California, but we're moving into our dream house tomorrow and couldn't be higher on happiness. Hooray!
Now, can I please get a good night's sleep, right here on my laptop keyboard? Okay, thanks. Zzzzzz…

It's funny moving to Austin, where we've only visited briefly but have fell so hard for, but there are some things about Los Angeles living which we'll miss. For example, the huge, flat cityscape from the Griffith Observatory and the glitz, glamour and fantastic people watching (you'll find more than your fair share of oddballs) in Hollywood…

… And, oh lordy, those Pacific Coast beaches! Gorgeous white sand that meets strikingly blue surf… The blossoming flowers as big as your head, both carefully planted and growing wild in tangles of hot fuchsia on the side of roads… Lovely looking people, nature, and colorful vegetables at the farmer's markets.

But, we have given up all of that and more for where we are now, and the beginning couldn't look brighter! The suburbs of Austin are peaceful, quiet and rife with warm people and warmer thermostats. When we want to gussy up and go out, it's just a quick car ride to the city. There are beaches a road trip away, beautiful bluebonnets and breezy trees sprinkled all around, and a handful of weekly farmer's markets to pick local fresh fruits and vegetables.
When I have the chance to stroll the markets, a big bag of zucchini is on my list and I plan to make these delicious baked fries with them again! They are flavorful and crispy, easier than potato fries to perfect, and a tasty way to get you and your family a serving of vegetables. With just one dip of a warm zucchini fry into some Ranch dressing or marinara sauce, you'll see how addictive they can be, too… just like Austin is becoming to us!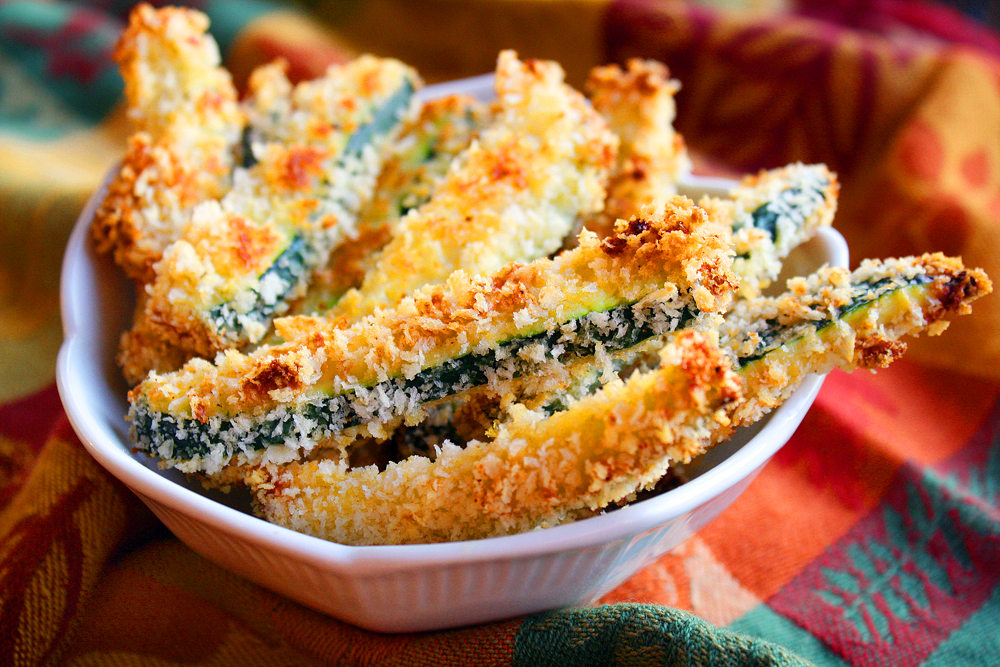 Baked Zucchini Fries
Ingredients
3 medium zucchini, sliced into skinny sticks
2 large eggs, beaten
3 heaping Tbsp. flour
1/2 cup bread crumbs, I used panko
2 Tbsp. grated Parmesan cheese
1/4 tsp. garlic powder
Salt and pepper, to taste
Instructions
Preheat oven to 425°. Spray a baking sheet with cooking spray. Set aside.
In a small bowl, beat egg with a fork until frothy. In another bowl, place flour, and in a third bowl, place your bread crumbs. Toss the breadcrumbs with garlic powder and Parmesan cheese, and set aside.
Dip the zucchini sticks into the flour, then egg, and then into the bread crumb mixture. Make sure all sides get coated well. Place the sticks on the prepared baking sheet.
Bake at 425° for about 20 minutes, or until golden brown and crispy. Serve warm with Ranch dressing, marinara sauce, or just as is.
Enjoy!