Sink a fork into this summery salad with fresh peaches, strawberries, cucumbers and goat cheese… crisp, salty & sweet!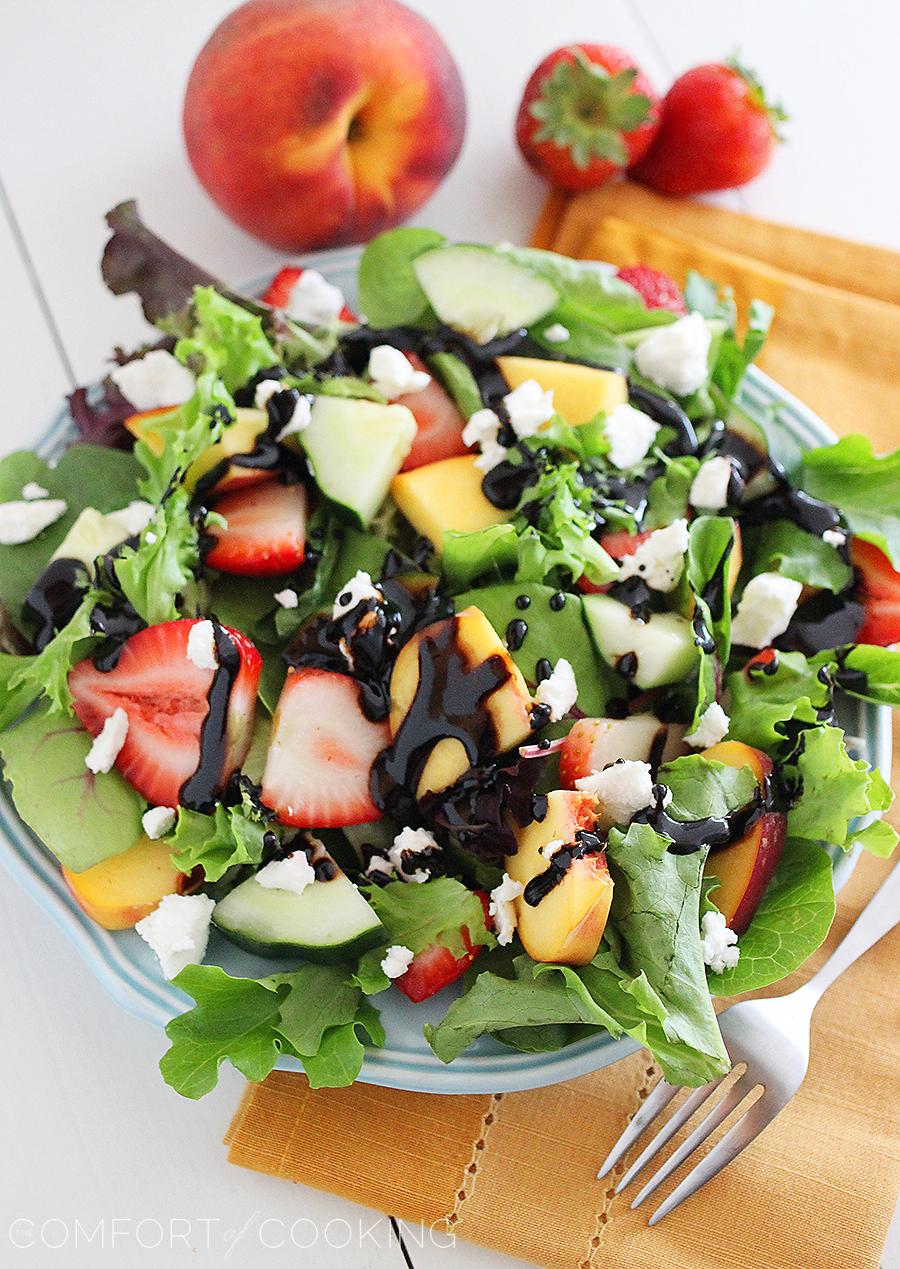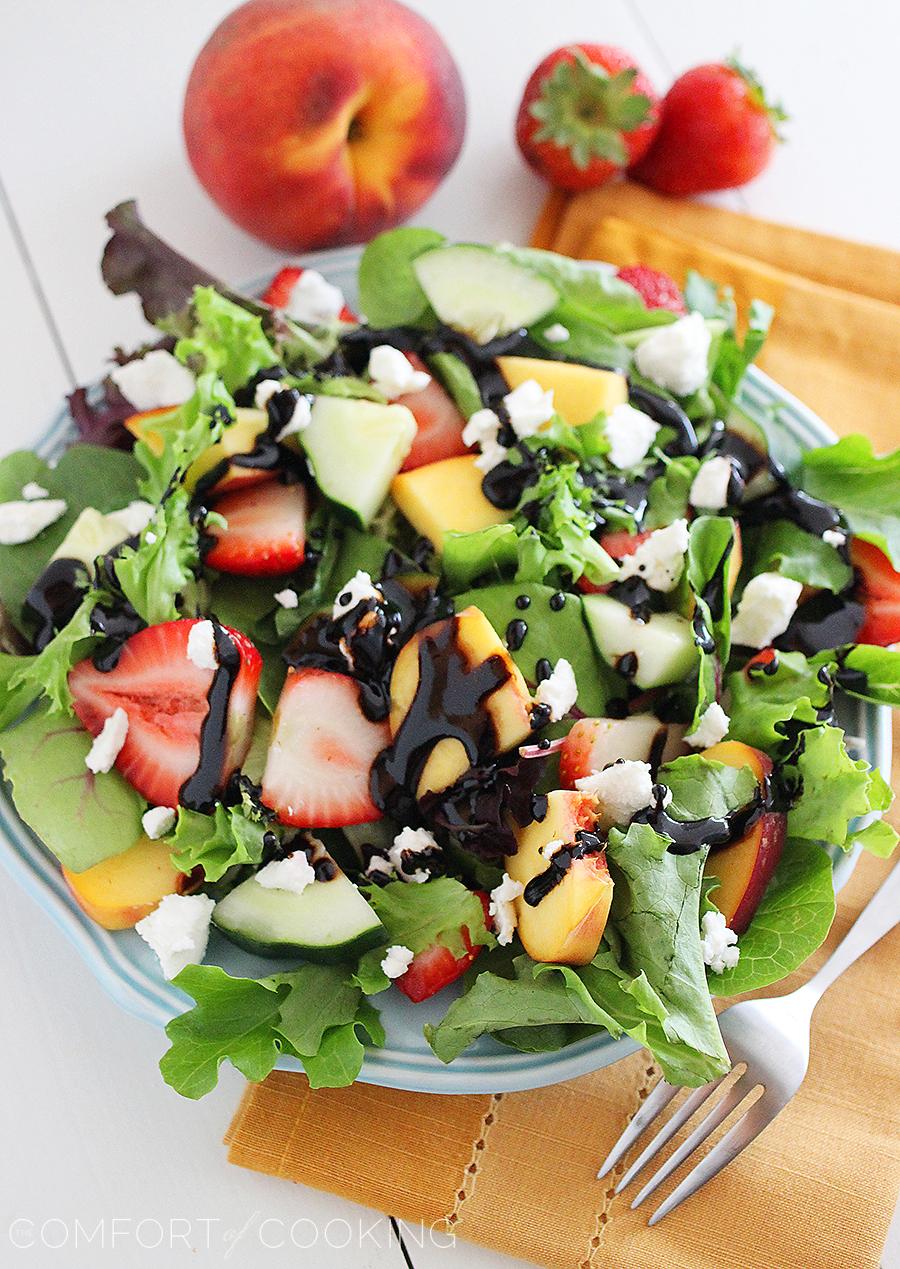 Now ain't this just the most cheerful looking salad you ever did see?
I've had a serious thing going on for fresh goat cheese lately, and I've been crumbling it on top of everything from pasta to grilled meats to crostini, and now, salad. What in the cheese-loving world was I ever missing! Hubby, however, is… skeptical but coming around.
Let's face it, the man will eat anything if I wrap it in salami.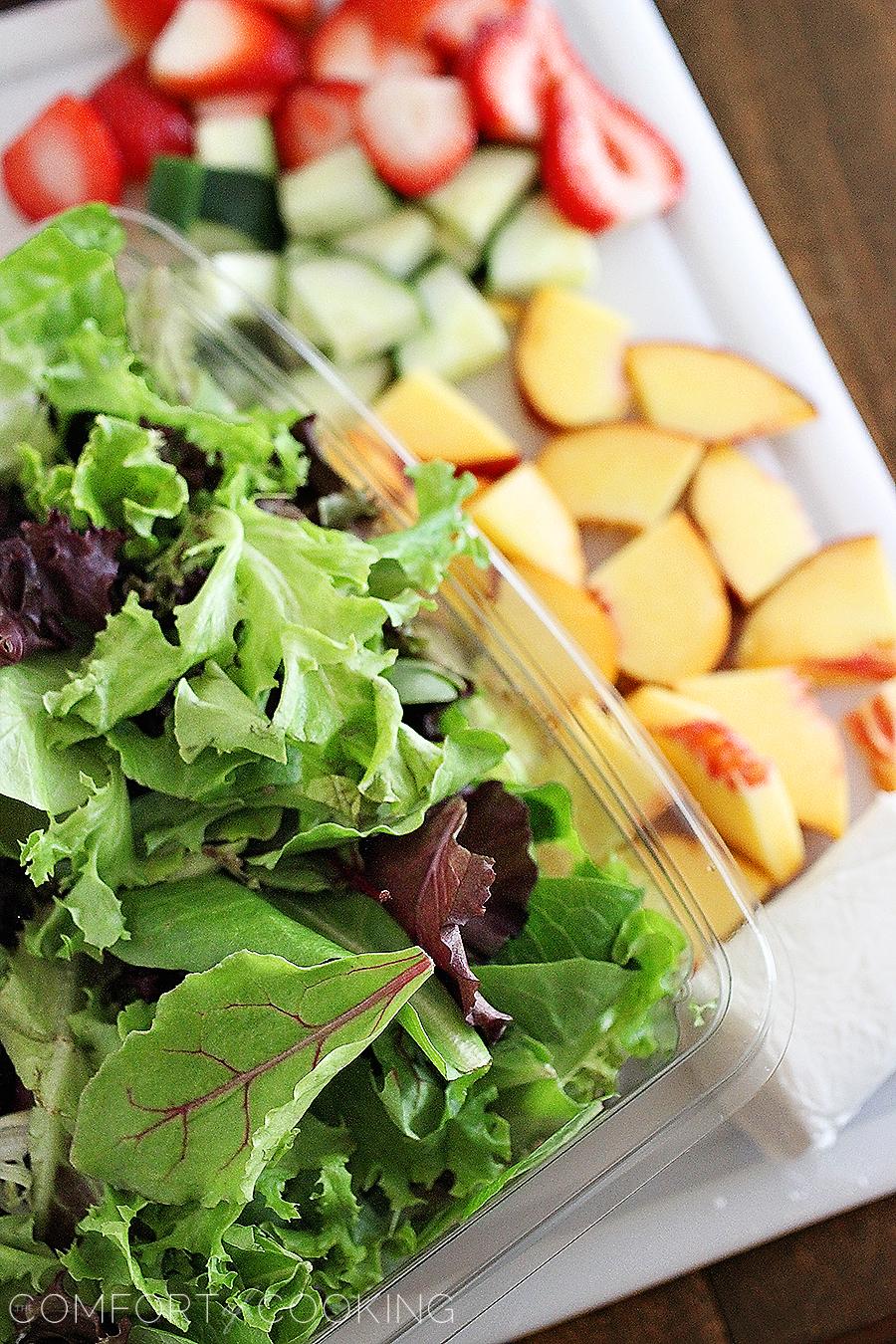 Paired with tender, sweet peaches, crisp cucumbers and juicy strawberries, goat cheese is just about my favorite thing in the world since the Real Housewives of New Jersey and all their drama and gold chains came back into my life.
Oh, please. You watch it, too!
Drizzled with a super-easy, sweet and tangy balsamic reduction, this gorgeous green salad is a great meal for getting your fill of vitamin C and iron! Replace the fruits with whatever you like if these ones aren't your thing. Raspberries to substitute strawberries would be tasty, too. Cubes of fresh watermelon can push the peaches aside for an even more nutritious choice.
So, see? If you have peaches and strawberries lying around, they don't always need to be made into a buttery cobbler or a sugar-high pie!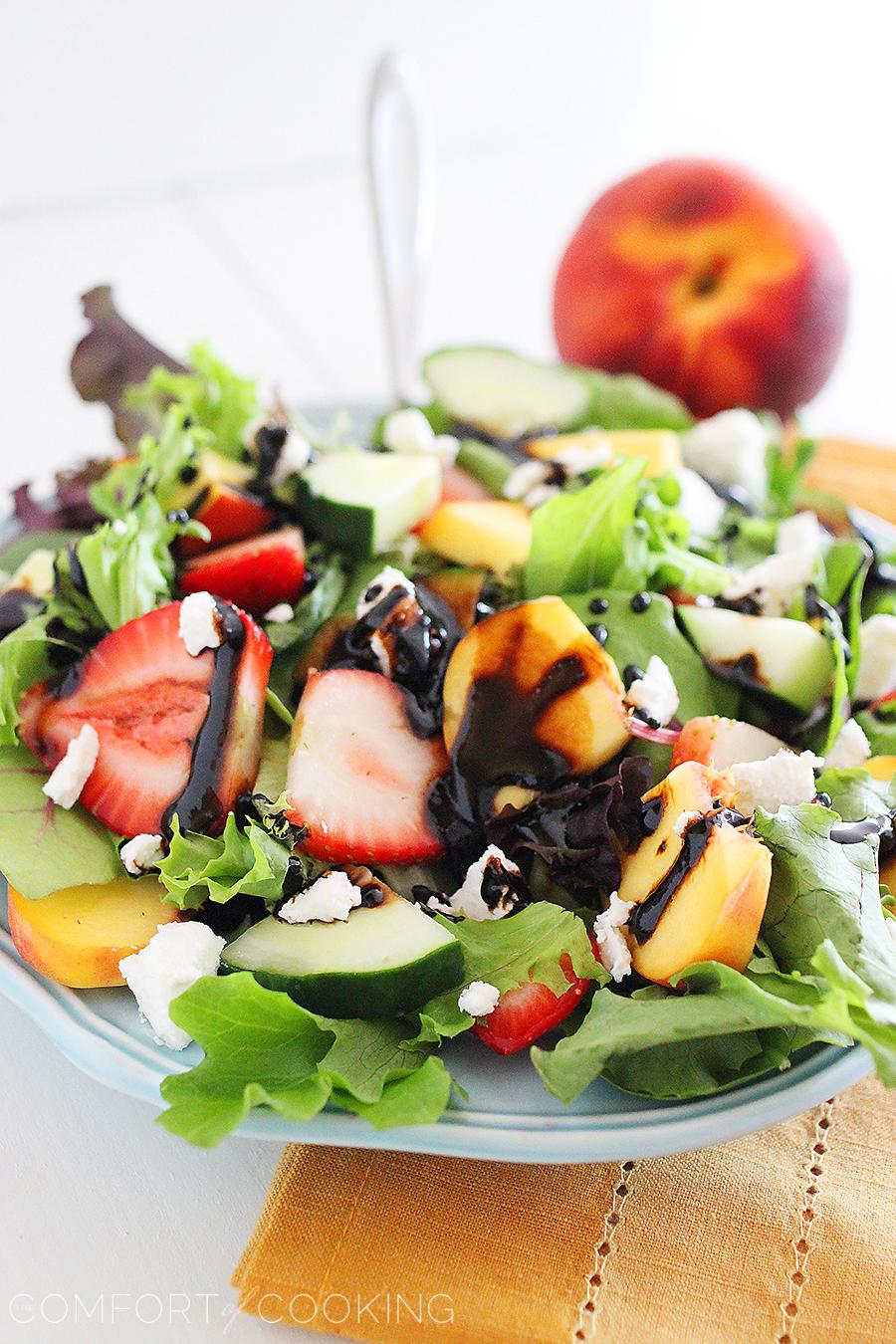 Try this scrumptious summer salad for your lunch or as a side with grilled chicken, pork or fish! It's easy enough for weekdays but pretty enough for laidback dinner parties during the warmer months. I think it would be even better with a sprinkle of fresh basil.
Pour a glass of crisp rosé or white wine and serve this salad with a soft loaf of garlic bread for a full dinner. You can replace the goat cheese with any other cheese you like, but you know me – I'd recommend going for the goat!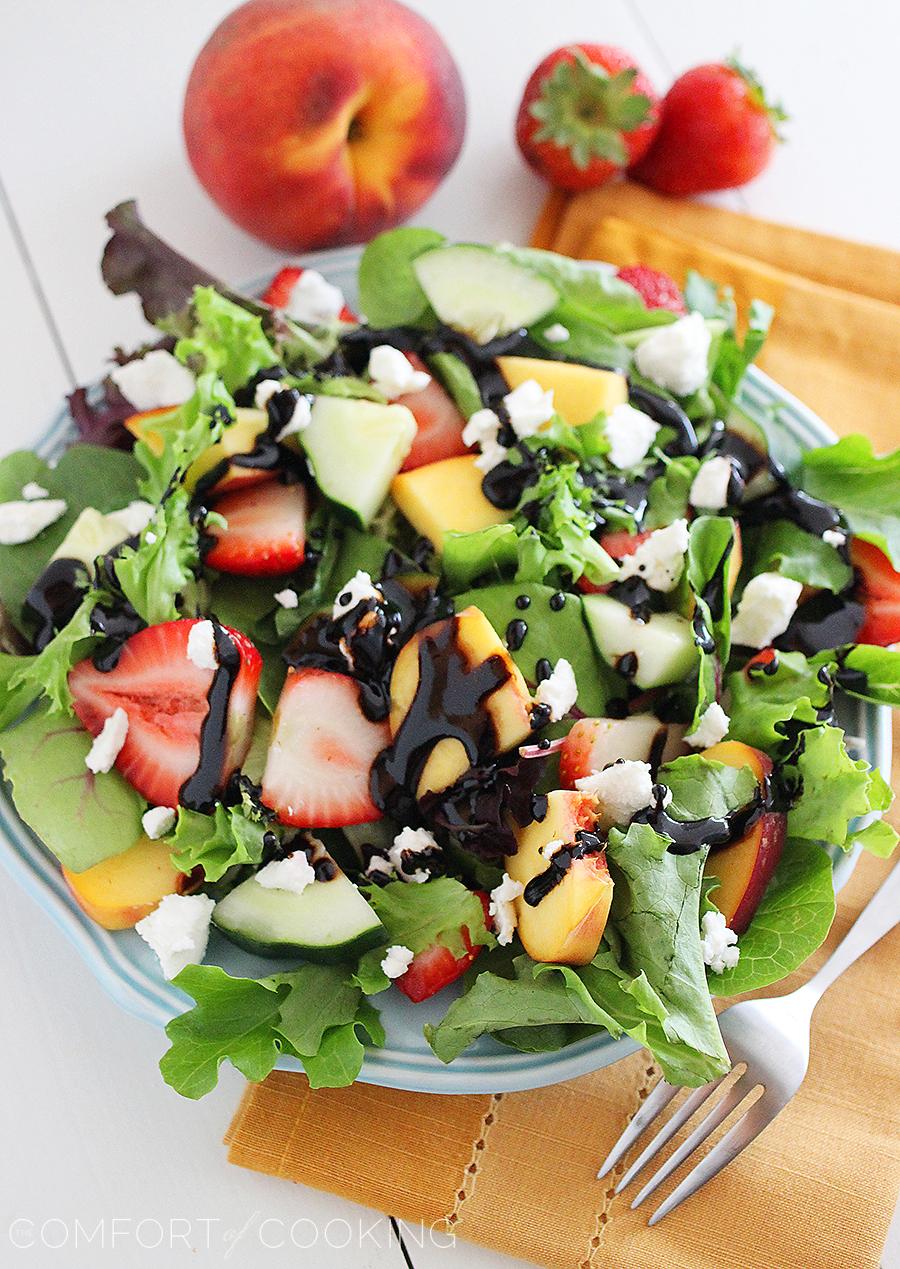 Summer Strawberry-Peach Salad with Goat Cheese
Ingredients
For the salad:
4 cups mixed green salad leaves
12 fresh strawberries, sliced
2 ripe, juicy peaches or nectarines, sliced
1/2 large cucumber, cut into 1-inch pieces
4 tablespoons crumbled feta cheese
For the balsamic reduction, optional:
1/2 cup balsamic vinegar
1 Tablespoon brown sugar
Instructions
For the salad:
Lay salad leaves out on individual serving plates and top equally with strawberries, peaches, cucumber and feta. Drizzle with balsamic reduction (recipe below), if desired.
For the balsamic reduction:
In a small saucepan over medium heat, whisk together balsamic vinegar and brown sugar until sugar has dissolved. Bring to a boil, reduce heat to low, and simmer until glaze is reduced by half, 15-20 minutes. Glaze should coat the back of a spoon. Let cool and pour into a jar with a lid.
Enjoy!